"The secret ingredient for romance!"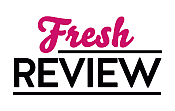 Reviewed by Jennifer Vido
Posted February 26, 2008

Women's Fiction Contemporary | Romance Contemporary
Gina Foxton is a firecracker not only on screen, but also in her personal life. Her parents and sister, Lisa, can attest to that! Being the host of a regional cooking show on Georgia Public Television, Gina whips up authentic Southern cooking with a twist. She only uses natural, homegrown healthy ingredients to create yummy dishes to satisfy even the most skeptical critic. Who said going green only pertained to the environment? For Gina, she's bringing green right into the kitchen.
Tate Moody's theory on cooking is the absolute antitheses of Gina's au natural approach. If he can't catch it or shoot it, he's not preparing it. A television host, his cooking show is aptly named Vittles and focuses on hunting, fishing, and frying whatever might taste good after being sautéed in none other than bacon grease. Yes, Tate Moody is certainly a rough and tumble kind of guy that has a take-no-prisoner attitude especially when it comes to his cooking.
When The Cooking Channel comes knocking on their respective doors offering one of them the chance to win his or her own show on the popular network, the table is set for the most down and dirty cook-off that either one of them has ever seen. As the pots start banging and the temperature begins rising, these two adversaries conjure up their most creative, quirky, and hopefully delicious dishes sure to wow the judges. As they vie for a shot at national fame, they soon realize that the heat they both are feeling is not from the stove, but perhaps the flame from each other's heart. Will these two master chefs be able to separate their feelings for one another while fighting for the ultimate prize? Or, will their recipe for success include mixing their rather opposite tastes to create the ultimate feast of love and happiness?
Mary Kay Andrew's DEEP DISH plates the best of reality show themes with hot, sizzling romance to create a dish that any chef would proudly serve. A departure from her usual style, DEEP DISH is a bit edgy and a tad gritty which perfectly suits this delectable tale of two lovable characters on the verge of professional success and potential love.
SUMMARY
Another delicious treat full of Southern sass, wit, and charm from the New York Times bestselling author of Savannah Breeze and Hissy Fit
Chef extraordinaire Gina Foxton doesn't expect anything to be handed to her on a platter. After years of hard work, the former runner-up Miss Teen Vidalia Onion is now the host of her own local Georgia public television show called Fresh Start, and she's dating the show's producer.
But when her show gets canceled—and she catches her boyfriend in flagrante delicto with the boss's wife—Gina realizes that she's meant for bigger and better things. Namely, a gig on national television.
The Cooking Channel is looking for its next big star, and Gina is certain that she fits the bill. Trouble is, the execs also have their eyes on Mr. "Kill It and Grill It" Tate Moody, the star of a hunting, fishing, and cooking show named Vittles. Tate is the ultimate man's man, with a dog named Moonpie and a penchant for flannel shirts. He's also a tasty side of beef with a swooning female fan base. All Gina has on her side are a free-spirited, college-dropout sister and a mother who calls every single day.
Little does Gina know, though, that she and Tate are soon to embark on the cook-off of their lives, spiced up by a little ingredient called love.
---
What do you think about this review?
Comments
No comments posted.

Registered users may leave comments.
Log in or register now!