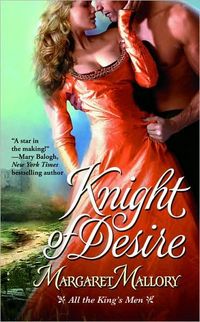 Purchase
All The King's Men #1
Forever
July 2009
On Sale: July 1, 2009
Featuring: Catherine Rayburn; William FitzAlan
384 pages
ISBN: 0446553395
EAN: 9780446553391
Mass Market Paperback
Add to Wish List

Romance Historical
"Spellbinding! Few writers share Margaret Mallory's talent for bringing history to vivid, pulsing life." Virginia Henley, New York Times bestselling author of The Decadent Duke
"4 Stars - Mallory's debut is impressive. She breathes life into major historical characters…in a dramatic romance." RT Book Reviews
"The story sizzles with romance and adventure." RomRevToday.com
"A wonderful new voice in the tradition of Gellis and Woodiwiss." Bertrice Small, New York Times bestselling author of The Shadow Queen
"An impressive debut . . . Margaret Mallory is a star in the making." Mary Balogh, New York Times bestselling author of At Last Comes Love
Catherine. Catherine was in his bed.
In three heartbeats, William went from dumbstruck to breathless. She was stunning, with her fair hair spilling over his pillow like a river of moonbeams.
"You have come to me," he said, not quite believing it.
She clutched the bedclothes to her chin and nodded.
Now that she was here, he could show her she had nothing to fear in his bed. He undressed quickly, dropping his clothes on the floor and lifted the bedcovers. Ignoring her sharp intake of breath, he slid in beside her.
"Turn toward me, I want to look into your face."
He held her eyes as he ran his hand up her side to the tantalizing swell of her breast. Gritting his teeth, he reminded himself to go slow. He moved his hand back to her waist, then over the curve of her hip and down her thigh.
He was tight as a bowstring. In a daze of desire, he kissed her face, her hair, her neck. Against her ear, he murmured, "I have dreamed of this."