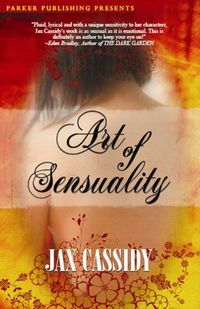 Purchase

November 2008
On Sale: November 17, 2008
Featuring: Machiko Barrett; Caleb Holden
250 pages
ISBN: 1600430449
EAN: 9781600430442
Paperback
Add to Wish List

Romance Erotica Sensual | Multicultural
Art was not only a passion of Machiko Barrett, but also a destiny - a way of life she has known since her talent was discovered at 3-years-old. Caught in a turbulent storm of celebrity, scandal, and corruption, she disappeared from the art world only to reemerge 15 years later. Her sheltered existence is disrupted when she is lured back to her one true passion: painting. While she struggles to discover her own identity through her art, she encounters a man who opens her eyes to the art of sensuality, and awakens the woman buried deep inside the broken girl.
Comments
9 comments posted.
The first time I rubbed shoulders with Romance writers was at an indie bookstore and they thought I was one of them. I did become a writer after picking up more on how to structure daily pages. I learned that research backs up writing and anchors it to keep the pages turning.
(Alyson Widen 11:23am July 10, 2009)
I'd love to someday have the opportunity to attend a writers conference.
(LuAnn Morgan 11:59am July 10, 2009)
What a wonderful experience. Thank you for sharing it with us. The title of your book sounds quite compelling. I look forward to reading it.
(Robin McKay 4:29pm July 10, 2009)
A web site? I need to get busy. Thanks for all the info.
(Margie Whitten 5:04pm July 10, 2009)
I have attended many conferences for my work and found that one of the worst things to do is stilck with the other people from my place. I went for several years and didn't meet new people until I broke away for a few sessions. After that it was much easier.
(Karin Tillotson 8:00pm July 10, 2009)
yo, Jax! Can't wait to see you and just be amongst my people! I love National.
(Karin Tabke 8:19pm July 10, 2009)
I've never been to a conference except work related and I must say I found those long and boring
(Diane Sadler 8:20pm July 10, 2009)
I can't wait to see you Karin! :)

Thanks everyone for commenting. I love going to conferences. You get such a rush and being around so many talented people, you can't help but be inspired!
(Jax Cassidy 10:58pm July 10, 2009)
I so wish I could be attending the RWA
Conference in DC. It is only 7 hours
away. I work as a children's librarian
in a small county library and this is not
the time of year to take off. One day
I'll get there.
ENJOY!
(Patricia Barraclough 11:16pm July 10, 2009)
Registered users may leave comments.
Log in or register now!