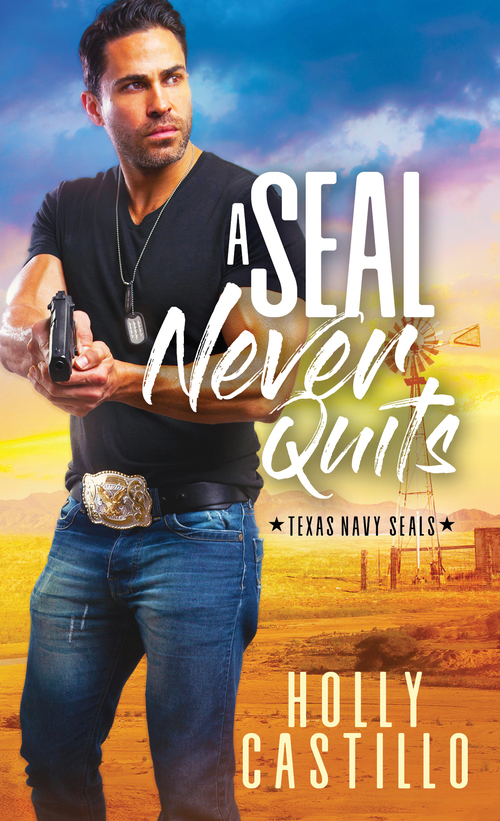 Purchase
Sourcebooks
August 2019
On Sale: July 30, 2019
Featuring: Anya Gutierrez; Amador "Stryker" Salas
352 pages
ISBN: 1492680923
EAN: 9781492680925
Mass Market Paperback
Add to Wish List

Romance Suspense | Romance Military
First in a thrilling romantic suspense series featuring a band of do-or-die Navy SEALs in Texas
A SEAL is ready for anything…except losing his heart…
Lieutenant Amador "Stryker" Salas and his tight-knit Navy SEAL team are undercover on a Texas ranch and tasked with covert ops across the border. It's an assignment that requires all their skills, all their secrets, and all their know-how.
Anya Gutierrez, the local veterinarian, has been serving the ranch for years. She loves the animals and ranching life, and Stryker finds her a breath of fresh air in his otherwise rigidly disciplined existence.
When Anya gets caught in the crosshairs of a mission gone sideways, Stryker must tell her the truth about who he really is, risking everything to keep her out of harm's way, even if it destroys him…
Comments
30 comments posted.
that sounds really interesting
(Vickie Couturier 7:45am July 29, 2019)
Happy July hope you had a good month
(Emily Stemp 9:30am July 29, 2019)
This sounds like a wonderful read.
(Cynthia St. Germain 10:20pm July 29, 2019)
Enjoyed the post & loved hearing about you & your husband.
(Jana B 11:06pm July 29, 2019)
What a fascinating look at your family history and love the
answer you gave your husband!
(Kathleen Bylsma 6:39pm July 30, 2019)
There is definitely a special bond within military units. My husband
was in the Air Force and "we" reluctantly retired after 24 years. It is
a special way of life and not everyone is suited for it. The FB111 was
a special airplane and the people that flew it special crews. There
were only two bases where they were stationed and a small group of
people on the 2 man crews. It has been over 30 years since we left
the active 111 family and the planes are no longer in the inventory.
The crews still get together every 2 years and it is like it has only
been a short time since seeing each other. The reunion is in 2
weeks and we are looking forward to it. Small specialized units
build an especially close relationship among the members. It
sounds like you have done a good job of depicting that. I look
forward to reading this series.
(Patricia Barraclough 8:31pm July 30, 2019)
SEALs undercover on a ranch! I want to read this!
(Melanie Rosen 8:57pm July 30, 2019)
Sounds good!
(Katrina Dehart 12:02pm July 31, 2019)
Oh, this story sounds great! I can't wait to read it.
(Tina Bartunek 12:34pm July 31, 2019)
This sounds like a great book. Can't wait to read.
(Cynthia St. Germain 4:34pm July 31, 2019)
Want to read this one.
(Mary Branham 11:48am August 1, 2019)
Book sounds great. Can't wait to read this book.
(Lynne Brigman 1:31pm August 1, 2019)
Would love to read this.
(Jasmeet Gill 1:51pm August 1, 2019)
I like the idea of a SEAL working undercover on a Texas ranch. Thank you for the giveaway.
(Anna Speed 2:54pm August 1, 2019)
I absolutely love military romances! This one in on my TBR
and wishlist!
(Tamara Kasyan 4:51pm August 1, 2019)
Happy 1st of Auguest
(Emily Stemp 9:09pm August 1, 2019)
great idea
(Daisy Thomas 2:15am August 2, 2019)
This is a great inspiring article. I am pretty much
pleased with your good work. You put really very helpful
information. Keep blogging. Looking to reading your next
post. If you have any technical issue regarding Microsoft
Office Products then you can contact on Microsoft Office
365 Support.
http://www.microsoftoffice365support.co/
https://www.microsoftoffice365support.co/outlook-support
https://www.microsoftoffice365support.co/microsoft-
support
(Kevin Love 2:32am August 2, 2019)
I enjoyed learning about you and your husband! Thanks for
sharing. Love reading about Navy SEALs, and one working
undercover on a ranch sounds really interesting.
(Tina Rucci 3:40pm August 2, 2019)
Looks like a great new suspense series!
(Kathryn Plitt 1:46pm August 3, 2019)
This sounds good. I love reading military getting back into civilian life but
keeping the lessons learned as they do so.
(Annetta Sweetko 6:33pm August 3, 2019)
Sounds really good
(Shannon Capelle 8:12pm August 3, 2019)
This book sounds really good! Would love to win. Thanks for the chance!
(Jamie Gillespie 12:08pm August 4, 2019)
Love military books
(Denise Schenk 5:50am August 4, 2019)
Sounds amazing. I would love to win.
(Lori Byrd 7:33pm August 7, 2019)
Thanks for taking the time to discuss that, I feel
strongly about this and so really like getting to know
more on this kind of field. Do you mind updating your
blog post with additional insight? Call our helpline
number to fix your Outlook email now by Microsoft
professional support.

http://www.email-customer-care.com/outlook-support
(Jack Jons 1:03am May 1, 2020)
Thanks a lot
(Jaime Bradley 10:14am April 21, 2021)
Thank you for sharing this useful material. The information
you have mentioned here will be useful. I would like to
share with you all one useful source
https://qualitycustomessays.com/best-outline-writing-
service/ might be interesting for you as well.
(Jaime Bradley 10:17am April 21, 2021)
Very interesting story! I'm not a fan of "love stories"
because they often use all kinds of clichés, but this one
is pretty interesting. It is possible that I will watch
this over the weekend.

In turn, I will also share with you an interesting site,
here you will be helped with writing an essay, link:
http://primeessay.org/
(Linda Forrest 3:17am July 28, 2021)
nice blog
(Jim Martin 1:27am January 14)
Registered users may leave comments.
Log in or register now!