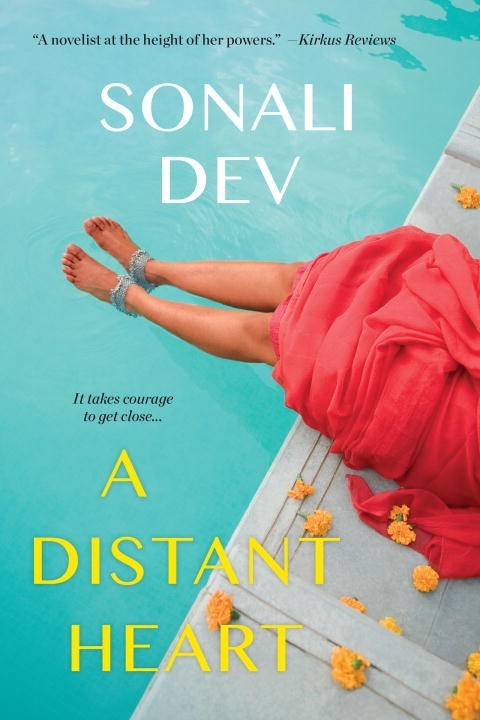 Purchase
Bollywood #4
Kensington
January 2018
On Sale: December 26, 2017
352 pages
ISBN: 1496705769
EAN: 9781496705761
Kindle: B06XZR97YK
Trade Size / e-Book
Add to Wish List

Romance Contemporary | Women's Fiction Contemporary | Multicultural Indian
Her name means "miracle" in Sanskrit, and to her parents, that's exactly what Kimaya is. The first baby to survive after several miscarriages, Kimi grows up in a mansion at the top of Mumbai's Pali Hill, surrounded by love and privilege. But at eleven years old, she develops a rare illness that requires her to be confined to a germ-free ivory tower in her home, with only the Arabian Sea churning outside her window for company…. Until one person dares venture into her world.
Tasked at fourteen years old with supporting his family, Rahul Savant shows up to wash Kimi's windows, and an unlikely friendship develops across the plastic curtain of her isolation room. As years pass, Rahul becomes Kimi's eyes to the outside world—and she becomes his inspiration to better himself by enrolling in the police force. But when a life-saving heart transplant offers the chance of a real future, both must face all that ties them together and keeps them apart.
As Kimi anticipates a new life, Rahul struggles with loving someone he may yet lose. And when his investigation into a black market organ ring run by a sociopathic gang lord exposes dangerous secrets that cut too close to home, only Rahul's deep, abiding connection with Kimi can keep her safe—and reveal the true meaning of courage, loss, and second chances.
Bollywood
Comments
12 comments posted.
Re: A Distant Heart

I have faced a similar challenge, for personal reasons and by
choice. The challenge is, once things change, to find a
comfort level with being in "the world" again. That is
something I still have some issues with,
(Edward Washington 10:27am December 29, 2017)
I would face a great many challenges. Not being able to have
sunshine, walks, fresh air and my life would be severely
impacted by these difficulties since my health problems would
be increased.
(Sharon Berger 1:49pm December 29, 2017)
I am permanently disabled due to a bad car accident so I am
most often bed bound due to my condition. I have learned
that all you can do if live your life one day at a time.
(Nina Campbell 6:43pm December 29, 2017)
I am mostly housebound by my health, but treasure the times I can get out, even if it is simply to the local farmer's market - a rare occurrence that I covet. Books and family keep me sane.
(Sharon Mitchell 11:18pm December 29, 2017)
"What is the most unique challenge you'd face if you were locked away as Kimi
was for health reasons? Tell us below and be entered to win!" Loss of muscle
mass--it would be a unique challenge in the sense of a very serious challenge!
Inactivity is a terrible thing!
(John Smith 11:44pm December 29, 2017)
I'm always fascinated by the creative process that
authors go through to craft their stories. And it
intrigues me that the characters will demand that their
stories be changed right in the middle! So, wonder what
you're gonna do with all of those mice insisting on
coming in. Do THEY get their own story? ;-)
(Marcia Berbeza 12:05pm December 30, 2017)
Looks like a good read! Thanks for a chance to win.
(Connie Sahn 6:40pm December 30, 2017)
Would love the chance to read!
(Rebecca Shields 8:19pm December 30, 2017)
this sounds good
(Debbi Shaw 10:36pm December 30, 2017)
Can't wait to read!
(Chrissey Dormer 9:54am December 31, 2017)
I'm thankful to not ever having to face this problem, but I have an idea boredom would be my greatest challenge. I would need to find ways to create an interesting life within the confines of one room.
(Anna Speed 1:40pm December 31, 2017)
there are some days i wouldn't mind be all al one, but
for the mostpart i'd miss being able to walk outside in
the fresh air. i also think i'd be terribly bored --
after all there are just so many books one can read in a
day (!). it'd be very difficult be able to look out and
see the world going by without me.
(Sandy Haber 5:17pm December 31, 2017)
Registered users may leave comments.
Log in or register now!