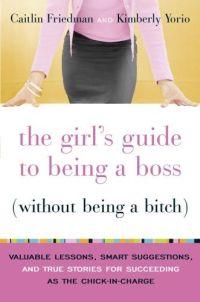 Purchase
Valuable Lessons, Smart Suggestions, and True Stories for Succeeding as the Chick-in-Charge
Morgan Road Books
April 2006
240 pages
ISBN: 0767922840
Hardcover
$22.95
Add to Wish List

Self-Help Organization | Self-Help Relationships
So, you finally got that promotion. You're the boss now. The supervisor. The manager. The captain. The taskmaster. Those days of taking orders, running errands, and clock-watching are over. As exciting as all this might seem, once the rush of the promotion is over, you might be scratching your head wondering exactly what to do. Being the boss is never easy, but it's twice as hard for a woman. It seems like there's no middle ground. Either you're the dragon lady who rules with an iron fist or the mousey girl who gets drowned out at every meeting. When a woman wields authority and dares to make tough decisions, how often is the "B-word" bandied about by her employees? How can she strike that balance between pushover and dictator?

Fear not. You can do the job. All you need is a little helpful advice to send you on your way. Whether you supervise two as a shift manager or lord over an entire corporate empire, Caitlin Friedman and Kim Yorio will show you how to step gracefully into your new position of power. They'll teach you how to motivate your team without alienating them, how to delegate without feeling guilty, how to deal with office politics and how to handle evaluations, promotions, and even firings. And for those of you who are already running the show, they can help you become the mentor your employees deserve.

Inside, there are self-assessment questionnaires to help you find out where you land on the bitch or wimp scale; interviews with prominent female bosses, human-resources directors, and therapists; and advice from a whole host of experts. In addition, there are funny and informative checklists and tips to make sure you're the Good Witch around the office and not the Big Bitch. And, most important, Caitlin and Kim will teach you the secrets to owning your role and loving it. You've earned your promotion, so enjoy it!
Comments
No comments posted.

Registered users may leave comments.
Log in or register now!