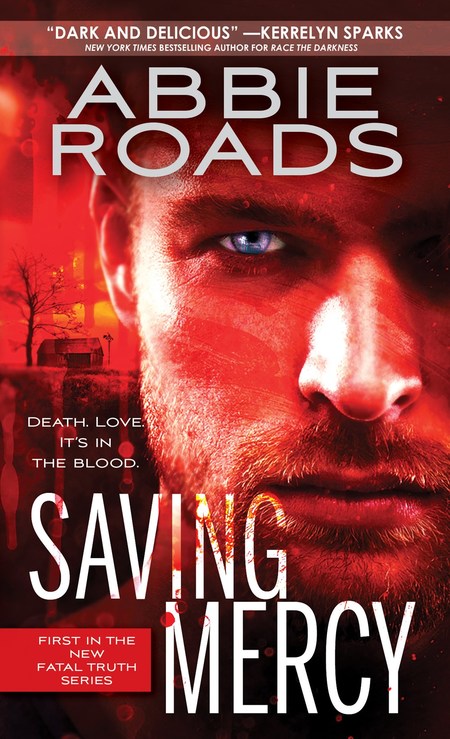 Purchase
Fatal Truth #1
Sourcebooks Casablanca
April 2017
On Sale: April 4, 2017
320 pages
ISBN: 1492639230
EAN: 9781492639237
Kindle: B01M5DIQ2Q
Paperback / e-Book
Add to Wish List

First in a chilling new paranormal romantic suspense series from award-winning author Abbie Roads
He's found her at last
Cain Killion knows himself to be a damaged man, his only saving grace the extrasensory connection to blood that he uses to catch murderers. His latest case takes a macabre turn when he discovers a familiar and haunting symbol linking the crime to his own horrific past-and only one woman could know what it means.
Only to lose her to a nightmare
Mercy Ledger is brave, resilient, beautiful-and in terrible danger. The moment he sees Mercy, Cain knows he's the one who can save her. He also knows he's beyond redemption. But the lines between good and evil blur and the only thing clear to Cain and Mercy is that they belong together. Love is the antidote for blood-but is their bond strong enough to overcome the evil that stalks them?
Comments
18 comments posted.
Re: Saving Mercy

Great review and cover. Also, a terrific series.
(Kathleen Bylsma 7:42pm April 6, 2017)
Thanks so much for having me here today!
(Abbie Roads 8:31pm April 11, 2017)
No I have never sent Fan Mail but I have talked with
authors on FB and Twitter as a fan :)
Thanks for sharing with us on here today Abbie
(Linda Moffitt 8:42pm April 11, 2017)
I have written fan letters, bragged on authors on Facebook,
reviewed the books, and yes, both Kristen Ashley's male
protagonists and Suzanne Johnson's Sentinel-JeanLaFitte are
real to me.
(Kathleen Bylsma 9:23pm April 11, 2017)
No I have not sent fan mail, but I usually send thank you notes when they share!
(Colleen Conklin 9:28pm April 11, 2017)
Yes, I have sent an author fan mail. When I first started
reading romance novels, I used to send authors letters
saying how much I liked their books and asking about the
next book in the series. That was when people still wrote
paper letters. I miss those days.
(Tanja Dancy 12:42pm April 12, 2017)
No fan mail, unless you consider FB interaction fan mail. Plus I wouldn't know
where to send them fan mail. I leave reviews on books that I've enjoyed but if I
didn't like it I won't leave a review because I believe you shouldn't say negative
things and it is just my opinion which might not be someone else's opinion. I do fan
girl at author events though.LOL
To me all of the BDB brothers are real. I so love reading and reading them over and
over again.
(Valerie Miller 8:33am April 12, 2017)
I have never sent fan mail, but I when I got really really hooked on
reading in my early teens, it was Stephen King and his book characters
seemed to breathe down my neck! It was like being pulled into another
world (that I never wanted to be in)! This book sounds really dramatic
and intense, which I love! Thanks for sharing Abbie and I love that you
get so real about what being an author is like!
(Tracey Concannon 9:32am April 12, 2017)
A character which was captivating and unforgettable. Daphne
DuMaurier's Mrs. Danvers.
(Sharon Berger 11:06am April 12, 2017)
Loved Race the Darkness! I have never sent fan mail but will
contact them via Facebook and praise them for their awesome
work!
(e S 2:51pm April 12, 2017)
Look forward to reading your books.
(Patricia Zashkoff 8:55am April 13, 2017)
I haven't sent a fan letter. But I do talk back and forth
with a couple on Facebook
(Linda Knowles 1:53pm April 13, 2017)
Wow, you are really making me think. The answer to whether I've sent fan mail is yes. It has been years ago as part of a school project, but yes. I do not recall whether or not anyone received a response. In recent years I've talked with several via Facebook fan pages and had great fun.
(Angela Cramer 4:45pm April 13, 2017)
I have never sent fan mail, but I have sent a thank you
when I've received a book that I've win in a contest and I
have posted complimentary reviews on Goodreads and Amazon
when I've particularly enjoyed a book.
(Irene Menge 6:49pm April 13, 2017)
No I have not sent fan mail. But I have emailed an author asking where
I could get her books because when I read what her series was about, I
just had to read it!
(Jaclyn Kolhoff 3:29am April 14, 2017)
Yes, I have sent fan mail and also become friends on
Facebook.
(Mary Smith 6:25am April 14, 2017)
Not a lot of fan mail, but I perfer to show my appreciation
in my book reviews or letting others on the book blogs I
belong to know of those enjoyable books.
(Nancy Luebke 8:47pm April 14, 2017)
I've sent fan emails and most of the time gotten gracious
author replies!
(Susan Dyer 7:01pm April 25, 2017)
Registered users may leave comments.
Log in or register now!