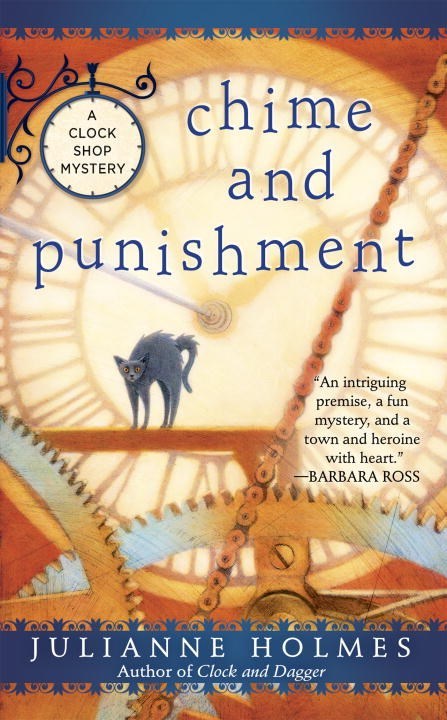 Purchase
Clock Shop
Berkley Prime Crime
August 2017
On Sale: August 1, 2017
Featuring: Chief Paisley; Ruth Clagan
304 pages
ISBN: 042527554X
EAN: 9780425275542
Kindle: B01MRK5HU7
Mass Market Paperback / e-Book
Add to Wish List

Mystery Cozy | Mystery Amateur Sleuth
Expert clockmaker Ruth Clagan has another murder on her hands in the third Clock Shop Mystery from the author of Clock and Dagger.
Years ago, the serenity of picturesque Orchard, Massachusetts, was shattered by a fire that destroyed the town's beloved clock tower. Ruth inherited the dream of repairing it from her late grandfather. Now that she's returned home to run his clock shop, the Cog & Sprocket, she's determined to make it happen, despite wrenches that are being thrown into the works by her least favorite person, town manager Kim Gray.
A crowd of residents and visitors are excited to see the progress of the tower at a fund-raiser for the campaign, until Kim is found crushed under the tower's bell, putting an end to all the fun. The list of suspects is so long it could be read around the clock, and it includes some of Ruth's nearest and dearest.
Time's a-wastin' as Ruth tries to solve another murder in her beloved Orchard while keeping the gears clicking on her dream project.
Clock Shop
Comments
30 comments posted.
Love the titles of your books. Hope I have the opportunity
to read some of them. Really like the idea of a woman
clockmaker.
(Linda Leonard 6:53pm August 7, 2017)
This sounds like a wonderful book and series I would enjoy
reading. I love the aspect of a talented woman clockmaker.
Antique clocks are so fascinating.
(Maryann Skaritka 8:14pm August 7, 2017)
This sounds like a great read. Thanks for the contest.
(Pam Howell 7:29am August 8, 2017)
This novel sounds captivating and unique. It would be
wonderful to read this fabulous story.
(Sharon Berger 9:10am August 8, 2017)
Stories which have to do with clocks make me think of time
and how I always want more time. This story sounds sweet
what with the whole town trying to raise money for a good
cause.
(Alyson Widen 3:58pm August 8, 2017)
This sounds like a different kind of series. Can't wait to start.
(Susan Wilkinson 4:11pm August 8, 2017)
I love mysteries and this one sounds good. I would love to
read this!
(Tanja Dancy 8:47pm August 8, 2017)
Love a good cozy mystery!
(Linda Knowles 10:23pm August 8, 2017)
Sounds like an interesting book, can't wait to read it.
(Dynal Roberson 12:21pm August 9, 2017)
I look forward to reading Chime and Punishment. My first thought of a clock when I read this is Big Ben.
(Leona Olson 11:40am August 9, 2017)
I love a cozy mystery.
(Phyllis Lamken 2:08pm August 9, 2017)
I must admit that I didn't know of you or your clock
mysteries until a member of my book club brought your name
into discussion. I can hardly wait til I get started
reading your stories, they sound so "chimming".
(Rosemary Simm 2:47pm August 9, 2017)
I would love to win and read your book.
(MaryEllen Hanneman 2:53pm August 9, 2017)
I would love to win this book, sounds like a good cozy
mystery.
(Mary Smith 2:57pm August 9, 2017)
This is a novel idea which I haven't seen in cozy mysteries. That of the
main character running a clock shop. Most include female characters which
work in a bakery of some sort. Now, I do love those. But every now and
again, I'd like something with a twist. Looking forward to Ruth's story!
Susan S.
(Susan Sigler 4:01pm August 9, 2017)
These books all sound like must reads to me!
(Judy Weaver 4:13pm August 9, 2017)
I really enjoy reading cozies and I feel the time is ticking
to get this one read. Thanks for this opportunity.
(Nancy Luebke 4:19pm August 9, 2017)
sounds like a book for me : )
(Kim Salmi 5:49pm August 9, 2017)
It sounds wonderful.
(Judy Gregory 6:08pm August 9, 2017)
Sounds so good and I just love cozies would love to read
and post reviews. Peggy clayton
(Peggy Clayton 12:49pm August 10, 2017)
The book sound very summer readable.
(Susan Beamon 2:37am August 10, 2017)
Back in the day I was adventurous and inquisitive, too. I'm looking forward to sticking my feet in Ruth's shoes and following along as she solves the mystery. Isn't that what a good book does? Makes you feel like you're right there?
(Lynn Estep 11:52am August 10, 2017)
I've never heard of this author or series before! I'm SO
GLAD I found them here. I have always liked clocks and
mysteries..so the two together is a win win in my opinion!
Have to go looking for book 1 on Kindle. :)
(Sharon Shearouse 12:35pm August 10, 2017)
i like the name of the shop cog&sprocket did she rename the shop or was that her grandfathers name when he had it before she inherited?
(Beverly Harrold 7:32pm August 11, 2017)
I really would like this book. Thanks for the chance.
(Gloria Zimmer 8:41am August 12, 2017)
I enjoy reading mysteries. Thanks for giving me a chance to win a copy.
(Anna Speed 12:35pm August 12, 2017)
Sounds like my type of book. Thank you.
(Linda Pillow 2:45pm August 12, 2017)
Sounds Great!
(Eileen Mauldin 2:47pm August 12, 2017)
I have clocks all over the house, need one or two in every room
(Jeri Dickinson 5:54pm August 12, 2017)
The clockwork cover is so cool! This whole series sounds intriguing!
(John Smith 9:03pm August 12, 2017)
Registered users may leave comments.
Log in or register now!