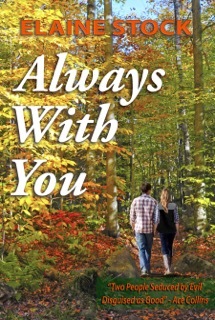 Purchase
Elk Lake Publishing
January 2016
On Sale: January 19, 2016
384 pages
ISBN: 1942513844
EAN: 9781942513841
Kindle: B01AQXQTGO
Paperback / e-Book
Add to Wish List

Can she move forward without knowing her past? Will he enjoy his present if he can't free himself from what he left behind? In the heart of the Adirondacks, Isabelle lives in the shadow of a dark family secret whose silent burden strips her family of emotional warmth and faith in God. Tyler belongs to the religious sect called The Faithful, which Isabelle's father dislikes immensely. Yet, because Tyler belongs to this group, Isabelle sees only a man devoted to his family and faith. She wants it; she gets it; they marry. And when the truth comes out, Isabelle faces two choices: Staying could endanger her child. Leaving could cost her life.
Comments
11 comments posted.
Re: Always With You

Love stories are always great to read. But is any story
really perfect? That's where the decisions get to be made...
(Nancy Ludvik 12:44pm September 30, 2016)
Falling in love is never a sure thing. Like everything in life you have to work at it daily but it is well worth it!
(Bonnie Capuano 10:00am September 30, 2016)
Stories with emotions and depth such as yours are captivating.
(Sharon Berger 11:00am September 30, 2016)
Love can be fickle an ddo not always end happy.
Marilyn
(Marilyn Collins 7:12pm October 1, 2016)
Love the location of the book in the Adirondacks.
(Susan Clickner 3:36pm October 2, 2016)
I like to read love stories with happy endings.Since they are make-believe
why not make them happy ?
(Jackie Wisherd 12:45pm October 3, 2016)
Sounds like an interesting story. I've read a few like this in the past. I would say
most of my books have HEA ending in them so this is a goo change of pace.
(Valerie Miller 10:35am October 3, 2016)
This sounds like an interesting story and I would love to read
it. I have always loved reading books and I respect all the
authors for so much time and energy to come up with Amazing
ideas to entertain the readers.
(Tarushi Kaur 2:14pm October 3, 2016)
A lasting, loving relationship requires work from all parties
involved. It can be done and is worth the work!
(Kathleen Bylsma 5:12pm October 3, 2016)
I desperately want to read this book. It is very relateable
to things I've been through.
(Erica Green 8:46pm October 3, 2016)
Oh, in relationships and characters, I love the back and
forth of shall I, must I, maybe not (this time) with all
that baggage attached to the bad boy, unless there are
redeeming qualities.
(Alyson Widen 11:48am October 4, 2016)
Registered users may leave comments.
Log in or register now!