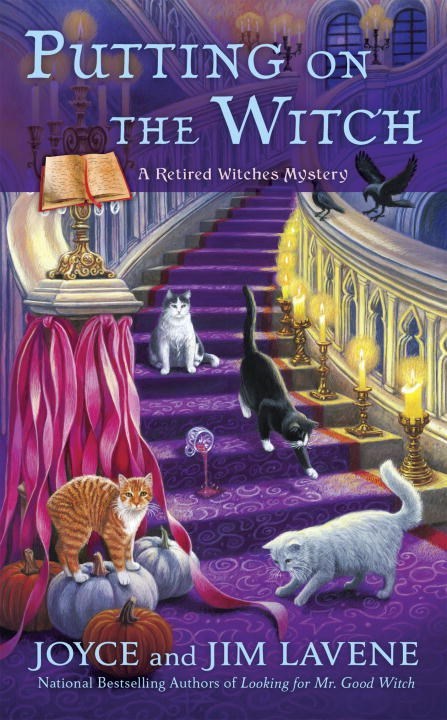 Purchase
Retired Witches #3
Berkley Prime Crime
October 2016
On Sale: October 4, 2016
304 pages
ISBN: 0425268276
EAN: 9780425268278
Kindle: B01AHKXHTS
Mass Market Paperback / e-Book
Add to Wish List

In the latest mystery from the bestselling authors of Looking for Mr. Good Witch, the retired witches of Wilmington, North Carolina, are ready to kick up their heels...
With their coven's spell book still missing, Molly and Elsie—along with their ghostly friend Olivia, her daughter Dorothy, and her boyfriend Brian—are all on edge, especially now that Dorothy's infamously wicked father is back in the picture. So when they receive an invitation to an exclusive Witches Ball, the ladies jump at the chance to dress up and have some fun.
The castle locale is spectacular and the party is hopping, but the festivities come to a swift end when a member of the Grand Council of Witches is murdered. With the whole place on lock down, the coven is determined to find the cunning killer, even with an angry council and a real Spanish Inquisitor breathing down their necks...
Retired Witches Mysteries
Comments
20 comments posted.
I love the costumes. Coming up with an alter ego is the
best!
(LaRonda Atchison 11:21pm October 10, 2016)
I love to see the kids in their costumes. What a nice picture
of Joyce and Jim.
(Leona Olson 6:54am October 11, 2016)
Favorite Halloween festivity for me has to do with a friend
and myself baking up silly treats for the annual Halloween
party we throw for our kids. Finger shaped cookies with a
flaked almond nail, Hotdog and crescent roll mummies, and
meringue ghosts are go to faves.
(G. Bisbjerg 10:45am October 11, 2016)
The children and how excited they get for candy and
costumes. Our children are out on their own, so we love to
watch the children in our neighborhood!
(Sharon Shearouse 12:23pm October 11, 2016)
My favorite activity is eating the candy.
(Jenne Turner 10:45pm October 11, 2016)
I have to say Halloween isn't really my favorite holiday
but do love reading witch craft stories.
(Sue Ames 9:10am October 12, 2016)
Favorite activity is handing out candy. I love to see the kids and how excited they are.
(Susan Balla 9:21am October 12, 2016)
I love the costumes handing out candy for the kids, Love the pumpkin spice cakes, breads and teas and coffees.
Penney
(Penney Wilfort 10:29am October 12, 2016)
all the old movies
handing out candy
my favorite holiday
all the spooky stuff
(Jennifer Beck 12:29pm October 12, 2016)
I love dressing up and eating candy.
(Tanja Dancy 5:17am October 13, 2016)
Dressing in costumes and not knowing who we are.
(Sharon Berger 2:00pm October 13, 2016)
I love the costumes, making food for Halloween n love the trick or treaters.
Anyone dressed like Dorothy, wizard of oz gets extra candy !
(Lori Barnes 5:40pm October 13, 2016)
Love seeing all the kids come to my door in costumes! Also
watching all the scary movies!!!!
(Teresa Ward 10:07pm October 13, 2016)
I was sorry to learn that both Joyce and Jim have passed away. They left quite the legacy of literature. My favorite Halloween festivity is helping choose the perfect pumpkin(s) at the pumpkin patch AND having the opportunity to try to navigate a corn field maze without getting too lost along the way.
(Betsy Pauzauskie 10:32am October 14, 2016)
I like greeting the kids when they come to trick or treat.
(Debra Guyette 1:52pm October 15, 2016)
I enjoy decorating for Halloween and especially enjoy greeting the little ones when they come to trick or treat. The smallest ones are usually so wide eyed with amazement.
(Anna Speed 12:32pm October 16, 2016)
Autumn is my favorite time of year with the pumpkins and colorful leaves.

I like to hand out a variety of treats on Halloween and not just candy. The kids can chose from candy, raisins, pencils, erasers, and other small toys. And, I love this book cover with the kitties!
(Connie Sahn 12:46pm October 16, 2016)
I like giving candy out to the neighborhood kids. But I enjoy decorating for Halloween even more.
(Kerry Shaw 7:01pm October 16, 2016)
Love dressing up and getting to be something new each year!
(Ricardo Gonzalez 3:30pm October 17, 2016)
I love to see all the wonderful costumes and children
having a blast!
(Crystal Hernandez 3:31pm October 17, 2016)
Registered users may leave comments.
Log in or register now!