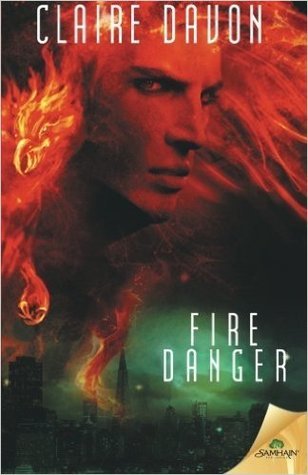 Purchase
Samhain
July 2016
On Sale: June 21, 2016
Featuring: Rachel Quinn
ISBN: 1619235706
EAN: 9781619235113
Kindle: B01A0P6FFS
e-Book
Add to Wish List

All her life, a faint memory of her parents and fire has glowed at the back of Rachel Quinn's mind. With her parents long dead, there is no one to clarify what it means.
When a gorgeous winged man rescues her from a pack of werewolves, something flares to life inside Rachel. Suddenly she can see the paranormal world around her, a world unseen by mortals. And far more complicated.
When Phoenix's massive orange-and-red wings erupt from his back, he knows his Challenge-an age-old battle against his Demonos counterpart-is upon him. Heeding Rachel's cry for help adds a layer of complexity never seen in any previous Challenge.
Rachel, they discover, isn't entirely human. Like Phoenix, she commands fire. Fire calls to fire, and soon they are succumbing to a fierce attraction. As the Challenge bears down on them, though, Phoenix must discover what the Demonos has in store for mankind. If he doesn't succeed, the entire world will be swallowed up in darkness-and Rachel along with it.
Warning: When the mortal and the Elemental worlds collide, the resulting smoke could cause heart palpitations, teary eyes, and a sudden need to fan yourself. Keep a cooler of cold drinks handy.
Comments
28 comments posted.
Re: Fire Danger

I would love to read more about gorgons, Medusa and her
sisters, and the curse against them. That would be a great
book.
(Tanja Dancy 7:54am July 21, 2016)
I have always found Valkyries fascinating.
(Cheryl Castings 11:28am July 21, 2016)
Always fascinated by banshees and Medusa. Heard of Wyvern
but never read a story with one.
(Miranda Owen 1:35pm July 21, 2016)
Kelpies.What a unique concept.
(Judy Gregory 9:39pm July 21, 2016)
I love anything that has to do with myths!
(Crystal Hernandez 1:25am July 22, 2016)
I really want a Thunderbird in my life. I already have a
loverbird (my Amazon) but to have the protection of that
guy - WOW!
(Dagmar Finch 4:14am July 22, 2016)
I'd like to read more of call these.
(Cathy Thomas 8:28am July 22, 2016)
BOY , does this sound like a ' Hottie '. I would love to win this book . Thanks for the chance .
(Joan Thrasher 10:27am July 22, 2016)
They all sound so good takes me out of the world of pain
that I have 24 hrs a day! I have a disease called RSD and
that is what I struggle with every day so these kind of
book tickle my fancy as they take me out of the real world
and way away from pain and suffering to others. Love it.
(Peggy Clayton 1:38pm July 22, 2016)
I love shifter stories. Well written paranormal fantasy is
my favorite. If it makes me laugh, that's a bonus. I also
like have a romance going on as well as an HEA. Thank you so
much for the opportunity!
(Marcia Berbeza 3:37am July 23, 2016)
I've always stuck to the more basic stories of vampires and such (and no, I haven't read or seen the Twilight series) but these kelpies? They intrigue me and I've never heard of them before.
(Kirsten Kimball 7:03am July 23, 2016)
I would like to see a story with a wyvern, though all of
your possibilities look pretty unusual and pique my
interest.
(G. Bisbjerg 1:35pm July 23, 2016)
Kelpies sound interesting. especially because they are
normally viewed as a bad monster/creature.
(Jeannie Platt 3:51pm July 23, 2016)
A winged man, werewolves and a world of darkness....what's not to love!
(Melody Kaufman 1:24am July 24, 2016)
Leprechauns, brownies and selkies are rarely. I will confess to a love of elves and faeries and Kenyon's Carpathians.
(Sharon Mitchell 4:45am July 24, 2016)
Thanks for the explanation of some of the mythicals. I'm
only just expanding my horizon past vamps and weres. I
think the thunderbird would be a fascinating exploration.
(Connie Blasing 2:44pm July 24, 2016)
Boy, that title Fire Danger comes up just as I watched a terrible fire in California shown on the news. So terrible.
(Gladys Paradowski 11:35pm July 24, 2016)
I prefer books to short stories, and I still like vampire stories, even at this
late date!
(Connie Williamson 12:13pm July 25, 2016)
I like to read about shifters, however I find this interesting too and may have
to check it out!
(Lily Shah 1:54pm July 25, 2016)
I prefer books to short stories. Love stories about the fae.
(Phyllis Lamken 2:28pm July 25, 2016)
Thunderbirds win my vote.
(Angela Daffern 3:20pm July 25, 2016)
I love mythology. The same common themes run through the
mythologies of different cultures - they reach back to a
very ancient common source. That being said, I do like the
Thunderbird.
(Deb Philippon 5:12pm July 25, 2016)
I would love to read more about gorgons! Medusa sounds
fascinating! Thank you for the awesome giveaway!
(Kristie Donelson 7:49pm July 25, 2016)
I have that magnetic attraction to mythological creatures. And, upon reading the plot to Fire Danger I'm all in wanting to read it! So grad you became a writer! Since you asked, Wyverns tickle my fancy at present! And, I always enjoy reading about dragons, with Raxtus in Brandon Mull's Fablehaven series being my favorite presently. And, Shannon Messenger's Alicorn (Silveny) in Keeper of the Lost Cities was also a joy to me!
(Sarah Edwards 8:31pm July 25, 2016)
I like that you are writing about different creatures than we usually see in
paranormal stories. There is such a great store of beings in folklore that you will
not run out of ideas any time soon.
(Patricia Barraclough 1:48am July 26, 2016)
I think it would be interesting to read a book that includes a banshee.
(Anna Speed 11:34am July 26, 2016)
The book sounds interesting, thanks,.
(Deb Pelletier 9:23pm July 26, 2016)
I like that kelpie idea!
(Mary Ann Dimand 11:47pm July 26, 2016)
Registered users may leave comments.
Log in or register now!