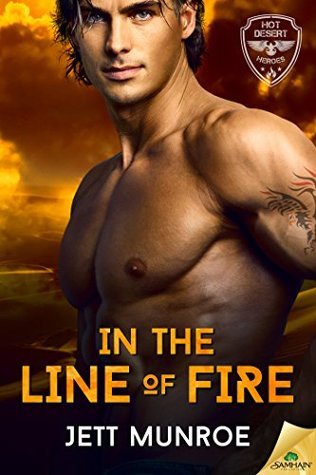 Purchase
Hot Desert Heroes #1
Samhain Publishing
June 2016
On Sale: June 7, 2016
Featuring: Beck; Delaney Murphy
245 pages
ISBN: 1619235595
EAN: 9781619235595
Kindle: B01BW59U2U
e-Book
Add to Wish List

Their passion burns white hot. But danger is heartless and cold.
Delaney Murphy has had a stomach-fluttering, mouth-watering crush on Beck since the first time she saw him over the rim of her regular morning latte. But she's never been long on self-confidence, especially around exceptionally handsome men.
After a year of avoiding him, she's shocked when he slides into the next chair and wears down her resistance to a first date.
When Laney is laid off from her job, Marines special ops veteran Beck "Gravedigger" Townsend wastes no time hiring the quiet, auburn-haired beauty into Red Eagle Group, his security firm. Keeping her within touching distance—and under his protection.
Laney's smile and sharp intelligence light up Beck's life and heat up his bed, yet he hesitates to give her what she really wants: full access to the darkest corners of his wounded spirit. But when danger is delivered right to Red Eagle's door, the only way to save her—and their love—will be to bleed. Body and soul…
Warning: Adult language and graphic sex scenes between a man locked behind his secrets, and a woman ready to break free of her past. If you think the desert is hot, you ain't seen nothin' yet.
Hot Desert Heroes
Comments
32 comments posted.
I love the mountains...they are so peaceful and calm. Great place to be!! Love your cover too!!!
(Bonnie Capuano 9:27am July 18, 2016)
Another Laney! THIS I've got to read, LOL!
(Elaine Seymour 9:39am July 18, 2016)
Now that I'm older and I have ' been there and done that ' my escape now is to stay at home and enjoy the relaxing peace and quite .It is so peaceful sitting outside and watching all the little critters playing and having fun . I can watch a new flower open-up a new bloom ,it's amazing to see the flower spread open its petals . I'm admiring all that's around me and enjoying every bit of it .
(Joan Thrasher 9:49am July 18, 2016)
looking forward to read the book...
(Dona Alex 10:10am July 18, 2016)
i love to escape to the ocean. A beach is soothing.
(Sharon Berger 12:05pm July 18, 2016)
One day I hope to see the beauty of Hawaii in person.
(Colleen Conklin 12:41pm July 18, 2016)
I really love the mountains in Colorado! Our family spent a month in Denver while my father attended school for his company. Each weekend we'd go check out some different sites. It really made an impression on me. Maroon Bells of course was my favorite place !
(Joanne Schultz 1:54pm July 18, 2016)
I'd like to see Europe.
(Kv H 5:28pm July 18, 2016)
I would love a getaway back to Tucson
(lived there as a teenager) but I don't
think I'd want to come back
(Gina Keitz 3:34am July 19, 2016)
My longed-for getaway destination? Boy, I have so many.
First on my list is Hawaii or a Caribbean cruise. I would
also love to go to Australia, Ireland, Scotland, and Germany.
(Tiffany S 11:49pm July 19, 2016)
I love the ocean and mountains. So I'm pretty much okay going anywhere
that has some element of nature!
(Lily Shah 11:51pm July 19, 2016)
I would love to visit Hawaii.
(Tanja Dancy 1:01am July 20, 2016)
I live in AZ currently. Not as far south as Tucson and not as hot! I live in the
mountains in Northern AZ and it's beautiful!
(Meghan Stith 2:07am July 20, 2016)
My choice would be Iceland. I would love to go ice
sailing.
(Deb Philippon 3:15pm July 20, 2016)
I have never been to Tucson, but it looks lovely. My favorite getaway destination is Hawaii. Love the sand and beaches!
(Bonnie H 8:41pm July 20, 2016)
My longed for getaway destination is actually a journey - would love to take the pacific coast highway through california and up to washington. Tucson is a wonderful place to live. I am up in the Arizona White Mountains right now which is only about 4 hours away from Tucson.
(Margaret OConnor 2:49am July 21, 2016)
I'm a bit of home body. I like where I am.
(Judy Gregory 9:46pm July 21, 2016)
I love many places, in the US and abroad. Right now I particularly want to visit
somerset, England-- and I am very fortunate, because it looks as if I will be able to
go next June.
(Mary Ann Dimand 10:30pm July 21, 2016)
Hawaii would be wonderful to visit.
(Ginger Hinson 11:50pm July 21, 2016)
I have always wanted to go to Alaska. When I sit under my
maple in the backyard, that's what I dream of doing.
(Dagmar Finch 4:18am July 22, 2016)
I want to see Alaska.
(Cathy Thomas 8:30am July 22, 2016)
After reading this review I, more than ever, want to see Tuscon. It sounds wonderful.
(Mary Songer 7:46pm July 22, 2016)
I am dying to go to Rome!
(Crystal Hernandez 9:59pm July 22, 2016)
Oh I love this cover and will be reading this book for sure!!!
(Bonnie Capuano 10:02pm July 22, 2016)
I have always wanted to go down under. Australia sounds
fascinating! I have some cyber buddies that live down there
that I've always wanted to meet as well. Thank so much for
the opportunity!
(Marcia Berbeza 3:57am July 23, 2016)
My great-grandmother was a Tahitian princess who married a missionary and moved to the states. I have dreamed all my life to go to Tahiti. Maybe..
(Kirsten Kimball 7:00am July 23, 2016)
I have a love of the redwood country. We occasionally get away in our RV for a quiet week among the tree.
(Sharon Mitchell 4:54am July 24, 2016)
My dream vacation is a few weeks in Alaska.
(Anna Speed 2:04pm July 24, 2016)
I fell in love with Tucson when I visited about 12 years
ago. If I had the opportunity, it's where I'd like to
spend the winter months in retirement. I like the excerpt
- I'll be putting it on my want to read list.
(Connie Blasing 2:39pm July 24, 2016)
I've always wanted to go to New Zealand. Photos always show gorgeous scenery.
(Linda Harrison 7:36pm July 24, 2016)
THE BOOK SOUNDS INTERESTING. I would like to visit Scotland.
(Deb Pelletier 9:52pm July 24, 2016)
I greatly admire Marines and enjoy reading about them.
(Gladys Paradowski 11:38pm July 24, 2016)
Registered users may leave comments.
Log in or register now!