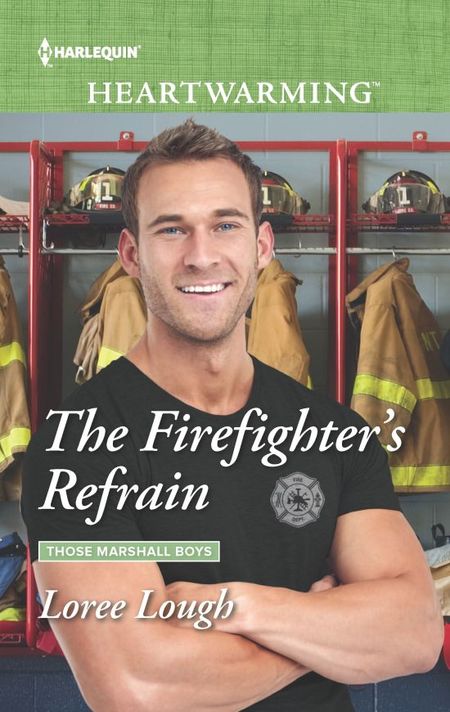 Purchase
The Firefighter's Refrain
Loree Lough
Those Marshall Boys #3
Harlequin Heartwarming
May 2016
On Sale: May 1, 2016
Featuring: Sam Marshall
ISBN: B018E4SDE8
EAN: 9781488009068
Kindle: B018E4SDE8
e-Book
Add to Wish List

Romance Contemporary | Inspirational Romance
He's a man who wants it all…if only he could have it
Dreams of stardom took musician and firefighter Sam Marshall far from his Colorado roots. Starting fresh in Nashville hasn't been easy, especially after an injury on the job, but he's working his way to the Grand Ole Opry one open mike at a time, teaching at the fire station to make ends meet. Yet Sam's intentions are shaken when he meets the lovely owner of a local café. Suddenly, Sam's dreams are filled with her. Too bad that as the daughter of country-music wannabes, Finn Leary's been there, done that. She'll never choose a musician. So how can Sam possibly get the girl and keep the guitar?
Those Marshall Boys
Comments
22 comments posted.
in process of reading this awesome book now
(Bren Kirksey 3:35pm June 3, 2016)
Love Loree Lough's books! Would love to win!
(Glenda Alexander 4:03pm June 3, 2016)
Have read e-book copy of this book and loved it. Would
love to win a print copy.
(Ann Ellison 6:00pm June 3, 2016)
My father is my hero... he is retired now, but for many years he was both a volunteer firefighter and a cop.
(Colleen Conklin 7:54pm June 3, 2016)
My hero is a combo of my mom and dad! They love me unconditionally and
taught me the love of God. They are always there for me and they are my
biggest fans! I love them more than they will ever know!
(Janet Dowell 11:18pm June 3, 2016)
They picked the right author to discuss character development. Reading The Firefighter's Refrain will show you why !
(Robert Crutchfield 11:27pm June 3, 2016)
My hero is my husband. I was in the hospital in critical condition and not once did my husband leave me. He stayed and slept there the whole time. He is truly my hero and I love him so much!
(Bonnie Capuano 8:38am June 4, 2016)
My hero is my father. He isn't my biological father. He is my father by
choice. When he met my mom with two young little girls he accepted her as
a package deal. There isn't a day that goes by that I don't thank God for
bringing him into our lives. He loved us as his own from day one. He is by
all definitions of the word a great father and I can't imagine our lives without
him.
I look forward to reading this book.
(Ginger Ports 8:52am June 4, 2016)
Well , a girl can dream , can't she ? I do ,and Sam would be the one . He sounds yummy to me and I believe he would treat me like I want to be treated . Give me a good book and I get into it that I am the character and that is my life at the time . So , I have many hero's in my life . I would love to read this book , firefighters are very interesting . Thanks for this giveaway .
(Joan Thrasher 9:34am June 4, 2016)
One question; when is the movie coming out? I can't wait!
(Lauren Buroker 10:03am June 4, 2016)
Hi, Loree. The Sam you dated sounds like a wonderful guy.
So does the hero in "The Firefighter's Refrain." There's
a certain group of people who no longer recognize our
firefighters and law officers as heroes. Thank you for
honoring them with your wonderful stories.

BTW, we must have the same Baby Name book. Mine is nearly
40 years old too, and it has the origins for the names
listed by the nationality. It even has "Attractive"
names, "No Frills" names, "Macho" names, etc. I wouldn't
take anything for it even though I bought it at a library
sale for only 50 cents.
(Laurean Brooks 1:36pm June 4, 2016)
I can't wait to read this!
I have enjoyed every book of Loree's that I have read
(Rebecca Thomas 1:54pm June 4, 2016)
Don't put me in the contest...... I just wanted to tell you
who my heroes are.
(Janet Dowell 5:18pm June 4, 2016)
Many heroes. All who put their lives on the line to protect and preserve life ,liberty and our way of life. Any hero would have a protective streak and believe in God for,
(Melinda Marks 10:57pm June 4, 2016)
My hero is the Sergeant-Major who was my high school instructor. I am amaze of his life and what he must have went through during WWII, Korean War, and Vietnam. Most of all, of what he has to tolerate being a Native American. Knowing him makes me strive to do better as a person.
(Kai Wong 12:59pm June 5, 2016)
I can't wait to read this book! About to start! I know I want be disappointed,
all of Loree Loughs books are an inspiration! Love the characters, it's hard
to put these books down!
(Anice Ridley 11:18am June 6, 2016)

(Anice Ridley 11:19am June 6, 2016)
Any man that can stand the heat and races into disasters
instead of doing the sane thing and running from them is a
hero. When they're handsome as well? Well that's just
icing on the cake! Thank you so much for the opportunity!
Oh, my hero? My husband of nearly 38 years, of course!
He has always rescued me from whatever scrape I've ever
gotten into, quite a few actually!
(Marcia Berbeza 3:33pm June 7, 2016)
My late husband. Not only did he love and cherish me, more
importantly, he loved and reared my twin boys as his own . He
was beloved by them, all their friends and his CO-workers-all
while enduring kidney failure and transplant. He lived a full
life!
(Kathleen Bylsma 9:27pm June 7, 2016)
I love the cover. I have an idea the book is just as good as Sam looks.
(Anna Speed 1:32pm June 9, 2016)
My hero is anyone that is serving or has served our country
in any branch of the military.
(Bonnie Davis 6:18pm June 9, 2016)
Who doesn't love a hero?
(Kimberly Miller 9:04pm June 9, 2016)
Registered users may leave comments.
Log in or register now!