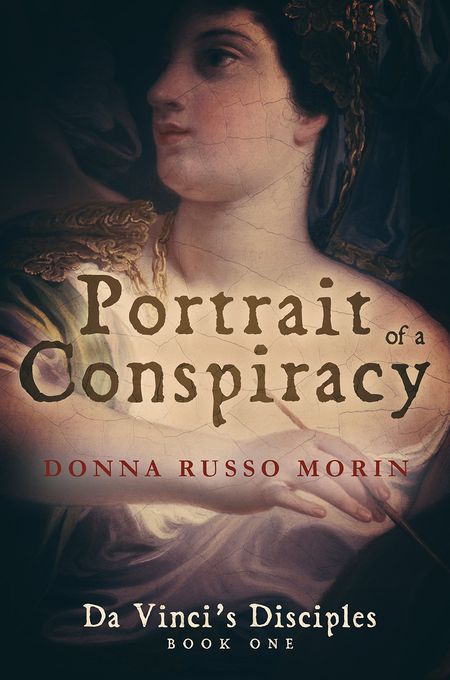 Purchase
Da Vinci's Disciples
Book One
Diversion Books
May 2016
On Sale: May 10, 2016
Featuring: Giuliano; Lorenzo de' Medici; Viviana
296 pages
ISBN: 1682300609
EAN: 9781682300602
Kindle: B01BN1QVJ8
Paperback / e-Book
Add to Wish List

One murder ignites the powder keg that consumes a Florence under the iron rule of the powerful Medici family. Amidst the chaos, five women and one legendary artist weave together a dangerous plot that could bring peace, or get them all killed.
Seeking to wrest power, members of the Pazzi family drew their blades in a church and slew the beloved Giuliano. But Lorenzo de' Medici survives, and seeks revenge on everyone involved, plunging the city into a murderous chaos. Bodies are dragged through the streets, and no one is safe.
Five women steal away to a church to ply their craft in secret. Viviana, Fiammetta, Isabetta, Natasia, and Mattea are painters, not allowed to be public with their skill, but freed from the restrictions in their lives by their art. When a sixth member of their group, Lapaccia, goes missing, and is rumored to have stolen a much sought after painting before she vanished, the women must venture out into the dangerous streets to find their friend. They will have help from one of the most renowned painters of their era―the peaceful and kind Leonardo Da Vinci.
It is under his tutelage that they will flourish as artists, and with his access that they will infiltrate some of the highest, most secretive places in Florence, unraveling one conspiracy as they build another in its place.
Historical fiction at its finest, Donna Russo Morin begins a series of Da Vinci's disciples with a novel both vibrant and absorbing, perfect for the readers of Sarah Dunant.
Comments
22 comments posted.
I love when historical novels make me see women in those times in a
different light. Many times we see them as oppressed and without
personalities or substance. Whenever I read a historical book and discover
the woman has a purpose, a job and wit, it makes me smile and appreciate
that time period even more.
(Meghan Stith 12:45pm July 13, 2016)
I love the idea of a secret society of women artists and
Portrait of a Conspiracy sounds like an exciting read.
(G. Bisbjerg 12:18pm July 13, 2016)
Thanks for this fascinating post and the wonderful photos.
This historical would be a treasure which I would cherish.
The secret society of women artists is intriguing and
inspiring. Florence is filled with history, culture, art and
is one immense museum devoted to art and appreciation of
this unique city.
(Sharon Berger 2:03pm July 13, 2016)
i love books and any type is me and tthen i love the idea of getting them and read them
(Desiree Reilly 3:28pm July 13, 2016)
I like your imagination and applied artistic license, having included a secret society of women. And thank you for your tour of Florence, both in pictures and words. Stunning! Portrait of a Conspiracy appeals to me on many levels and is a book I look forward to reading!
(Betsy Pauzauskie 4:20am July 14, 2016)
I like the idea of a secret society of women - it is sad
that they do have to meet in secret but I like their
determination. I also like the idea of this book, sounds
great!
(Blythe Jackson 6:11am July 14, 2016)
Its a great post as you always bring something new to us. I have added your blog to my favourites so that I can keep myself updated. Hopefully looking for more relevant posts in future. Thank you so much for your great efforts and keep it up Home Insurance Memphis TN
(Debra Valdez 6:44am July 14, 2016)
This book deals with two fascinations of mine: Leonardo, and the Medici family. You can't go wrong with that combo, and add a secret society of women and I think you have a big hit!
(Valerie Stein 3:53pm July 14, 2016)
From these pictures, Florence looks beautiful, the
buildings, the art. I just think it was a shame that the
women had to keep their talents hidden. This book sounds
like it would be a very interesting read.
(Tanja Dancy 6:01pm July 14, 2016)
Would love to read this! Hoping I'm fortunate enough to
win!
(Donna Kotecki 8:00am July 15, 2016)
Just finished bingeing on DaVinci's Demons so this would be an incredible
win. I could see him helping these artists regardless of their sex.
(Shirley Cochran 5:44pm July 15, 2016)
I have been to Florence and it is amazing. I would love to
be a member of the society.
(Debra Guyette 10:41am July 16, 2016)
The pictures are stunning! Thanks for sharing. I have a
definite case of wanderlust now. I also love the idea of a
secret society of women artists. I've never read anything
like that and I'm intrigued.
(Zara Heflin 12:09pm July 17, 2016)
the pictures are amazing.. thank you for sharing...
(Dona Alex 10:25am July 18, 2016)
The beauty of Florence is unquestionable and the secret society members appear to be strong women with a lust for life and art!
(Melody Kaufman 8:13pm July 18, 2016)
Never been to Florence but sure wish I could. I would love this book and have added it to my TBR list!!
(Bonnie Capuano 10:10am July 19, 2016)
The pictures of Florence are beautiful , they make me want to go there and see all of the city . Thanks for this chance to win this wonderful book .
(Joan Thrasher 10:20am July 19, 2016)
THANKS FOR CHANCE.
(Marsha Baurns 4:58pm July 19, 2016)
Love historical fiction, especially when real people are incorporated into the plot line.
(Anne Calhoun 7:05pm July 19, 2016)
I love the pendant! Thank you for the chance to win.
(Tiffany S 11:24pm July 19, 2016)
It sounds risky and dangerous in a way, but also sort of awesome! I'm not
sure I would be the type of woman to join a secret society though.
(Lily Shah 11:49pm July 19, 2016)
I can't wait to read your new book. The pendant is so
beautiful!
(Cheryl Bruder 3:31pm August 27, 2016)
Registered users may leave comments.
Log in or register now!