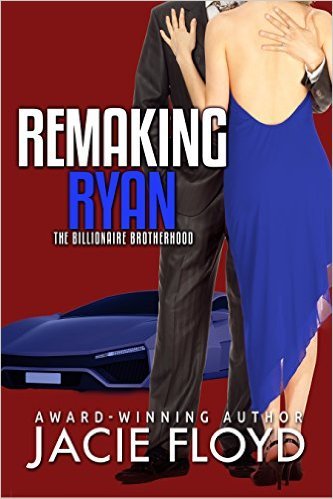 Purchase
The Billionaire Brotherhood #3
Author Self-Published
January 2016
On Sale: January 4, 2016
Featuring: Jenna McCall; Ryan Eastham
300 pages
ISBN: 1523255366
EAN: 0000000000000
Kindle: B0167QVQUS
e-Book
Add to Wish List

In Book Three of the Billionaire Brotherhood, Ryan Eastham appears to have it all—fame, fortune, and legendary good looks—but injury has ended his high-profile professional football career and he's at loose ends. After years of living, breathing, and training for football, he's searching for something meaningful to do with his future. He expects nothing but boredom from the on-air sports announcer job he's been offered, and his so-called love life is more tabloid fiction than fact.

Due to the shattering betrayal of her late husband, Jenna McCall is wary of men and their meaningless promises. Isolating herself from friends and family while she reexamines her goals and dreams, her one year old daughter is her sole focus. Ryan's unscheduled intrusion into her life leaves her irritated, edgy, and a little intrigued.

Family commitments throw this pair together as reluctant companions on a cross-country drive from Massachusetts to Missouri. Despite a wrong turn, stolen car, and fussy baby, they find unexpected pleasure in one another's company. Amid wedding chaos and intense family drama in St. Louis, they each proceed with plans to start new careers in different parts of the country, but their attraction continues to build. When it's time to say good-bye, Ryan challenges Jenna to remake their lives and plan a future together instead.
The Billionaire Brotherhood

Winning Wyatt
#1.0
Kindle | BN.com | | |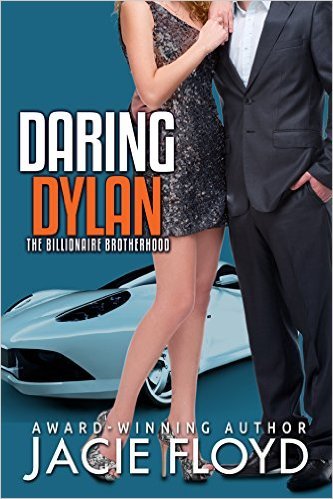 Daring Dylan
#2.0
Kindle | BN.com | | |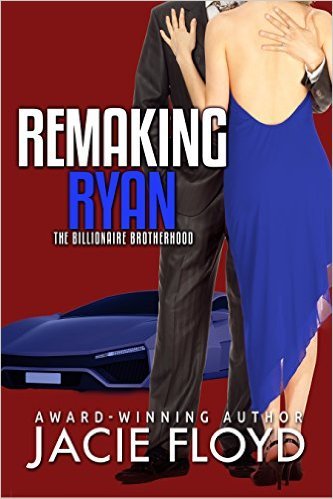 Remaking Ryan
#3.0
Kindle | | | |
Comments
18 comments posted.
Re: Remaking Ryan

Thanks for introducing your series to me... the worst thing of a road trip for me tends to be the traffic through certain areas...
(Colleen Conklin 12:03pm January 20, 2016)
The best part of a road trip for me is getting away from
home. The worst part tends to be if we get stuck in traffic
or have to veer off the original path to get where we're
going.
(Edward Washington 12:03pm January 21, 2016)
The long drive.
(Marissa Yip-Young 6:29am January 21, 2016)
Road trips rarely go as planned but that is part of the
appeal. It's the journy not the destination
(Donna Antonio 11:08am January 21, 2016)
Although one tries to plan for problems, if one approaches it knowing there will be problems, one can enjoy the adventure...that being said, the worst part for me is having to use the facilities and there are none around or they are so dirty, one doesn't wish to use them! Nice to read your essay!
(Kathleen Bylsma 12:02pm January 21, 2016)
The worst part is having to wait with a full bladder for a
bathroom break after guzzling down a huge bottle of
soda....I speak from experience XD
(Hylla Jackson 9:08pm January 21, 2016)
The best part is when you are almost there and you are so
excited . The worst part is when you are just leaving and
realize that you are there for 5-6 hrs and that is a long
time and with all the potty stops and food and oh goodness
so when you get there it makes it all worth it.
(Peggy Clayton 1:02am January 22, 2016)
The best part is seeing all the amazing sights when you are driving, seeing parts of the countryside that you don't usually get to see. The worst part is having to stop often to eat or use the restroom
(Nicole Bouchey 10:50am January 22, 2016)
My worst trip was about thirty years or more ago with my husband and two young daughters . We were about 3 hours away from home so decided to drive on . This was in the middle of the night ,so we got the map out to see if there were short cuts we could take . We ended up getting on a dirt road upon top of this big mountain ,we could see car lights down below and then I looked at the gas gage which was nearly empty and freaked out . We were away from civilization , nothing no where .My husband kept saying we would make it to this town before we ran out of gas , then I started thinking the stations would all be closed in the middle of the night . Long story short.. we made it down to the town and got gas in the car to make it on home which I was so thankful for . I vowed then that I would never let my car get low on gas or take a road that I didn't know anything about . When my car gets on half a tank I go ahead and fill it up . That trip was a nightmare to me , I'm one that always thinks the worst .
(Joan Thrasher 2:49pm January 22, 2016)
The best part to me is driving through the countryside and seeing the
scenery. The worst is having to pre!
(Lily Shah 6:56pm January 22, 2016)
I love seeing things I would never have had a chance to see because of flying. That's why I love train rides so much!
(Kathleen Bylsma 7:04pm January 22, 2016)
I love road trips. My biggest problem is that I have overactive bladder. The
commercial about gotta go, gotta go, gotta go right now? Me all the way!!!
(Vicki Hancock 7:45pm January 22, 2016)
The best part is visiting friends and family along the way! The worst part is forgetting to take meds for car sickness when we travel winding roads.
(Betsy Pauzauskie 12:46pm January 23, 2016)
Its exciting to travel to new destinatins.The worst is the long drive.
(Cathy Garner 10:56pm January 23, 2016)
We live in a beautiful country. I love the road trips, a chance to see the beauty and areas that are different from where I live. The worst part is when the trip ends and I have to return to normal.
(Anna Speed 1:27pm January 24, 2016)
The worst part of a road trip for me is when you run into bad weather, especially if you are close to your destination. Do you stop, or continue on and hope you make it safely.
(Joanne Schultz 2:34pm January 24, 2016)
The worst part for me is traveling with my 3 year old. We have to make a lot of
stops since he hates sitting still for that long.
(Melinda Stephens 12:04pm January 25, 2016)
The worst part of a road trip is when the kids start
arguing over petty irritations. The best is when my
husband drives and I can close my eyes and listen to my
audiobook. :)
(Terrill Rosado 5:52pm January 26, 2016)
Registered users may leave comments.
Log in or register now!