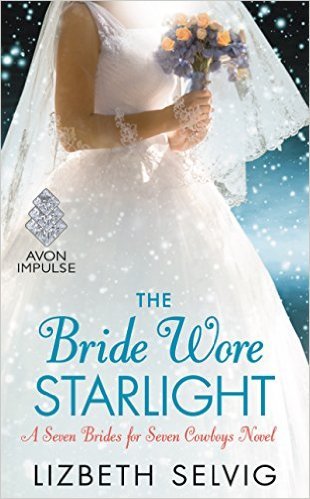 Purchase
A Seven Brides for Seven Cowboys Novel
Avon Books
February 2016
On Sale: February 9, 2016
Featuring: Alec Morrissey; Joely Crockett
384 pages
ISBN: 0062413961
EAN: 9780062413963
Kindle: B00RLVDHC4
e-Book
Add to Wish List

Romance Contemporary | Western
Once comfortable on stage in front of thousands, Joely Crockett is now mortified at the thought of walking—or rolling—down the aisle at her sisters' wedding. Scarred and wheelchair-bound, the former beauty queen has lost more than the ability to walk—she's lost her fire. But when one handsome, arrogant guest accuses her of milking her injuries and ignites her ire, Joely finally starts to feel truly alive again, and soon it's impossible for her to resist her heart's desire.
Alec Morrissey knows a little something about loss. A famous rodeo cowboy before he was injured in Iraq, he's managed to create something of a normal life, even if it's not the one he always imagined. Encountering stunning but damaged Joely, he sees a kindred spirit who can learn from his mistakes.
As these two healing souls begin to fall in love under the Wyoming stars, they must discover if they are willing to give in to the tragedies of life or fight for a future together.
Seven Brides for Seven Cowboys
Comments
20 comments posted.
I really like the concept for this book. A non-trad heroine,
animals and a hero with issues. That is more real than the
typical two perfect human romances. I would love to read this
book.
(Edward Washington 8:58pm February 17, 2016)
These animals always inspire the characters by their existence/endurance and allow the characters to develop into their full potential, which is why I'll never miss one of these books!
(Kathleen Bylsma 9:15pm February 17, 2016)
Thanks for the review I am looking forward to reading this, love the cover too
Penney
(Penney Wilfort 3:27am February 18, 2016)
I love when animals are interwoven in to a story. They add so much depth & character to the actual characters.
(Jami Birnbaum 10:12am February 18, 2016)
I would love to read this book . Sometimes it takes anger or other different feelings to make us get up and be determined to " show you " I can do it . It's certainly not good to have the feeling of " feel sorry for me ". In this book you have made Joely live again . I'm looking forward to reading this book . Thanks for this chance to win .
(Joan Thrasher 11:41am February 18, 2016)
If there's anything that gets me to cry, it's animals. Animals in distress or people in distress is sure to be heartrending.
(Sandra Stipins 2:13pm February 18, 2016)
I enjoy reading stories with animals,cowboys,ranches and family.
(Melinda Marks 8:40pm February 18, 2016)
I love when animals are part of the story - especially horses and dogs.
Dogs are just so loyal, and its like they have a 6th sense. They just always
seem to know what is going on and are there when you need them at the
right time.
(Lily Shah 12:29pm February 19, 2016)
I have never read any of your books. Would be nice to win one so I can.
(Judy Ferguson 5:33pm February 19, 2016)
Love the name of this book and look forward to reading it!
(Bonnie Capuano 4:24pm February 20, 2016)
Love a story where the animals have human personalities.
(Kai Wong 10:02pm February 20, 2016)
That's an eye-catching title and cover. I enjoy reading about animals in books, especially those that are interwoven into the plot and are a important part of the story.
(Anna Speed 11:59am February 21, 2016)
This has me intrigued. I am adding it to my tbr list.
(Patti Paonessa 1:10pm February 21, 2016)
In the past ten years I have lost everyone. I am 72 and lost my mother, my
sister, my brother and my partner of 27 years. What kept me together was
my friend Riva. She curled up next to me when I cried and cheered me up. I
lost her a couple of months ago, but I am stronger because of my
fourfooted companion.
(Pat Freely 2:08pm February 21, 2016)
Looks like a fantastic book!
(Maria Proctor 3:27pm February 21, 2016)
I love books with a strong heroine, and I love all animals. Good Luck Everyone!
(Therese Abdali 7:55pm February 21, 2016)
What a wonderful book! I love the way the animals are an important part of the story.
(Bonnie H 8:17pm February 21, 2016)
Ohhh love the feel of this . How there is animals in there and usually
animals bring the people together. Love the cover also it's eye catching .
Please want to pick it up
(Demetra Iliopoulos 10:19pm February 21, 2016)
And I love how the heroine is not perfect . And how she once was this is
realistic . Because nobody is perfect and live changes
(Demetra Iliopoulos 10:20pm February 21, 2016)
I hope my relationship of almost eight years,
has had help from our two boys a 12 year old
Yorkie, and our comic relief our Scotty. I love
animals in a story. Even if it's just to help
calm down a character.
(Bonny Bordeleau 2:18am March 28, 2016)
Registered users may leave comments.
Log in or register now!