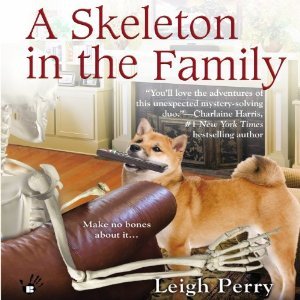 Purchase
Family Skeleton Mystery #1
Brillance Audio
December 2015
On Sale: December 15, 2015
ISBN: 1511340711
EAN: 9781511340717
Kindle: B00BDQ3BQA
MP3 / e-Book (reprint)
Add to Wish List

Other Editions
Paperback (September 2013)
Mystery Paranormal | Mystery Cozy
Most families have skeletons in their closets
Moving back into her parents' house with her teenage daughter had not been Georgia Thackery's Plan A. But when she got a job at the local college, it seemed the sensible thing to do. So she settled in and began reconnecting with old friends.
Including Sid. Sid is the Thackery family's skeleton. He's lived in the house as long as Georgia can remember, although no one, including Sid, knows exactly where he came from and how he came to be a skeleton.
Sid walks, he talks, he makes bad jokes, he tries to keep Georgia's dog from considering him a snack. And he manages to persuade Georgia to let him leave the house. But when she takes him to an anime convention disguised as a skeleton, of course he sees a woman who triggers memories of his past.
Now he is determined to find out how he died with Georgia's help. But their investigation may uncover a killer who's still alive and well and bad to the bone.
First in a new mystery series!
Comments
48 comments posted.
My sympathies go out to you, first of all, for the loss of
your Mother, as well as the loss of your other losses. My
Mother has been gone for 14 years now, but it seems like it
was yesterday. As for the Audio books, my Dear Aunt was
losing her sight, and she loved to read. Although Audio
books filled the void, she still missed reading books
herself. Her Daughter still read books to her as well, since
it was something that they could do together, and it was
there alone time to spend together, since she was in a
nursing home. She passed away last year at the age of 98,
and was an amazing woman, and also my best friend, as well as
my Aunt!! She will always be missed from my life. I'm
looking forward to your latest book, in either print or
audio, since I feel that to hear this particular book in
audio would be a treat!! Congratulations on your latest
book, and have a very Merry Christmas and the best in the New
Year!!
(Peggy Roberson 9:48am December 15, 2015)
Looks like an interesting read.
(Marissa Yip-Young 9:58am December 15, 2015)
This sounds like a nice mystery read!
(Lily Shah 12:26pm December 15, 2015)
Technology continues to make strides and give us solutions
to problems. Audio books are a great comfort to several
people I know and you are right, it is a great benefit and
pleasure to many.
(G. Bisbjerg 1:31pm December 15, 2015)
technology is great but I like holding a real book.
(MaryEllen Hanneman 2:58pm December 15, 2015)
I want to read this thanks for the contest
(Jeri Dickinson 3:04pm December 15, 2015)
This book would be enjoyable and special. Thanks. Books are my
panacea.
(Sharon Berger 3:58pm December 15, 2015)
Skeletons? Great! I'm in!
(Kathleen Costa 5:56pm December 15, 2015)
My sympathies go out to you in losing your mom. I lost my mom just last year. My mom was always reading, gave her love of reading to me. I especially enjoy mysteries. This sounds wonderful. I hope to win. Happy holidays.
(Cindy Davenport 6:23pm December 15, 2015)
I'm getting older and having more problems now as well, so I
adore audio books! You can do so much with them and not miss
your stories! Thanks so much for the opportunity!
(Marcia Berbeza 8:09pm December 15, 2015)
After losing my husband this year, I have found audio books
are good for me in the car. My drives into Minneapolis are
about an hour each way and when I used to read in the car, I
now listen. I am in my late 70s and still refer to my late
parents as Mama and Daddy. I understand your closeness and
feel for your loss. If I were ever to write a book, I would
also want my mother, aunts and now granddaughter to be able
to read it without bad language. Look forward to reading and
listening to your books.
(Leona Olson 8:49pm December 15, 2015)
Sorry to hear about such bittersweetness. Audiobooks are certainly very useful and allows authors to reach more wider audiences, unfortunately, the technology came so much later (why is that? we should have flying cars by now!)
(Lisa L. 11:46pm December 15, 2015)
This sounds so interesting. And I agree I am not a fan of audiobooks. I have trouble focusing the few times I have tried them.
(Pam Howell 9:07am December 16, 2015)
Between the boom in audiobooks and the use of ereaders with
adjustable fonts, I think the big casualty will be large
print books.
(Deb Philippon 6:08pm December 16, 2015)
I like audio books on CD as my car only plays them (no internet or other hookup as it is a 2005) and I can also listen to them in my office, but a print book is even better for my taste.
(Shirley Cochran 6:16pm December 16, 2015)
Audio books are wonderful - for so many folks. But reading aloud is still a great gift to give to folks who cannot do the reading themselves.
(Nancy Reynolds 10:05am December 17, 2015)
Sid and Georgia are great. I always look forward to their
stories. Happy holidays.
(Elsie Hogarth 2:06pm December 17, 2015)
I love listening to audio books in the car because
there's no commercials and at work since I primarily work
by myself.

My sister and I are big Sid and family fans. I just
passed my paperback of The Skeleton Haunts a House on to
my sister. I loved the haunted house setting which plays
in so well with having Sid as a character.
(Anne Muller 3:08pm December 17, 2015)
It seems so interesting! I would love to read a paperback.
There's just something special about having the very
amazing author's signature in your copy :)
(Hylla Jackson 11:06pm December 17, 2015)
Wow, Congrats on your new book: A SKELETON IN THE FAMILY. I
love the book cover too. I would love to win and read your
book during the Holidays. I wish a Happy New Year to You too.
Thank You very much. Cecilia Dunbar Hernandez CECE
(Cecilia Dunbar Hernandez 11:42pm December 17, 2015)
I too hate audio books. I like to hold a book and this one sounds like it's funny.
(Cynthia Mahoney 3:39pm December 18, 2015)
I'm a visual learner, so reading is better for me. My husband, however, loves audio books! This is on my wish list, for now!
(Margo Sue Bittner 4:04pm December 18, 2015)
This book sounds great. I have never done the audio books.
I know people who like them when they travel, but I'm
afraid they would be distracting to me.
(Judy Weaver 4:46pm December 18, 2015)
The title grabbed my attention. Love mysteries with a sense of humor. And then I read your blog!! Toni Kelner! Read your books years ago. I am so happy to find you again!
(Lyn Ehley 5:04pm December 18, 2015)
Thank you for sharing your family stories. I also have some
hearing loss. I love books. I love to browse bookstores and
find new treasures.
(Beverly Beltz 5:05pm December 18, 2015)
Audiobooks are what keep me motivated to walk. They also help
a lot to keep me cleaning house. Otherwise I like holding a
book or my Kindle in my hands. I love the idea of this
mystery series. Thanks for the giveaway!
(Joan Varner 7:40pm December 18, 2015)
I love audio books, and I love fun books, this new audio
release looks wonderful! Do you know if it will be
available in indie bookstores?
(Diana Portwood 7:53pm December 18, 2015)
Just picked up you first book in this series and am anxious to start it. I
love both books and audio. I listen to audio in the car and when I am on
an airplane. I can't get enough reading. Cozy Mysteries are my
favorite.
(Julie Mink 9:25pm December 18, 2015)
Sorry for your family losses, especially having lost our Mom and two sibling brothers this past year alone. I was very touched by the sweet memories you conjured up with the story of your Great Aunt (I am now a Great ,Great Aunt myself) reading aloud to your Grandmother! Thanks for these beautiful stories, the memories and have a wonderful Merry Christmas and happy New Year...looking forward to reading more in 2016!
(Sylvia Reddom 10:27pm December 18, 2015)
I am going to have to check out your books...an interesting premise
indeed
(Linda Powers 10:37pm December 18, 2015)
I can't wait to get my hands on this book, it sounds like a
fun read. Thanks for the chance.
(Dagmar Finch 1:25am December 19, 2015)
Sounds interesting. I would love to be able to listen to it.
(Nina Bilik 2:20am December 19, 2015)
So many people have relatives that need to hear audio that your books will now be available to them although I am sure it is bitter sweet. Thank you for the contest.
Marilyn [email protected]
(Marilyn Watson 2:34am December 19, 2015)
The cover caught my attention as I'm a shibaholic (I follow
the sfshiba cam for the last 7 years) and after reading the
synopsis, this looks like quite an interesting book. Hoping
to win it and read it! Thanks for the opportunity and happy
holidays!
(Mary Sundberg 1:26pm December 19, 2015)
I love a good mystery. Thank you for the contest
(Rhonda Struthers 1:32pm December 19, 2015)
My condolences!
(Lindsey Andronak 1:37pm December 19, 2015)
I am sorry for your loss. I would love to listen to this
book. Thank you for the chance.
(Sharon Sommer 9:18pm December 19, 2015)
Loosing a loved one is never easy. My mother passed years ago and I still miss her. Thank you for posting this contest.
(B Tritt 2:06pm December 20, 2015)
I hope that you are remembering wonderful moments of
Christmases past with your mother and grandmother!
Holidays can be hard when you've lost a loved one! I
have lost several relatives (all 4 grandparents)
including my Dad! I love cozy mysteries! They are my
favorite genre to read! Thanks for the chance to win and
happy holidays!!
(Linda Herold 11:16pm December 20, 2015)
Doesn't everyone have a family skeleton? Most of the time it is buried in the past
and no one will speak about it.
(Diane McMahon 6:11am December 21, 2015)
Audio is a blessing for some people, but I prefer books. There are times I like to look back at something I've read, perhaps to refresh myself as to a certain event or a name. Have a merry Christmas.
(Anna Speed 11:24am December 21, 2015)
I prefer books hands down but audio books were great for my Mother in her later years as she lived to be 102 years old.
(Jean Benedict 12:02pm December 21, 2015)
I love signed paperbacks and I love mysteries. Happy Holidays
everyone!
(Denise Austin 1:26pm December 21, 2015)
Listening to a CD while you're driving is fun! Sometimes the radio is just not how you want to spend your time, so listening to a good story is a much better choice.
(Sandy Fielder 3:56pm December 21, 2015)
This book looks great! Thanks for the chance.
(Julie Wingate 6:27pm December 21, 2015)
Thanks for the opportunity!
(Lesley Walsh 7:42pm December 21, 2015)
My mom is my biggest supporter besides my hubby... Sorry for your
loss but I know they are super proud of you... Sounds like a great
read/listen.
(Jeannie Platt 9:30pm December 21, 2015)
I'd love to read this novel!
(Patricia Simpkin 9:31pm December 25, 2015)
Registered users may leave comments.
Log in or register now!