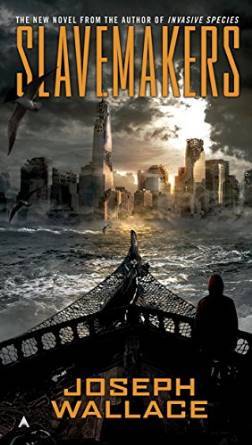 Purchase
Ace
December 2015
On Sale: December 1, 2015
Featuring: Kait
ISBN: 0425277186
EAN: 9780425277188
Kindle: B00U5KNVXI
Paperback / e-Book
Add to Wish List

Thriller | Thriller Paranormal - Supernatural
The new postapocalyptic thriller from the author of INVASIVE SPECIES
IT'S THEIR TERRITORY NOW.
Twenty years ago, venomous parasitic wasps known as "thieves" staged a massive, apocalyptic attack on another species—Homo sapiens—putting them on the brink of extinction.
But some humans did survive. The colony called Refugia is home to a population of 281, including scientists, a pilot, and a tough young woman named Kait. In the African wilderness, there's Aisha Rose, nearly feral, born at the end of the old world. And in the ruins of New York City, there's a mysterious, powerful boy, a skilled hunter, isolated and living by his wits.
As the survivors journey through the wastelands, they will find that they are not the only humans left on earth. Not by a long shot.
But they may be the only ones left who are not under the thieves' control...
Comments
20 comments posted.
Re: Slavemakers

Do not have a favorite. Sometimes
(Marissa Yip-Young 10:13am December 17, 2015)
My favorite science fiction novel is Time and Again. I
enjoyed your feature and post today. It reawakened fond
memories of growing up during 1950's which was the best ever
era. Simple, meaningful and safe. I was captivated to learn
about your life, writing and background. Wishing you great
health, happiness and much continued success.
(Sharon Berger 3:07pm December 17, 2015)
My fav sci-fi would have to be Enders Game. I read it
waaaaaay back in middle school and its stuck with me ever
since :)
(Hylla Jackson 11:08pm December 17, 2015)
I would love to win this book!!!
(Linda Barrier 11:16am December 18, 2015)
My favorite books are Sci Fi, paranormal, etc. Will certainly read your book and add you to my reading list.
(Susan Wise 2:46pm December 18, 2015)
Kings Dark Tower series
(Cynthia Mahoney 3:31pm December 18, 2015)
I would love to win this book!I believe it would be a great read.
(Donna Klopper 3:53pm December 18, 2015)
I don't actually have a favorite science fiction novel.
(Lily Shah 5:20pm December 18, 2015)
I love all genres. I love too many of the sci-fi to say
which on is my favorite. The books by Kate
Elliott,Michelle Sagara, Robin D. Owens, Sherrilyn
Kenyon, Yasmine Galenorn, Jan De Lima, Jean Johnson,
James Clemens, Lynn Viehl, David and Leigh Eddings,C.L.
Wilson, as well as, the authors of the Hunger Games and
Enders Game. I have many more favorites...too many to
list.
(Beverly Beltz 5:23pm December 18, 2015)
favourite book is Citizen of the Galaxy. I grew up and learned to read with
Sci-fi.
(Pat Freely 5:23pm December 18, 2015)
It's hard to pick a favorite, but I definitely prefer dystopia and love The Hunger Games. I love having a strong female character to identify with like Katniss.
(Diane Pollock 5:56pm December 18, 2015)
One of my all-time favorites is FRIDAY by Robert A Heinlein. She's
a strong woman character with whom I identified so closely that I
named my kitten after her!
(Charmaine Thessin 7:09pm December 18, 2015)
I learned english in school and started reading Sci-Fi so
as not to forget most of it. I learned so much vocabulary
just through reading! I can't remember the title, but my
favorite was a collection of short stories written by
women. I still have it and may just have to dig it out.
(Dagmar Finch 1:30am December 19, 2015)
I have no favorite, I just love all books. Thank you for
this chance.
(Sharon Sommer 9:28pm December 19, 2015)
I love the Star Wars Universe. Strong Women are a must.
(Laura Davis 10:56pm December 19, 2015)
Hi all! Thanks for reading my blog post, and good luck in the contest! And
thank you to Fresh Fiction for giving me the chance to write about a subject
that's so important to me....

Whoever wins (and anyone who might get the book and be interested): If
you'd like a cool bookmark/card designed by a friend of mine who's a terrific
illustrator, please contact me through my website, and I'd be happy to send
you one. Thanks again!
(Joe Wallace 9:00am December 20, 2015)
I love Stephen Kings books so your book would be a great one to read.
(Jean Benedict 12:08pm December 21, 2015)
My favorite sci-fi book is Wool by Hugh Howey, which features a strong female character named Juliette. I grew up surrounded by strong women just like Juliette, so I can really identify with her.
(Lu Loy 1:06pm December 21, 2015)
Something Wicked This Way Comes by Ray Bradbury is my favorite! I also loved his short atories. I Sing the Body Electric was so classic!
(Sandy Fielder 4:14pm December 21, 2015)
Joe Wallace's is a great writter i have read his books,he has good writing style.His science fiction and fantasy novels are the best.
gym mats for all kinds of workout buy them from rubbergymflooringco.co.uk
(Jhon Rox 7:20am December 23, 2015)
Registered users may leave comments.
Log in or register now!