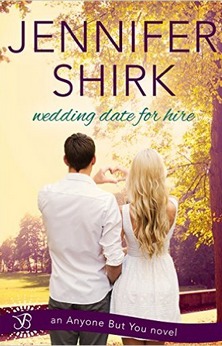 Purchase
Hottie for hire...
Anyone But You #2
Entangled Bliss
October 2015
On Sale: October 12, 2015
Featuring: Trent Montgomery; Maddie McCarthy
192 pages
ISBN: 1633754561
EAN: 9781633754560
Kindle: B014CS5P3M
e-Book
Add to Wish List

Maddie McCarthy is single, between jobs, and (oh, the shame) lives with her mother. To make matters worse, she's the maid of honor for her sister's wedding, and desperately needs a date. Then she sees her salvation-Match Made Easy, a service for women in Maddie's exact position. If she can't find a boyfriend, she'll do the next best thing...
Hire one.
Trent Montgomery isn't actually part of Match Made Easy. He's just doing a favor for his cousin, but one look at the blonde who hired him, and he's totally hooked. Now Maddie thinks that the attraction sizzling between them is just "part of the package." And Trent is running out of time to prove to her that her date-for- hire might just be her happily-ever-after...
Anyone But You
Comments
3 comments posted.
Hi Jennifer!

Oh boy, do I have a story for you... The minister who was
supposed to marry my husband and me had a stroke after
our wedding rehearsal, the night before our wedding. His
replacement had no idea who we were or what we'd
rehearsed when we showed up at the church the next day.
We were concerned for the minister who'd fallen ill, and
worried about our ceremony. To make matters worse, it
snowed that day and the heater broke in the car we were
driving to the airport to begin our honeymoon. Nothing
seemed to go right--and yet, everything turned out
beautifully. We've been married 27 wonderful years,
despite wedding day mayhem!

Congratulations on your new release!

Best--Adele
(Adele Downs 4:28pm October 16, 2015)
On my 1st marriage, I was ready, but my Husband-to-be
wasn't ready to cut the cord from his Mother. His
older Sister was in the wedding party, and was a
witch, all because she was late in getting to my house
before the ceremony, causing me grief, and giving me
second thoughts. The Best Man had a car accident on
the way to my house as well. He was fine, but the car
was a little messed up. I also asked a friend of
mine, who is a Mortician, if he would sing for my
wedding, and he said yes. He sings like an angel!!
Before I walked down the aisle, my Father looked at me
and said that I didn't have to go through with it.
That totally floored me!! I thought my Parents liked
him after all those years!! At the reception, all of
the friends of my Husbands were mad that they weren't
served steak!! This was a Polish wedding for 400
people at a hall, not a steak house!! It's just a
good thing I found out that fact later, and not at the
hall, or I would have lost a gasket!! Needless to say
that I am no longer with Mama's boy, and am remarried
to the person that I should have married in the first
place. We have been married for 33+ years now. He's
a bit older, and my Parents weren't thrilled with my
choice, and yes, not all of these years were easy, but
that's what made us stronger as a couple. He's
retired now, and now we are starting a new phase of
life.
(Peggy Roberson 3:47pm October 17, 2015)
I knew when I walked down the aisle with my first husband but went through with it anyway because he was the only man my parents liked. Five years of alcoholism and abuse from him later, I left. Subsequently met my late husband whom my parents did NOT like(at first) and were wed 42+ years until his untimely demise. BTW, my parents became so fond of him, I accused them of liking him better!
(Kathleen Bylsma 9:15pm October 17, 2015)
Registered users may leave comments.
Log in or register now!