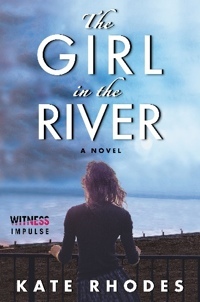 Purchase
Alice Quentin #4
Witness Impulse
October 2015
On Sale: October 20, 2015
Featuring: Alice Quentin
256 pages
ISBN: 0062444042
EAN: 9780062444042
Kindle: B00ZP64F6E
e-Book
Add to Wish List

Jude Shelley, daughter of a prominent cabinet minister, had her whole life ahead of her until she was attacked and left to drown in the Thames. Miraculously, she survived. A year later, her family is now asking psychologist Alice Quentin to re-examine the case.
But then a body is found: an elderly priest, attacked in Battersea, washed up at Westminster Pier. An ancient glass bead is tied to his wrist.
Alice is certain that Jude and her family are hiding something, but unless she can persuade them to share what they know, more victims will come.
Because the Thames has always been a site of sacrifice and death.
And Alice is about to learn that some people still believe in it…
Alice Quentin
Comments
20 comments posted.
No never been to London
(Marissa Yip-Young 6:09am October 20, 2015)
I have walked along the Thames - oh-so-many years ago. I love walking along bodies of waters - no matter where I am. The book sounds great. Thanks for the chance to win.
(Nancy Reynolds 10:11am October 21, 2015)
I have never been to London, but I would love to go someday.
(Bonnie H 10:58am October 21, 2015)
I have never had the good fortune to see the River Thames in person - but I love seeing the Atlantic Ocean, the Delaware River and the Susquehanna here in Philadelphia, as well as The Three Rivers in Pittsburgh - I LOVE the water and have always been fascinated by it!
(Felicia Ciaudelli 2:21pm October 22, 2015)
Only when I'm listening to the Threepenny Opera ("And
MacHeath walks the embankment...")
(Richard Brandt 2:43pm October 22, 2015)
No I have never been there. I live by the Hudson River.
(Yaritza Santana 4:26pm October 22, 2015)
I love the River Thames, it has such a long history and anytime I visit London I like to cross one of it's many bridges (rather than using the underground).
(Lesley Walsh 5:42pm October 22, 2015)
I have never been nowhere but your book sounds so good i would love to read it.and i hope i can win it. thank you Emma Elliott
(Emma Elliott 6:54pm October 22, 2015)
I have never traveled outside of the U.S. yet. Although,
I would love to visit London, Paris, Ireland, Scotland,
Italy, Greece, and Australia! No rivers come to mind
right now, however, I do NOT like bridges, especially
COVERED bridges! I tense up, stare straight ahead, and if
I am driving, I have a death grip on the wheel!
(Terry Trahan 7:49pm October 22, 2015)
It has been so very long ago that I walked along the river Thames. My youngest son and I made a stop in London for a week just before Christmas.
(B Tritt 9:25pm October 22, 2015)
No , I have not been even close to the river Thames. I have not been out of the country and don't want to . When I was a child we had a small river to cross to get to town and it scared me to death to go across on this old wooden bridge . I was always afraid the bridge would fall in when we drove up on it , and the water was always so dark and scary . After I grew up I was still very afraid to go over the bridge , and finally they condemned the bridge .
(Joan Thrasher 9:34pm October 22, 2015)
I haven't seen the river Thames, though I hope to someday. I have seen the Mississippi River many, many times and it is dangerous, too (though maybe not as dangerous as the Thames). When it decides to overflow its banks, it floods homes, killing many and doing millions of dollars of damage. My father's home was on stilts and it still flooded more than once. People living in certain areas had to live in high preparedness during the late winter and spring months as flood season was brutal and often happened swiftly, with very little warning.
(Michelle Willms 11:12pm October 22, 2015)
Haven't seen the Thames, although I would LOVE to visit ENGLAND. This book sounds amazing and I really enjoyed reading your post -- the pub sounds so exciting -- can really imagine feeling all the history it encompasses.
(Linda Chesick 5:37am October 23, 2015)
I second everything my DIL, Linda wrote in her post. Love reading books that incorporate history into the story and suspense, mystery, murder -- basically read anything I can get my sticky little hands on.!!
(Ruth Chesick 6:05am October 23, 2015)
Sounds like an interesting story. Although I have never been
there, I do enjoy stories of London, especially those from the
times of the "ton"
(Barbara Semeraro 7:31am October 23, 2015)
A walk along the river Thames? How fascinating! I just wish I had the opportunity.
(Anna Speed 11:44am October 23, 2015)
I have never been to London but it is on my bucket list. I have
never been haunted by a river but I love to walk along the
local river in Spokane. It is beautiful!
(Denise Austin 1:06pm October 23, 2015)
I'd love to see London --- we have rivers near by that are
used for rafting, fishing, and fun. No haunting atmosphere.
(Suzie Johnson 8:48pm October 24, 2015)
no never been out of the country - we do live by the mississippi
river and would love to follow it down to other parts
(Vickie Dailey 11:40am October 25, 2015)
The Mississippi River. I have been to Paris, so the
river Seine comes a close second.
(Susan Scheelk 2:20pm October 25, 2015)
Registered users may leave comments.
Log in or register now!