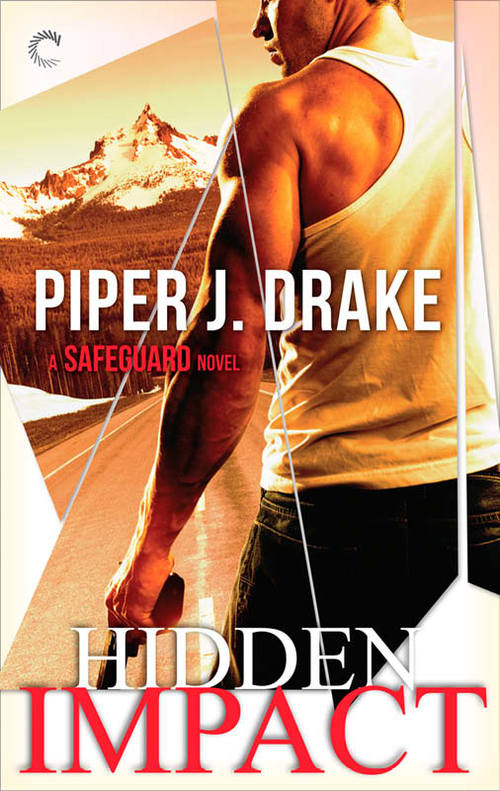 Purchase
Safeguard #1
Carina Press
November 2015
On Sale: November 9, 2015
Featuring: Maylin Cheng; Gabriel Diaz
ISBN: 1335932291
EAN: 9781335932297
Kindle: B00URJJYME
Mass Market Paperback / e-Book
Add to Wish List

He's not the hero she's looking for
As part of the elite Centurion Corporation team, military-veteran-turned-mercenary Gabriel Diaz is a natural defender. He'll do anything to ensure a mission is successful. Anything but get emotionally invested—he learned the hard way that can be deadly. Easy bodyguard jobs in between the more challenging missions are all he's interested in now.
Maylin Cheng is desperate and running out of time. Her younger sister has gone missing but no one seems to take her concern seriously. Her last hope lies in asking an aloof bodyguard for help. He dismisses her outright, but all that changes when she is almost killed in a not-so- accidental hit-and-run right before his eyes.
As Maylin leans on Gabriel, she begins to rely on him for more than just her safety. But as their attraction grows, so does the danger surrounding them. When the elaborate web they're trapped in unravels, Gabriel will do anything to protect them. Even if that means putting his heart in the crosshairs.
Book one of the Safeguard series
Safeguard
Comments
44 comments posted.
Re: Hidden Impact

I LOVE New York pizza and you can't get it here in Florida! It is the best!
(Bonnie Capuano 9:02am November 6, 2015)
Morel mushrooms, which we picked every Spring!
(Richard Burr 9:26am November 6, 2015)
Peanut butter cookies.
(Marissa Yip-Young 9:56am November 6, 2015)
Pizza and spaghetti.
(Edward Washington 10:02am November 6, 2015)
Fried chicken and dumplings.
(Pam Howell 11:03am November 6, 2015)
My mothers homemade vegetable soup and homemade yeast doughnuts. Oh so yummy !!!
(Joan Thrasher 11:32am November 6, 2015)
Homemade blintzes and applesauce.
(Sharon Berger 11:54am November 6, 2015)
Delicious fried chicken makes me think about my mother.
(Anna Speed 11:57am November 6, 2015)
I crave my Mother's home made bread with cinnamon and raisins,
which is the only baked good of hers that I haven't attempted to
make since she's passed on. I'm the only one in the Family that
has continued to bake the other items she was known for, as well
as cook a lot of the dishes I ate growing up. Several of them
are quite involved, since I'm of Polish descent. Your book
sounds really good, and I would love to read it before I have to
get involved with my Christmas baking. The dishes that you wrote
about sound really yummy, and I wish that I could make some of
those, too!!
(Peggy Roberson 12:12pm November 6, 2015)
My mother made a boneless fried chicken that was out of this world!
(Angela Daffern 3:46pm November 6, 2015)
My momma makes the best homemade bread!!!! We also eat Thanksgiving dinner at her house every year. When I walk in the door, the smell of the different foods mingle together. I'm craving it just typing these words!
(Amy Morgan 4:08pm November 6, 2015)
Cakes and pies, they like to bake.
(Deb Pelletier 9:36pm November 6, 2015)
Your treats sound delicious! Unfortunately, I'm a stress
eater not stress cooker! Cocoa fudge makes me think of the
holidays. You know, the kind that you cook and stir
constantly on the stove until the consistency is just right,
otherwise it will be too hard or too soft. I haven't made
it for years because mine was always too...
(Betty Woodrum 9:55am November 9, 2015)
It's not what I want...it's what the family wants and it's my chocolate chip pecan cookies. It's always a must!
(Bonnie Capuano 10:42am November 9, 2015)
Always my grandmother's pumpkin pie!
(Colleen Conklin 11:42am November 9, 2015)
Dim Sum reminds me most of family. The many dishes or
dumplings, buns, fried pastries both sweet and savory with
pots of tea and lots of chatter.
(G. Bisbjerg 12:41pm November 9, 2015)
tacos, spaghetti, chicken and yellow rice
(Leann Griffiths 3:56pm November 9, 2015)
stuffed peppers
(Renee Rousseau 6:01pm November 9, 2015)
Well, chicken and dumplings. My Mom made the best. Miss her
and my Dad more during the holidays.
(Debra Turner 6:02pm November 9, 2015)
My mom's handmade sweets/desserts!!!! SO DELICIOUS!!!
(Lily Shah 9:00pm November 9, 2015)
My one grandmother's perogies, and the other grandmother's
cabbage rolls. I've tasted none better.
(Deb Philippon 9:48am November 10, 2015)
I have a lot of great cooks in my family so it's hard to
choose just one favorite!
(Mary Hay 11:10am November 10, 2015)
I was raised on a ranch. Nothing says "ranch food" or home to me as much as a
good steak, beans and cornbread.
(Joy Isley 1:00pm November 10, 2015)
my mom makes the best curry rice ever, even if she is italian. i tried to make it in the states but with one missing ingredient it was never the same.
(Sarah Hansrote 4:45pm November 10, 2015)
My mom made really awesome oatmeal cake with a caramelized topping ....
(Michelle Bauer 1:04am November 11, 2015)
My Mom always made the best fudge and when she passed away she gave me the recipe so it's now something I do for my children!
(Bonnie Capuano 10:42am November 11, 2015)
a real good southern pecan pie. warm from the oven.
(Angela Parrish 2:53pm November 11, 2015)
I miss my mom's mush. She combined leftover beef gravy and leftover roast beef (cooked in a pressure cooker to make it stringy). It was a way of making food go further in our poor home 50+ years ago now. Put that mush/gravy on bread and OMG it tasted good.
(Elaine Seymour 7:19pm November 11, 2015)
Well I still live with my parents so I'm still having my mom's cooking. After college, gotta save on rent so I can repay those loans.
(Lisa L. 10:49pm November 11, 2015)
My mother's and mother-in-law's pieragi which are bacon onion crescent rolls. delish! always served at holiday time
(Sandra Stipins 12:20pm November 12, 2015)
Can't wait to read Hidden Impact.
(Mary Pitre 9:33pm November 12, 2015)
Mary November 12, 2015.

A real homemade lemon meringue like grandma made.
(Mary Pitre 9:36pm November 12, 2015)
There are a few choices for me but the best is her chocolate chip pecan cookies!! YUMMY!!!!
(Bonnie Capuano 8:58am November 13, 2015)
I crave Pad Thai!
(Denise Austin 1:30pm November 13, 2015)
My mother sometimes makes homemade beef stew with a thick gravy. She also makes hamburger pie. Never tried Thai food. I did try an Asian dish that had an orange sauce and another that had a peanut sauce. I didn't like them. I think they were Lean Cuisines. I enjoy Lo Mein or the hard La Choy noodles but don't like rice.
(Michelle Fidler 4:40pm November 13, 2015)
Tater tot hotdish and toffee bars. The bars are super easy to make if you
have a stand mixer to beat the chocolate frosting. The base only has 5
ingredients that are always on hand.
(Laura Gullickson 5:38pm November 13, 2015)
My mom's peanut butter cornflake cookies. Thanks.
(Jana B 6:52pm November 13, 2015)
my Mom's pot roast!
(Diane Sallans 8:38pm November 13, 2015)
My mom liked to bake cakes and snacks.
(Deb Pelletier 8:56pm November 13, 2015)
BBQ , I'm from the south and BBQ is served at all family events
(Carmen Rexford 2:38am November 14, 2015)
lasagne
(Dianne McVetty 7:01am November 14, 2015)
My mother's cherry cobbler from our cherry trees.
(Gloria Zimmer 7:55am November 14, 2015)
We were stationed in Bangkok, Thailand for a couple of years so
there are a few things that remind me of there. At a chinese
resterant, we went there a lot, sweet and sour pork. And fresh
pineapple from the street. for home, would be mashed potatoes.
(Nancy Luebke 1:34pm November 14, 2015)
My grandfather always made homemade wine that he served on special occasions. It was amazing!
(Nancy Marcho 3:59pm November 14, 2015)
Registered users may leave comments.
Log in or register now!