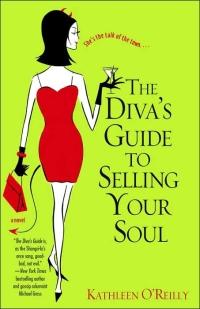 Purchase
The Diva's Guide to Selling Your Soul
Kathleen O'Reilly
Downstream Publishing
April 2005
352 pages
ISBN: 0743499409
Paperback
Add to Wish List

Don't hate me because I'm beautiful...
Call me V. I used to be a nobody, just a girl from New Jersey who was probably going to hell anyway — or worse, mediocrity and a size 14. Now I get whatever I desire just by casting a little spell....a flawless body, a luxury penthouse, and a Fifth Avenue shop where rich women clamor for my overpriced handbags. Even better, I have power. I can taunt my ex-husband, break hearts without guilt, and love every minute of it. My secret? I lost the one thing I never needed in the first place: my soul. I sold it. And you'll never guess who's got it now.
She's a devil in disguise.
You know her as the dishiest gossip columnist in the city's trashiest tabloid. I call her Lucy. And our deal is this: the more clients I recruit for her Life Enrichment Program, the greater my rewards. But just between us, my fast track to heartless apathy has hit a few speed bumps — lately, I've had the totally annoying impulse to do things that are...good. First there was rescuing a kid in the park. Then there was the date with the handsome, decent guy who wasn't even a celebrity. What's next, giving to charity or something? All I know is Lucy doesn't like it, not one little bit. And when she finds out, there will be hell to pay...
Comments
No comments posted.

Registered users may leave comments.
Log in or register now!