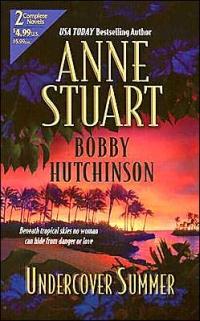 Purchase
Harlequin
June 2004
538 pages
ISBN: 0373230257
Paperback
Add to Wish List

Now You See Him by Anne Stuart
The man who called himself Michael Dowd wasn't exactly what he seemed. Wherever Michael went, it seemed to Francey Neeley, danger followed. But she couldn't escape an attraction to him. He was trying to pry information from her about a terrorist group, a group that was trying to kill him — and her. Soon, Francey became swept into a world of death and deceit, but she couldn't stay away from Michael. Somehow they had won each other's hearts — a dangerous combination for both.
Vagabond Hearts by Bobby Hutchinson
Billy and her mother-in-law, Amanda, were thrilled to win a trip to Hawaii. Both were sorely in need of some sunshine in their lives again. But a mix-up at the hotel forced them into close quarters with a group of vagabonds, and Billy met Cosmo Antonelli. The disguised detective discovered Billy was everything he'd dreamed of, but she was also vulnerable. Circumstances were drawing them inescapably together, but Cosmo knew he had to let her go.
Comments
No comments posted.

Registered users may leave comments.
Log in or register now!