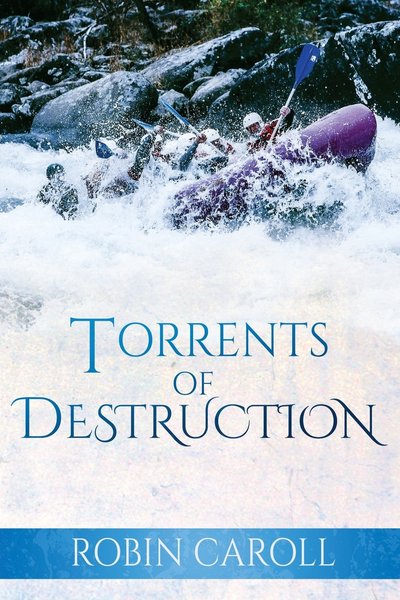 Purchase
Self Published
June 2015
On Sale: May 27, 2015
Featuring: Katie; Hunter Malone
204 pages
ISBN: 0692457976
EAN: 9780692457979
Kindle: B00Y6XWYS8
Paperback / e-Book
Add to Wish List

As a white water rafting guide, Katie Gallagher must battle the forces of nature on a daily basis. When sabotage becomes apparent on a weekend rafting trip, Katie must determine who she can trust-and who has their own agenda.
Hunter Malone has a mission on a business adventure trip on the Gauley River, a mission that didn't include a spunky guide who could handle the class-five rapids better than he'd ever imagined. But can she handle the truth?
Comments
29 comments posted.
Murder mysteries
(Marissa Yip-Young 5:41am July 31, 2015)
I like historical fiction and Christian romance.
(Leona Olson 8:32am July 31, 2015)
the book cover look good and then the book sound like it would be a good read form begging to end with a lot of mystery
(Desiree Reilly 9:17am July 31, 2015)
This year I decided to go out of the box, and read genres that I normally don't read. This experiment has worked out quite well for the most part, since I've been able to read genres that I normally wouldn't have read, and will probably read again. I can't say that I have an absolute favorite, but gravitate towards all fiction, and non-fiction alike, especially if it's Historical. Lately I've been reading a lot of books having to do with WWII. It gives me a connection to my late Father, who passed away last year, and the stories I've read touch my heart and are incredible. I also like mysteries as well as Romance, so my reading habits go all across the board, as they say. I'm sure I've missed some genres, and didn't mean to miss any, but they all depend on my mood at that particular time. If I'm really up, I'll read a WWII book, but if I'm feeling down, I'll reach for a book to raise my spirits.
(Peggy Roberson 10:20am July 31, 2015)
I enjoy fiction, family sagas, historical fiction.
(Sharon Berger 11:13am July 31, 2015)
I enjoy a good romance with a lot of mystery . This book sounds very exciting and I hope to read it soon . Thanks for this giveaway .
(Joan Thrasher 10:18am August 1, 2015)
I have several favorites! History, historical fiction, regencies, biographies, urban, paranormal....LOL can't pick just one!
(Felicia Ciaudelli 1:55pm August 1, 2015)
My favorite genre lately is amish fiction, but I dont want to
get stuck in a reading rut so I like to switch it up with
suspense, as long as its not too scary, some christian
historical fiction and some christian romance.
(Maryann Skaritka 7:44pm August 2, 2015)
I have always wanted to try white water rafting, but your
book looks like it might be the closest I get for some
time.
(LaCinda Jameson 2:38am August 3, 2015)
My favorite genre is typically a mystery, but I have been
trying to read a book from a different genre each time I
finish a mystery, to broaden my reading horizons.
(LaCinda Jameson 2:40am August 3, 2015)
I read across most genres. Historical Fiction is my
favorite.
(Mary Preston 6:08am August 3, 2015)
time travel romance
(Ann Unger 11:52am August 3, 2015)
I like many different types, but I guess murder mysteries with romantic interest is my favorite. I've read some Christian novels lately and have enjoyed them.
(Anna Speed 12:48pm August 3, 2015)
looks really good! love the cover photo!
(Stefany Burroughs 1:04pm August 3, 2015)
Murder mysteries!
(Denise Austin 6:18pm August 3, 2015)
I love all kinds of mystery books. I look forward to reading more!!
(Elizabeth Deyoung 6:38pm August 3, 2015)
An individual with strength of character, courage and
limitless energy and a positive outlook.
(Sharon Berger 1:10pm October 22, 2016)
Very capable, able to go toe to toe with naysayers.
(G. Bisbjerg 2:43pm October 22, 2016)
I think spunky means full of life with lots of energy and spirit! Oh I have added this book on my TBR list, it sounds wonderful! Thanks for the great giveaway!!
(Bonnie Capuano 8:52am October 23, 2016)
When I hear spunky, I think of someone who doesn't let
anyone tell them no and can do whatever they set out to do;
someone who doesn't quit.
(Cynthia Powers 6:22pm October 24, 2016)
Soneone who is strong, fun, knows how to enjoy life, and
can take care of herself.
(Tanja Dancy 9:09am October 25, 2016)
A women who is strong, independent, energetic and has a great sense of humor
(Bonnie H 10:12am October 25, 2016)
Spunky heroines are those who don't cower and hide behind a strong male.
(Joanne Schultz 2:53pm October 25, 2016)
A strong woman who also has a sweet feminine side.
(Linda Harrison 4:34pm October 25, 2016)
To me. spunky is self-reliant, lively, optimistic and not above pulling a practical joke.
(Sharon Mitchell 9:49pm October 25, 2016)
A strong heroine is one that can stand her ground. One that can be strong
emotionally for both herself and her partner when necessary. She also
knows when it is time to walk away. Thanks for the chance.
(Christine LaFord 10:08am October 26, 2016)
A spunky heroine is one who is self reliant and can face new experiences with confidence in her own ability. Also, I think she might have a sense of humor.
(Anna Speed 12:28pm October 26, 2016)
I think it is someone who doesn't talk any crap from anyone.
(Valerie Miller 3:39pm October 26, 2016)
I strong woman who can get along, but will stand by her principles when it matters. But is also willing to laugh at herself and keep her center when things get tense.
(Gloria Shaw 10:19pm October 26, 2016)
Registered users may leave comments.
Log in or register now!