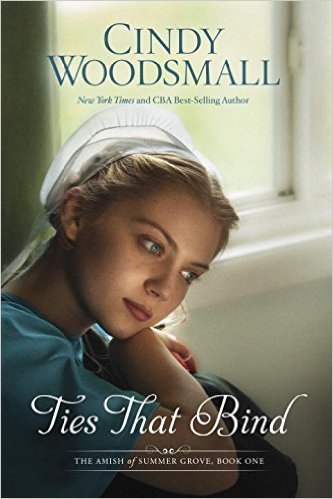 Purchase
The Amish of Summer Grove #1
Multnomah
September 2015
On Sale: September 8, 2015
Featuring: Quill Schlabach; Ariana Brenneman; Skylar Nash
352 pages
ISBN: 1601426992
EAN: 9781601426994
Kindle: B00RKO6OXG
Paperback / e-Book
Add to Wish List

Ariana's comfortable Old Order Amish world is about to unravel. Will holding tightly to the cords of family keep them together—or simply tear them apart?
Twenty-year-old Ariana Brenneman loves her family and the Old Ways. She has two aspirations: open a café in historic Summer Grove to help support her family's ever-expanding brood and to keep any other Amish from being lured into the Englisch life by Quill Schlabach.
Five years ago Quill, along with her dear friend Frieda, ran off together, and Ariana still carries the wounds of that betrayal. When she unexpectedly encounters him, she soon realizes he has plans to help someone else she loves leave the Amish.
Despite how things look, Quill's goal has always been to protect Ariana from anything that may hurt her, including the reasons he left. After returning to Summer Grove on another matter, he unearths secrets about Ariana and her family that she is unaware of. His love and loyalty to her beckons him to try to win her trust and help her find a way to buy the café—because when she learns the truth that connects her and a stranger named Skylar Nash, Quill knows it may upend her life forever.
Ties That Bind is the first novel in the Amish of Summer Grove series.
Amish of Summer Grove
Comments
23 comments posted.
Re: Ties That Bind

No I'm not a writer
(Marissa Yip-Young 5:50am September 18, 2015)
There's a book in my head that I've always wanted to
write, but as of yet, I haven't put pen-to-paper yet.
When I do get the guts to get started, I plan on using a
lot of the tips that I've read over the months on this
site from all the talented writers that visit here. One
of my pet-peeves is using words that you need a
dictionary beside you to decipher the sentence while
you're reading, so I would keep my book as down-to-earth
as I could, and to try and keep my story flowing as
easily as possible. Trying to keep the word count low
might be a problem, but I feel I have a good book to
write, and have been urged by a few people to write. Now
if I could only get the nerve up!! Your latest book
sounds too good to not pass up, even though I read all
Amish books anyway!! Congratulations on your latest
book!! I already have it on my TBR list, and it will
make for a great Fall read!! The cover is beautifully
done as well!!
(Peggy Roberson 7:45am September 18, 2015)
I am not a writer but like to put my thoughts down from time to time.
(Pam Howell 9:54am September 18, 2015)
I am not a writer in the sense of writing a book, but I do
write reviews of every book I read, even though not everyone
likes the way I write and sometimes I get criticized for it
and rejected.

I try to avoid the simple things. I never say, "It's a good
book", or "Don't waste your money". I try to answer the six
questions when I write, and when I do that, I feel as though
I accomplished what I set out to do.
(Edward Washington 10:51am September 18, 2015)
I am not a writer but I do record my hopes, dreams and
experiences.
(Sharon Berger 1:38pm September 18, 2015)
I love to read Amish books. I love their devotion to family and their strong morals. I have often thought that it would be great to go back to the simple life...things were simpler even 50 years ago. I was raised in a big city but back then I didn't have to worry about walking home from school by myself or riding the bus late at night. Reading stories about the Amish makes me feel good again.
(cHARLETTE bOND 1:43pm September 18, 2015)
I used to write a lot more than I do now. I avoid erotic and a lot
of the paranormal stuff like vampires and shapeshifters and sci
fi.
(Nancy Luebke 2:41pm September 18, 2015)
I'm an aspiring writer. I know what my story is. I
know my characters, the time period, the settings and
the history. I have a fairly good outline in my head.
I've done tons of research and know a great deal about
the subject and theme. Unfortunately, I avoid getting
truly started. I only have half of the first chapter
actually written.
(Irene Menge 4:55pm September 18, 2015)
NOT A WRITER
(Debbi Shaw 10:42pm September 18, 2015)
I'm not a writer but I could tell "The Story of My Life ", and that would be a book there. I guess most could tell an exciting part of their life .Would love to read this book . Thanks for this chance to win .
(Joan Thrasher 9:40am September 19, 2015)
Thank you for the opportunity to win this book.
(Kathy Church 10:52am September 19, 2015)
No, I'm not a writer. However, back in my much younger day's (teeny bopper that is) I wrote poems, short stories, and my thoughts :) Best of luck to all who have entered
(Holly Loch 3:15am September 20, 2015)
I am not a writer but do know other writers - I love learning about how they write and the entire process - it's different for each writer!
(Felicia Ciaudelli 8:16am September 20, 2015)
I'm not a writer, but when my kids were young they always
wanted me to tell them scary stories I made up.
(Jamie Steadman 11:59am September 20, 2015)
I'd love to write,but don't think I have the write stuff.
Theresa N
weceno(at)yahoo(dot)com
(Theresa Norris 6:56pm September 20, 2015)
I am not a writer but do make a note of important thoughts
(Timothy Younger 8:33pm September 20, 2015)
I'm not a writer, though I occasionally have to summit an article or information for a newsletter or bulletin. I try to make sure I include all the pertinent information and if possible a little humor.
(Flora Presley 10:22pm September 20, 2015)
No, I am not a writer. I really do appreciate all the hard
work that writers put into each book with their character
development and research into time periods and location
settings among other things. Amish fiction is my favorite
genre to read.
(Maryann Skaritka 12:25pm September 21, 2015)
I am not a writer but I avoid horror and sci-fi as a reader.
(Denise Austin 5:58pm September 21, 2015)
I'm not a writer but a proofreader for several authors.
(Nadine Stacy 6:36pm September 21, 2015)
I am not a writer but I do love to read and I love Amish stories.
(Doris Lankford 6:59pm September 21, 2015)
I couldn't write my way out of a paper bag, but I just love the cover to this book, and I really like the story line.
(Faye Gates 7:21pm September 21, 2015)
Only a reader, and your book sounds like a great read.
(Laura Davis 8:22pm September 21, 2015)
Registered users may leave comments.
Log in or register now!