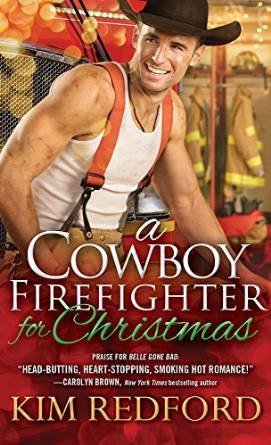 Purchase
A Cowboy Firefighter For Christmas
Kim Redford
Smokin? Hot Cowboys #1
Sourcebooks
October 2015
On Sale: October 6, 2015
Featuring: Misty Reynolds; Trey Duval
384 pages
ISBN: 1492621471
EAN: 9781492621478
Kindle: B00XWMC5U6
Paperback / e-Book
Add to Wish List

Holiday | Romance Contemporary
Warm up this Christmas with a sexy cowboy firefighter who knows how to ignite flames as well as put them out...
He's hotter than a wildfire Trey Duval is a rancher, proud as can be of his Wildcat Ranch. He's also the top volunteer firefighter of Wildcat Bluff, Texas, the town that pulls out all the stops for its Christmas festivities.
City girl Misty Reynolds comes to Wildcat Bluff just in time to help Trey put out a suspicious fire, leading him to dub her his "Christmas angel." Unfortunately, Misty's past has left her with terrible memories of fire, and of Christmastime.
As the two are thrown together again and again, Trey finds himself wanting Misty more and more, and Misty feels stronger and braver when Trey is around. Though their trust grows slowly, their passion for each other is burning hot...
Smokin' Hot Cowboys
Comments
28 comments posted.
Re: A Cowboy Firefighter For Christmas

This sounds like an interesting combo and a good read.
(Kathleen Bylsma 6:50pm October 2, 2015)
Cowboy and firefighter...romance...what more could you ask for?
(Kathleen Bylsma 9:14pm October 5, 2015)
Old romantic valentines
(Mary Smith 9:19am October 6, 2015)
I love vintage (old) things that evoke days gone by and with just simple imagination you can create all sorts of possible past stories. It's so inspirational.
(Nancy Reynolds 9:52am October 6, 2015)
I love old love lettes
(Emily Stemp 11:38am October 6, 2015)
I love finding horse statues... once I found this old looking small rocking horse statue... the colors were old fashioned... I loved adding it to my collection.
(Colleen Conklin 12:43pm October 6, 2015)
That tree would say holidays to me like traditional decorations don't.I'd be right at home in that town!
(Michele Thompson 1:06pm October 6, 2015)
What inspires writers always fascinates me. Thank you for
the blog about your inspirations. Very unusual and
entertaining.
(Dean Andersson 2:02pm October 6, 2015)
I love vintage Christmas decorations.
(JoAnn White 4:36pm October 6, 2015)
I love any old and interesting product to find,especially an
old edition of a book.
Marilyn
(Marilyn Collins 5:39pm October 6, 2015)
love finding old love letters
(Emily Stemp 1:48pm October 7, 2015)
Finding a new book by a favorite author.
(Wilma Frana 2:51pm October 7, 2015)
I love old antique things and old houses and barns .Love to walk into an old house or barn and look around at everything and just wonder who lived here and what their life was like .
(Joan Thrasher 3:32pm October 7, 2015)
I love finding first editions!
(Lily Shah 7:30pm October 7, 2015)
Beautiful old picture frames.
(Catherine Maguire 9:36pm October 7, 2015)
Hi Kim! Great cover on your book! I look forward to reading
it.
You've got a good point about how old things inspire us. I
have my great grandmother's writing desk and every time I
touch it I feel all that history in it.
Great post.
Big hug,
Kathleen
(Kathleen Baldwin 12:46pm October 8, 2015)
When we were down the shore for a family reunion my son and I found a cool memorabilia store on the Boardwalk and got mementos there for my brothers!
(Felicia Ciaudelli 12:40pm October 8, 2015)
I would love to read this book
(Debbie Rice 2:12pm October 8, 2015)
Love letters
(Emily Stemp 2:26pm October 8, 2015)
I think a letter in a bottle coming ashore is an amazing
inspiration. I feel like I want to know their stories. I
also think going to the airport is very inspirational.
Everyone has a different story. Some romantic, some lonely
and some just downright funny.
(Val Pearson 5:48pm October 8, 2015)
I love vintage jewelry.
(Carol Woodruff 7:06pm October 8, 2015)
old love letters
(Emily Stemp 1:03pm October 9, 2015)
I go to garage sales and look for glass door knobs. I have found some beautiful
ones from the 19th century
(Joy Isley 5:38pm October 9, 2015)
I found a modern twist on a crane statue - it's made out of
spiraled black metal & bobs in the wind.
(Diane Sallans 6:31pm October 9, 2015)
love a man in uniform
(Lynn Anderson 8:55pm October 9, 2015)
I don't know about quirky, but one of the neatest finds
was a porcelain tea cup with dragons on it. The neat
thing is when you hold it up to the light in the bottom
of the cup there is a geisha girl that is made by the
light passing through the different depths of porcelain.
One of my treasures!
(LaCinda Jameson 9:37pm October 9, 2015)

(Anne Pool 4:23pm October 23, 2015)
I found a strange looking lamp from the '60's. I cleaned it up, put on a new shade, and now it's a conversation-piece lamp--as well as functional.
(Anne Pool 4:25pm October 23, 2015)
Registered users may leave comments.
Log in or register now!