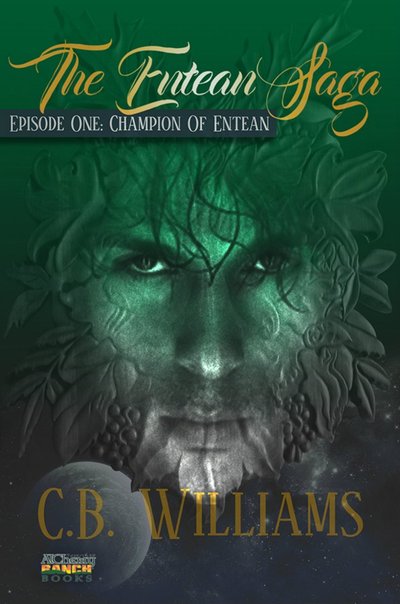 Purchase
Entean Saga #1
Self Published
June 2015
On Sale: June 1, 2015
Featuring: Eloch; KinLord Wren
228 pages
ISBN: 0988181479
EAN: 9780988181472
Kindle: B00YPU4YU8
Hardcover / e-Book
Add to Wish List

Eloch, the Champion of Entean, is asked by the planet who loves him to travel light-years from his home to Spur, a technologically advanced planet whose citizens are determined to colonize Entean.
And because Eloch loves his planet Entean, he goes...only to discover that the vast power flowing through him, power only a Champion can wield, vanishes the moment the spacecraft bound for Spur enters its first wormhole.
Now powerless and alone, how can Eloch stop the colonization, as he has sworn to do?
Meanwhile, on Spur, SubCity KinLord Wren has her own problems. Sensing the imminent threat of a Culling, in which the strongest of her Folk are taken to serve the UpperUppers who live Above while the weak and old are killed, she must find a way to protect those under her care. How can she give the Martials what they want while keeping those they don't alive?
Eloch and Wren-strangers from different corners of the universe brought together by happenstance. When their paths cross, it will change each of their missions to serve and protect, as well as the course of their very lives.
Comments
9 comments posted.
Though the themes of sci-fi may seem out of the box, I think they're pretty plausible and likely to happen (or have happened), so none of the themes seem out-of-the-box to me. But I love dimension and time traveling (or any traveling, space etc...) because you can read two parallels that might seem different but are actually very much the same.
(Lisa L. 8:53am June 11, 2015)
Well put, Lisa! Keeps your mind open, doesn't it?
(Cb Williams 11:09pm June 11, 2015)
I don't have a particular favorite theme. One of my
favorite authors was Anne McCaffrey. I've also been a
trekkie for nearly 50 years. (Jeez, is that possible?)
And isn't it interesting that what once was sci-fi is
now becoming sci-fact. Just think of Jules Verne, or
computers, communicators, tricorders, etc. There are
even folks working on transporters!
(Irene Menge 5:40pm June 12, 2015)
I like shape shifters. Especially cat ones.
(Faye Gates 5:54pm June 12, 2015)
I am very much into the shape shifters right now - especially after twilight!
(Lily Shah 6:49pm June 12, 2015)
I am really drawn to stories that take existing mythology but where an author puts their own twist/flavor on to. Other than that I am a fan of most anything that is sci-fi or fantasy based!
(Kassandra Appel 7:41pm June 12, 2015)
I guess I'm pretty open to any science fiction storyline that
has plausibility to happen as long as the story draws me in &
makes me think then I'm game!!! Thanks for the opportunity to
win & good luck to all who enter!!!:)
(Andra| Dalton 11:42am June 13, 2015)
Time travel always makes my head hurt! I like things that could be possible - makes the story more exciting!
(Lindsey Andronak 1:48pm June 13, 2015)
I love time travel!
(Denise Austin 1:56pm June 14, 2015)
Registered users may leave comments.
Log in or register now!