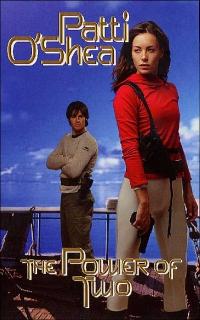 Purchase
As an elite operative, Cai Randolph has the task of finding an enigmatic figure named, Banzai Maguire, but she can't plan for the unexpected...or for love.
2176 Series , Book 4
Love Spell
November 2004
Featuring: Cai Randolph; Jake Tucker
358 pages
ISBN: 0505525933
Paperback
Add to Wish List

The UCE: In the 21st and 22nd centuries, the United States changed and grew. Now the United Colonies of Earth dominate the globe. But a mysterious voice is broadcasting treason, inciting revolution and referring to the "Ideals of 1776"—and to an enigmatic figure named Banzai Maguire
To find Banzai, the UCE assigns Cai. She's the "anchor," the techie half of a Quandem; a pair of elite operatives intended for just such covert action. Neural implants allow her to sit back in a chair and feed information to her partner, the dark-souled Jacob Tucker. He's as rigid as he is deadly...or handsome. But this time, it can't be business as usual. This time, Cai needs Jake to trust her completely. Whether he likes it or not, she can't sit back while he fights the bad guys. Wherever this mission takes her, Cai is going to be the one kicking a little tail.
Comments
No comments posted.

Registered users may leave comments.
Log in or register now!