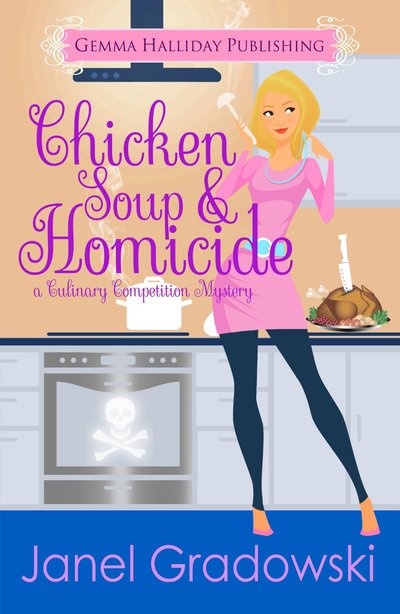 Purchase
Amy Ridley has to do more than cook chicken soup, she has to solve a murder.
Culinary Competition Mystery #2
Gemma Halliday Publishing
February 2015
On Sale: February 18, 2015
Featuring: Carla Lance; Amy Ridley
223 pages
ISBN: 1507857217
EAN: 9781507857212
Kindle: B00TSNYZBA
Paperback / e-Book
Add to Wish List

Amy Ridley and her friend, Sophie, have perfected their chicken soup recipe, and the winter-weary residents of Kellerton, Michigan can't wait to watch them compete against other local chefs in the Chicken Soup Showdown. But the charity event starts out with a bang, literally, when one of the rival chefs falls out of a freezer and onto Amy. If it wasn't stressful enough for Amy to catch a dead body, the detective in charge of the investigation targets her best friend, Carla, as the chief suspect in the murder.
In order to clear her friend's name, Amy does her own investigating. The problem is nobody liked the arrogant murdered celebrity chef, and soon her suspect list is longer than the list of ingredients in her secret chicken soup recipe. Can Amy figure out who killed the celebrity chef? Or will Carla be spending the spring in jail?
**Recipes Included!**
Culinary Competition Mystery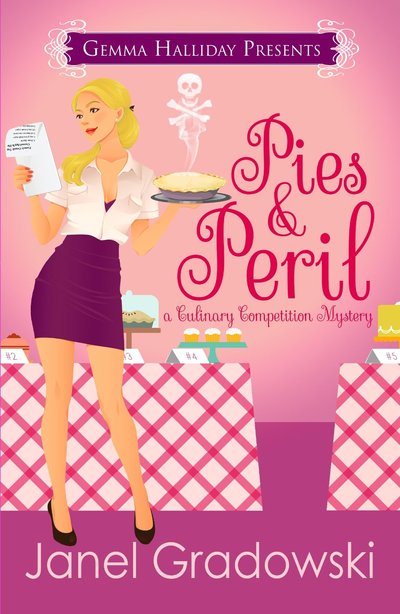 Pies & Peril
#1.0
Amazon.com | BN.com | | |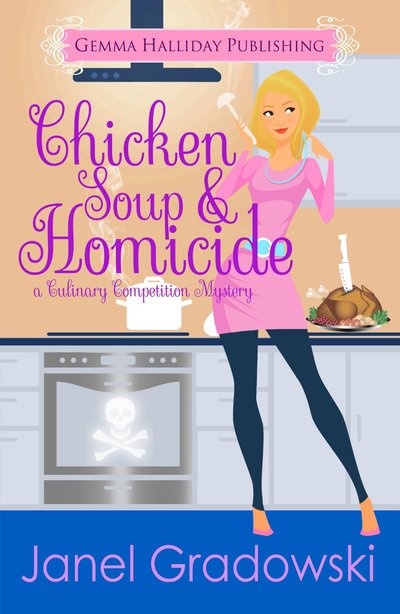 Chicken Soup & Homicide
#2.0
Amazon.com | BN.com | | |
Comments
69 comments posted.
I just love that cover. I wish I looked like that in the
kitchen.
(Faye Gates 6:49am February 23, 2016)
The strangest food I ever ate was squirrel. I didn't know until
after I ate it. I was tricked. And no, it didn't taste like
chicken.
(Faye Gates 6:50am February 23, 2016)
Cute cover.Great recipe for navy bean soup....I prefer using Country Ham bits in mine for flavor.I have not eaten anything strange or exotic but do remember my older sister trying to get me to eat what she said was Chocolate covered Ants!I refused....lol.
(Jackie Preas 6:53am February 23, 2016)
The strangest food that I have eaten was octopus. It really didn't have a lot of flavor and it was very chewy.
(Cheri Oggy 7:05am February 23, 2016)
Love the cover! I would say black pudding while living in England I didn't like it. Thanks for the recipe I will have to try it.
Penney
(Penney Wilfort 7:32am February 23, 2016)
The strangest food that I ever ate was octopus, but I
really, really love it now that I tasted it!!
(Terri Rinko 8:11am February 23, 2016)
My son and his wife live in NYC, and when we visit, they love
to take us to restaurants where I often do not know what I am
eating! LOL!
(Lisa Sabatini 8:39am February 23, 2016)
Funny story about the beans, its a good thing most Americans
ave a fear of trying anything "strange", and many won't even
eat normal beans, or the whole country would be lying dead on
the floor with lupini on their chins. You know, we here in the
us don't need no stupid instructions, we know how to cook,
right? I am glad you did not take that road! We would miss
you.
(Sue Hieber 8:40am February 23, 2016)
I've tried several strange foods, including alligator and buffalo,
and yes, I knew what they were before I tried them. I liked them
both.
(Michele Hayes 8:51am February 23, 2016)
The most exotic was a strange fish which was enjoyable and
tasty.
(Sharon Berger 9:05am February 23, 2016)
Kimshi and rice, when I was stationed at Army base in
Louisiana
(Jina Clay 9:16am February 23, 2016)
I have eaten alligator - ok fried, rabbit - yuck and the occasional gnat while mowing the lawn lol.
(Catherine Winslow 9:46am February 23, 2016)
What an interesting culinary mystery! Great cover too. The strangest food I have ever eaten was squid.
(Bonnie H 10:06am February 23, 2016)
The strangest food that I have eaten was escargot...
ewwwwww
(Michelle Lilly 10:16am February 23, 2016)
THE STRANGEST FOOD I HAVE EATEN WAS RATTLESNAKE.
(Ron Frampton 10:29am February 23, 2016)
black pudding.I tried it before I knew what it was.Haggis was pretty interesting.
(Catherine Myers 10:34am February 23, 2016)
I'm a very picky eater ,I want try anything different and I don't eat meat very often . My favorite foods are vegetables. I can do without bread unless it's a sandwich ,but a must is cornbread with a pot of " good ole beans ". A pot of potato soup is the best medicine for me when I'm feeling at my worst . I would love to read this book . Thanks for this giveaway .
(Joan Thrasher 10:37am February 23, 2016)
I ate buffalo once. It was tough and rather dry.
(Joy Isley 10:54am February 23, 2016)
Ostrich eggs, alligator, buffalo, and opossum are a few of the strange foods I've tried...some with success and some I hope to never taste again. Love reading cozy mysteries. Thanks for visiting with us.
(Brenda Rumsey 10:54am February 23, 2016)
I had alligator in Louisiana...was good...I'll try anything...Thanks for the chance
(Karen Dieffenbaugher 10:56am February 23, 2016)
I don't know what kind of fish it was, but I ordered the fish at a Mexican
restaurant, and it came to the table eyes my gills, skin and all. I couldn't
even look at it, much less eat it. My husband ate it and said it was
delicious. But I could not. It was looking at me!
(Connie Williamson 11:25am February 23, 2016)
orange tomato soup. i did eat alligator once when i was very young.
(Angela Parrish 11:42am February 23, 2016)
Peking Duck in a restaurant in China. On that trip I saw some pretty
amazing things(I.e. Scorpion on a stick), but I wasn't as advennturous as
you are!
(Susan Huston 12:04pm February 23, 2016)
I've eaten ostrich but turned down Guinea pig
(Lesley Walsh 12:35pm February 23, 2016)
Hubby loves frog legs. I hate anything remotely like that cause girls and I
don't eat meat or seafood or fish or anything like that. He likes things like
cow brains too. Needless to say he's not allowed to cook any of that in the
house and has to go to his friends or families because of that. He agrees
mostly because the kids and I have bad food allergies to things even if
cooked around us cause we aspirate them and have to have an epipen or
be rushed to er. Needless to say he has to brush his teeth and wash up
before coming around us. 24 years now he's used to it
(Diana Tidlund 12:41pm February 23, 2016)
I do not eat anything strange or exotic
(Gary Bronstein 12:54pm February 23, 2016)
The strangest food has been tripe, it is a very odd
texture.
(G. Bisbjerg 12:55pm February 23, 2016)
A co-worker brought rabbit he'd hunted. Unfortunately, the
piece I ate still had buckshot in it. Awful memory of
biting down on that! thanks for the easy soup recipe!!
Bring on the snow, just no power loss please!
(Danielle Hammelef 12:56pm February 23, 2016)
Well, a friends Dad tried to get me to eat Menudo once and I could not do
it. I do not eat anything strange except for chicken livers. That's the bravest
I go.
(Vicki Hancock 1:16pm February 23, 2016)
I am going to tell you the strangest food that my hubby ate during deployment
to Pakistan: monkey brains. He didn't know what they were at the time - they
were part of a buffet at a hotel. (He said they weren't too bad, but grossed him
out when he thought about it!)
(Arlene Aughey 1:19pm February 23, 2016)
I ate squirrel once as well
(Saundra Warren 1:30pm February 23, 2016)
I love to try new and unusual foods. I've had raccoon,
alligator, squid, octopus, headaches, blood sausage..etc. You
need to experience new things to keep boredom at bay. Lol Two
things I don't like are beans and splitpea soup. We ate them a
lot growing up and I just can't bring myself to eat them
anymore.
(Terri Shortell 2:05pm February 23, 2016)
I think the most strange food I've eaten is squid. I found I didn't like it anymore than I liked octopus. No taste and very rubbery. I like foods with flavor and zest. Now if you want to try something good but strange altogether try Mountain oysters.
(Kathleen Thompson 2:48pm February 23, 2016)
I have eaten alligator, escargot,and blood sausage. scrapple is a favorite of mine.
(Jean Benedict 3:39pm February 23, 2016)
I've tried nothing more exotic than escargot and rattlesnake I think. I don't even consider buffalo or duck exotic.

Remind me NOT to eat at your house...
(Karen Mayers 4:38pm February 23, 2016)
Some of the strangest foods I have tried have been Rocky
Mountain Oysters, shark and alligator. I won't try them
again.
(Darlene Carroll 4:58pm February 23, 2016)
I am not the adventurous type. I don't tend to eat strange
things!
(Linda Herold 5:05pm February 23, 2016)
I would say octopus
(Mary Lynn Hayes 6:14pm February 23, 2016)
I don't buy or eat strange or exotic foods that's just not
me.
(Mary Preston 6:28pm February 23, 2016)
I love the cover of the book. I hardly ever will attempt to
eat anything out of the ordinary.
Marilyn
(Marilyn Collins 6:40pm February 23, 2016)
Janel, For me there are two foods that I've tries and NEVER AGAIN will try.. First was eel. My parents were immigrants from Holland. My Dad loved eel. When he spotted it at an import store he had to have that delicacy. My brother and I both carefully spit it out! The other is jellyfish. Our daughters and I attended a conference in Italy, representing the US. At the large group dinner, one of the dishes had mixed sea foods, including jellyfish. It was like putting cut glass pieces in your mouth. One bite and we were each done.
(Joanne Kocourek 6:41pm February 23, 2016)
I love octopus and eel.
(Robyn Konopka 6:47pm February 23, 2016)
I too had a strange food, and I didn't know it was squirrel unto I ate a bite and said ugh what is this, and I said never again
(Jeri Dickinson 7:20pm February 23, 2016)
Blood soup made with duck blood. Ugh! My father used to eat this when I was a child. No way would I try it.
(Margaret Garrison 7:27pm February 23, 2016)
When in France one summer, a friend and I were driving on small country roads in the Dordogne region in southwestern France, and stopped at a tiny roadside cafe, in an equally tiny village, for lunch. I swear the village had maybe 20 houses total! I don't remember what Jana had, but I had the Plat due Jour, which happened to be "Tripes en Brochette" that day.

Now, in French, tripes simply means innards, as my Southern grandmother used to call them, and it was a mixture of liver, kidnay, heart, and yes, tripe, along with a couple of other items that I don't remember, all collected on three skewers and grilled. They came with a salad and bread, and it was one of the most delightful meals I had in those 3 1\2 weeks in France that summer, both because of the food and because of the company. And it was only €10!! (The equivalent of about $7.50 then.)
(Lynn Rettig 8:09pm February 23, 2016)
I love the cover of your book. Great choice. The best place to go to try out different meat and choices is a Brazilian Restaurant. Great food and everyone comes away satisfied and needing a good walk.
(Sherrie Wood 10:14pm February 23, 2016)
Ground hog and cow tongue
(Deborah Dumm 1:34am February 24, 2016)
Octopus - tastes like nothing but feels like rubber -
blach!
(Dagmar Finch 5:19am February 24, 2016)
Years ago I had Octopus in it's own juice. When it was served
4 of use had a taste which was sweet but pure black. Thanks
for sharing.
(Sherry Butcher 8:35am February 24, 2016)
The strangest things I have observed include baby octopus and also conch. I
was too scared to try either though. I just couldn't do it. Especially the baby
octopus, with all of its arms - it was just too weird!
(Lily Shah 12:17pm February 24, 2016)
My grandparents had made friends with some nice people
from India and they were only here in our country for a
short time while the husband learned banking. Well they
invited my grandparents for dinner and of course at that
time i lived across the street from them and they invited
me to come along. I had no idea what to expect they just
said a couple that lived a floor above them had invited
them to dinner and they wanted me to come. Well I should
of know we walked in the house and the smell I didn't
like at all. Then there was a sheet on the ground and
there were bowls of all kinds of food. My grandfather
doesn't eat anything that isn't traditional American.
Plus he is very verbal and doesn't realize that he is
hurting someones feelings and he said some comments I
wanted to crawl out the door. He then told them he eats
with fork and knife which they didn't have. That was the
beginning of a night of just plain nightmares. We ended
up leaving as my grandfather had just taken it to far and
I couldn't take another embarassment.
(Peggy Clayton 12:20pm February 24, 2016)
I am a picky eater, so everything is exotic to me. LOL.
When I was growing up though, my Grandfather used to go
on hunting trips, so I guess I would have to say Moose
and Bear are the most exotic I have eaten. Although, they
may not seem exotic to those that have avid hunters in
the family or live in Canada.
(LaCinda Jameson 12:32pm February 24, 2016)
I won't eat anything that is strange looking, smells funny
(Jeri Dickinson 2:52pm February 24, 2016)
Shark is the most exotic food I've ever eaten.
(Laura Albert 8:44pm February 24, 2016)
I cannot remember eating anything strange.
(Ginger Hinson 11:35pm February 24, 2016)
Scorpion and starfish. I was visiting Beijing and ended up at the street stalls of Wangfujin(sp?) that sold snake, sheep penis, animal innards/organs, etc... My friend and I bought the scorpion skewers and the starfish plate, but I ended up backing out and not eating them and my friend had it all.
(Lisa L. 9:32pm February 25, 2016)
Rattlesnake. It was given to me as chicken in hopes that when I had a mouthful and was told what it was I would react badly. Unfortunately, I grew up with brothers who loved to do that kind of thing and just calmly kept eating. It actually had a pleasant flavor - thankfully - so I finished my portion without trouble.
(Sharon Mitchell 4:35am February 26, 2016)
The most exotic food I've ever eaten, which comes to the top of
my head, bis escargot. It's also one of my favorite foods that
I don't get very often!! Thank you for the great recipes, too!
I wrote the rice recipe down, and plan on making it in the near
future. I've made the soup before, and it's quite good!!
(Peggy Roberson 11:27pm February 26, 2016)
Eating deer meat when I was 12 was odd to me but it did taste good. Curry
goat was not good and Chicken foot soup was another one I couldn't
stomach when I was on a mission trip to Jamaica.
That would freak me out as well finding out that those beans were poison.
Good thing you looked up how to prepare them! Jenny
jennydtipton at gmail dot com
(Jennifer Tipton 9:06am February 27, 2016)
A relative served alligator at a meal as a treat. Strangely, I don't remember much about the taste.
(Anna Speed 12:23pm February 27, 2016)
Strangest food was blood sausage. Tried it, not my favorite.
Thanks for the chance to win!!!
(Melissa Basnight 3:45pm February 27, 2016)
I lived in Scotland and I had Haggis and Blood pudding. Not so
crazy about them but I did try them.
(Denise Austin 4:22pm February 27, 2016)
I don't eat crazy or exotic food! Your book sounds
amazing!
(Maria Proctor 8:10pm February 27, 2016)
I tried rattlesnake at a state fair once.
(Melinda Stephens 9:25pm February 27, 2016)
Strangest thing I've ever eaten was Turtle soup.
(ShaMona Hagan 7:50am March 2, 2016)
Sounds like a book I'd love to read!
(Timberlee Ramsey 12:08pm March 4, 2016)
I have eaten raw oysters and love them...Was introduced to them by my Mother namy years ago at a hotel brunch...Until that time I had no idea she had ever eaten them...In Ohio at the time it was very unusual to find them at any restaurant...
(Karen Dieffenbaugher 10:30pm March 18, 2016)
The strangest thing I've ever eaten was swordfish. I know
that swordfish isn't strange to most people but I'm not a very
adventrous eater!
(Jamie Stein 10:23am March 24, 2016)
Love the cover and it seems like a wonderful read. I am the
world's pickiest eater therefore I can't name anything
unusual that I have eaten.
(Gloria Burke 12:20pm April 20, 2016)
Registered users may leave comments.
Log in or register now!