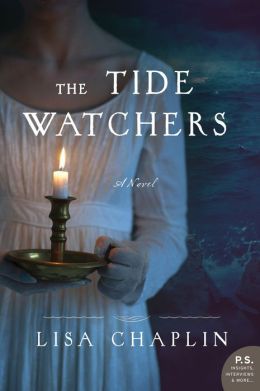 Purchase
William Morrow
July 2015
On Sale: June 30, 2015
Featuring: Lisbeth
480 pages
ISBN: 0062379127
EAN: 9780062379122
Kindle: B00NLMC94Y
Paperback / e-Book
Add to Wish List

Historical | Romance Historical
In the tradition of Jennifer Robson, comes this compelling debut that weaves the fascinating story of a young woman who must risk her life as a spy to help stop Napoleon's invasion of Great Britain in the winter of 1803.
Though the daughter of an English baronet, Lisbeth has defied convention by eloping to France with her new husband. But when he breaks her heart by abandoning her, she has nowhere to turn and must work in a local tavern. Her only hope for the future is to be reunited with her young son who is being raised by her mother-in law.
A seasoned spy known by his operatives as Tidewatcher, Duncan apprenticed under Lisbeth's father and pledged to watch over his mentor's only daughter while he searches the Channel region for evidence that Bonaparte has built a fleet to invade Britain. But unpredictable Lisbeth challenges his lifelong habit of distance.
Eccentric, brilliant American inventor Robert Fulton is working on David Bushnell's "turtle"—the first fully submersible ship—when he creates brand-new torpedo technology, which he plans to sell to the French Navy. But when his relationship with Bonaparte sours, he accepts Tidewatcher's help to relocate to the French side of the Channel, but he refuses to share his invention. With an entire army encamped in the region, blocking off all access, Tidewatcher must get that submersible, along with someone who knows how to use it, to uncover Bonaparte's great secret.
When Lisbeth is asked to pose as a housekeeper and charm Fulton so she can learn to use the submersible before the invasion fleet sails, she will be forced to sacrifice herself for her country—but is she willing to sacrifice her heart when she's already lost it to another…?
A fast-paced, deeply-researched, and richly imagined novel, The Tide Watchers explores a long-hidden, chapter of Bonaparte's history.
Comments
27 comments posted.
All I can say is, MY life has been stranger than fiction.
(Connie Williamson 1:20am June 30, 2015)
Sounds like a great book! Life can for sure be stranger
than fiction.
(Nicole Bouchey 9:24am June 30, 2015)
Life is definitely stranger than fiction.
(Marissa Yip-Young 10:01am June 30, 2015)
Connie, I think the more unusual lives are at least never boring, right? And you'll
be able to relate to a few of my characters in The Tide Watchers, most definitely!
(Lisa Chaplin 10:18am June 30, 2015)
Hi, Shakeia, and thank you! What a lovely name you have. I'd love to have a name
that wasn't also the name of at least 3 other kids at school...I hope you enjoy The
Tide Watchers!
(Lisa Chaplin 10:19am June 30, 2015)
I'm so glad to see readers open to the insanity that is real life for some people,
Nicole. I think I had to be open to it from a young age as the daughter and
chauffeur of a child-abuse counsellor. Some of the clients would insist on my
coming in and telling me their story (I was 19 at the time)...from then I learned
to never say "That couldn't possibly happen!" :-D
(Lisa Chaplin 10:30am June 30, 2015)
Some of the things I have seen in life are definitely
stranger than fiction.
(Sue Farrell 1:21pm June 30, 2015)
TRUE LIFE IS INDEED STRANGER THAN FICTION. HOW OFTEN DO WE SEE NEWS THAT SUSPENDS BELIEF? HOW MANY TIMES DOES SOMETHING HAPPEN TO US THAT SEEMS IMPOSSIBLE?
I CAN'T WAIT TO READ THIS BOOK.
(Sharon Mitchell 1:30pm June 30, 2015)
Life is indeed stranger than fiction and is infinitely very
interesting.
(Sharon Berger 3:16pm June 30, 2015)
I am always interested in stories about Napoleon and history.
(Leona Olson 4:13pm June 30, 2015)
Very true, Sue Farrell! I used to be a nurse, and some of the things I saw...!
(Lisa Chaplin 4:41pm June 30, 2015)
So true, Sharon Mitchell! Saw a claim the other day that added a whole new
dimension of weird. Ripley's Believe It Or Not! Lord Camelford was a bit that way,
but he never claimed to be pregnant by a pig...
(Lisa Chaplin 4:43pm June 30, 2015)
Marissa, Sharon, I think the weird is what makes life interesting! You can only
talk of commonplace things for so long. The weird and wonderful makes life fun!
(Lisa Chaplin 4:45pm June 30, 2015)
Leona, I hope this one adds to your collection. There isn't a lot written about
the Consular period of Napoleon's life and how much he achieved. It's always
about him trying to take over one place or another (which he did) and his
reputation with women (also true), but like any human, there was much more
to him than that. And there is so much more to the spies and inventors of the
period than the information they carried. There's a human element, a human
cost to every decision we make in life. The leaders got the glory, the people
on the ground paid the price.
(Lisa Chaplin 4:47pm June 30, 2015)
Of course real life is stranger than fiction! That's why we use fiction to escape it.
(Lynn Rettig 1:08am July 1, 2015)
So, Lynn Rettig, you think that's why some readers complain about strange
happenings in fiction? They want to escape their crazy lives? :-D
(Lisa Chaplin 4:41am July 1, 2015)
Thank you for keeping History alive by writing your book!!
I love reading books having to do with History, especially
having to do with that part of the world. I find it
interesting. I also have a friend who lives in the UK, and
I suppose it gives me a bit more of an understanding about
him. My Father also served in WWII, so it gives me some
sort of bond, even though your book has nothing to do with
that era. In short, because Robert Fulton is in your book,
along with spies, and your other characters - Lisbeth,
Napoleon, and others, this should be a great read!! Love
the cover, too!! Thank you again, and it should be a big
hit!!
(Peggy Roberson 12:23pm July 1, 2015)
This book sounds great.
(Dhanisha Balsara 12:42pm July 1, 2015)
Truth is always stranger than fiction. We had a gentleman
that lived in a little town nearby that had worked for the
government in a top secret job at one point. He had retired.
The town was historical but one of the homes had to be
demolished and the owners had received permission to rebuild
in the same spot. This gentleman had gotten used to an
unhindered view of the waterfront and spent years fighting
their efforts to rebuild. He sabotaged the construction,
finally trying to set up a fake murder plot. All of this came
out when he was killed by being in the wrong place at the
wrong time.
(Marcia Berbeza 8:45pm July 1, 2015)
Truth is ueually stranger than fiction and I often find
think that if a book were written about our true lives we
would not believe half of it could be true.
(Nancy Krueger 1:47am July 2, 2015)
Personally my life isn't but I'm sure many people's truth is stranger than fiction. I read because I crave the strangeness my life doesn't provide.
(Maranda Hymes 2:42am July 2, 2015)
Historical stories are always fascinating to me.
(Sharon Good 4:19pm July 2, 2015)
My love isn't stranger than fiction, but I have heard many stories of people's lives who are stranger than fiction. I do think there are things that happen in each of our lives that could be part of a fictional work. I love historical fiction and this story is intriguing. Years ago my son did a research project on Bushnell's submarine so that part of the novel is definitely interesting to me. I love the intrigue and the cover is beautiful too!
(Sheri Pruitt 5:39pm July 2, 2015)
Yes , life is stranger than fiction . You never know what is going to happen or take place from day to day or minute to minute . We don't always have control of our lives .
(Joan Thrasher 10:43am July 3, 2015)
I believe that life is stranger than fiction. It can twist
and turn in so many directions in a heartbeat
(Darlene Carroll 4:53pm July 3, 2015)
Life is truly stranger than fiction because there are so
many possibilities. ANYTHING CAN HAPPEN....
(H J 8:16pm July 3, 2015)
anything can happened from day to day
(Ann Unger 8:44pm July 3, 2015)
Registered users may leave comments.
Log in or register now!