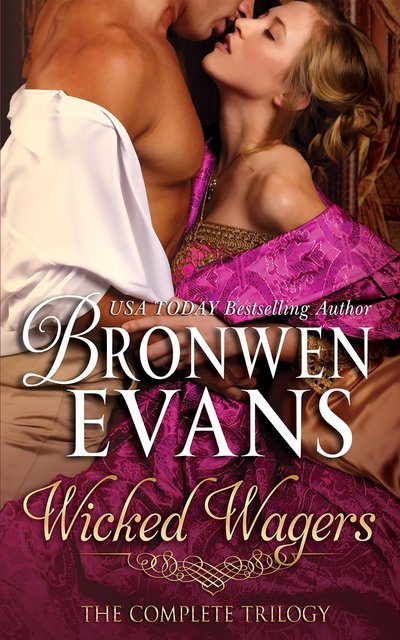 Purchase
Wicked Wagers - The Complete TrilogyWicked Wagers - The Complete Trilogy
Bronwen Evans
Author Self-Published
January 2014
On Sale: January 5, 2014
470 pages
ISBN:
Kindle: B00AID5FTA
Audio / e-Book
Add to Wish List

Other Editions
Paperback (December 2012)
To Dare the Duke of Dangerfield (Top 5 FINALIST in the Kindle Book Review Indie Romance Book of the Year 2012)
Lady Caitlin Southall's temper has finally got the better of her. She's challenged Harlow Telford, the Duke of Dangerfield, the most notorious rake in all of England, to a wager. She wants her house back. The one her destitute father lost to Dangerfield in a card game. But if she doesn't win their bet, she not only loses her home, she loses her dignity and pride and damn it all, maybe her heart... For the handsome Duke has decreed, when he wins, she must spend the night in his bed.
Harlow Telford is amused by his hellion neighbor, Caitlin, or Cate to her friends, who seem to encompass everyone on earth except him. When she bursts into one of his private gatherings, he mistakes her for the entertainment. Her slap across his face sets him straight and raises the absurd desire to seduce the unconventional beauty into his bed. When she issues her daft challenge to win back her father's pile of rubble, the terms are set. And he'll do anything to win--except fall in love...
To Wager the Marquis of Wolverstone
Marcus Danvers, the Marquis of Wolverstone, is renowned for his cynical demeanor. It's rumored that long ago, a beautiful woman broke his heart. Now he lives life for pleasure. He's the consummate, handsome rake. If anyone tries to get too close--let's just say his bark is as bad as his bite. That is, until the beautiful, as she is deceitful, Contessa Orsini re-enters his life with a wager he cannot resist. When he wins, he'll have Sabine exactly where he wants her--in his bed and at his mercy.
Forced to return to England and avenge her father's death, Sabine knows the one person who can help her is the only man she has ever loved--Marcus. The man who hates her with as much passion as he once loved her. But Marcus doesn't know that by winning the wager he'll also be getting his revenge. For there are some secrets best left buried...
To Challenge the Earl of Cravenswood
Henry St. Giles, the Earl of Cravenswood, longs to find his soul mate. Now that his two best friends, both reformed rakes, are happily married, the need becomes an obsession. When they challenge him to find a wife by the end of the season or marry his neighbor, the innocently alluring Lady Amy Shipton, he can't believe his luck. He wins, either way. But a darkened garden, a case of mistaken identity, a drunken kiss, and a dropped emerald earring, leads Henry on a Cinderella hunt. He knows the woman he held in his arms could be the one he's searched for all his life. He just has to find her.
Lady Amy Shipton is determined to marry for love instead of sharing her husband like her mother did. So why did she let her handsome neighbor and romantic fantasy, the Sinful Saint as he's called for his bedroom prowess, seduce her in his garden? And what can she do when in the middle of their passionate encounter; he whispers another woman's name. Now Henry is hunting the owner of the earring Amy left behind, and she's determined to retrieve it before her identity is revealed. She's not about to give her father the ammunition he desperately wants to force her down the aisle.
Comments
No comments posted.

Registered users may leave comments.
Log in or register now!