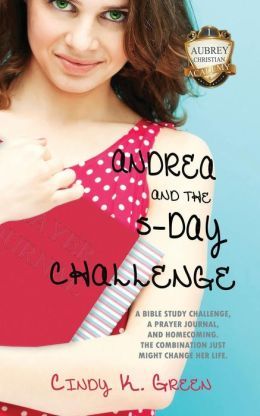 Purchase
Andrea and the 5-Day Challenge
Cindy K. Green
Pelican
March 2015
On Sale: March 6, 2015
ISBN: 1611164052
EAN: 9781611164053
Kindle: B00TJAG8P8
Paperback / e-Book
Add to Wish List

Dear Lord,
I need Your help and sooner would be better than later. Wouldn't you know it, just as soon as I decide to attempt the 5-Day Bible Study Challenge, my parents start heaping on loads of pressure to get me into Julliard. My friend Amy isn't any better, urging me to ask Luke Ryan to homecoming. As if the cute, transfer jock would actually go out with me. I mean, we're kinda friends, and I've enjoyed our Geometry study sessions, but in case Amy hasn't noticed, I'm the invisible one at Aubrey Christian Academy, and I like it that way. On top of that, I have a feeling Luke's concealing something behind those chocolate-brown eyes of his. I know I can be self-centered and a bit melodramatic, but I really do want to seek Your will for my life. Then maybe I'll even figure out which direction points up.
Sincerely,
Andrea Jamison
High School Junior Change-o-phobic & complete neurotic
Comments
22 comments posted.
Re: Andrea and the 5-Day Challenge

I remember those days well. Growing up in a strict
household where I was never encouraged to be anything that I
can recall, other than doing well on my studies, and not
being taught about boys in general, and not being allowed to
date until a certain age my Mom had chosen, I really had no
self-esteem. I let a boy pretty much choose me, because the
ones that I liked sort of ran the other way!! In time, I
learned through "hard knocks," but also kept my dignity
intact, and married the man that I truly loved, but I
wouldn't want to go through that stage again!! Your book
would bring back a flood of memories, not all pleasant ones,
but I'm willing to give it a shot. Congratulations on your
book, which I'm sure is going to do well!!
(Peggy Roberson 11:12am March 20, 2015)
I always feel socially awkward and the more nervous i become
the less of a filter i have. Then i embarrass myself. It is a
vicious cycle.
(Rachel Collings 11:20am March 20, 2015)
This is fabulous. So common and familiar as I grew up and felt
shy and withdrawn from everyone. Thanks.
(Sharon Berger 11:36am March 20, 2015)
Sounds like a great book-I'm looking forward to reading it
(Amber Kuehn 1:50pm March 20, 2015)
I can totally relate to her insecure side. I am socially
awkward for sure! :)
(Sabrina(Mippy) Templin 9:45pm March 20, 2015)
Most teens experience insecurity. Some are just better at pretending.
(Ginger Hinson 12:46pm March 21, 2015)
I'm sure all of us can relate to Andrea ,her friend , or her parents in one way or another . This book sounds like it will be an excellent read for all ' young adults ' and will bring back so many memories for us 'young adults ' at heart .Thanks for this giveaway .
(Joan Thrasher 11:15am March 21, 2015)
The teen girls I mentor will be very interested in this book.
(Nadine Stacy 11:22am March 21, 2015)
I can definitely relate I think we all go through this at
some point in our life I hope she does overcome it!
(Melissa Ogletree 12:34pm March 22, 2015)
I was always the one chosen last for any teams and always
was on the fringes. My high school years are not a favorite
time of my like as I was very shy and insecure. But I grew
out of that and had a wonderful time at university. I can
still identify with anyone that feels insecsure, out of
place, shy as I've never forgotten how that feels.
(Glenda Hefty 12:59pm March 22, 2015)
I can definitely relate to the insecurity. I think everyone can on some level.
(Pam Howell 7:21am March 22, 2015)
I can definitely relate to the insecurity. You are a new author to me, sure would like to win one of your books. I am on a budget and just by books of authors I have read. Yours sounds good.
(Judy Ferguson 10:53am March 22, 2015)
Your book sounds like a great read
(Jean Benedict 12:41pm March 22, 2015)
All the time!
(Lindsey Andronak 1:33pm March 22, 2015)
I have not yet had a chance to read your books. I am hoping to win, so I can add your book to my collection. Thanks.
(Cindy Davenport 7:01pm March 22, 2015)
I can relate to Andrea. I have to pretend to be someone I'm not just to fit in with my classmate. I wasn't athletic or popular. I have parents who are old-fashioned and strict so I pretend to be the smart girl just to be special.
(Kai Wong 12:32pm March 23, 2015)
I was the awkward, shy girl who read a lot and was always doing art.
(Seanna Yeager 8:47am March 23, 2015)
Every teen girl wants to fit in. Not only did I go through
that, I raised one girl, and now have 5 granddaughters. So
we all have our times.
(Mary Hay 8:53am March 23, 2015)
I am always socially awkward, never more so than as a teenager. I still find myself looking at my shoes & wishing I could sink into the wall behind me.
(Kristine Murphy 8:58am March 23, 2015)
I hate being the centre of attention and dislike any but family parties. So I can well and truly relate.
(Lesley Walsh 11:18am March 23, 2015)
I was really awkward and didn't fit in. Honestly I still don't
really I just can accept it better now and have a few select
friends who love me for my quirkiness.
(Denise Austin 3:42pm March 23, 2015)
GREAT CONTEST, I WOULD LOVE TO WIN! GOOD LUCK TO EVERYONE!
(Renae Kelly 10:18pm March 23, 2015)
Registered users may leave comments.
Log in or register now!