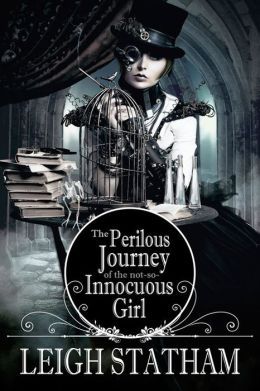 Purchase
The Perilous Journey of the Not-So-Innocuous Girl
Leigh Statham
Month9Books
March 2015
On Sale: March 17, 2015
Featuring: Lady Marguerite; Claude
ISBN: 1942664087
EAN: 9781942664086
Kindle: B00SQLF09Q
e-Book
Add to Wish List

Lady Marguerite lives a life most 17th century French girls can only dream of: Money, designer dresses, suitors and a secure future. Except, she suspects her heart may be falling for her best friend Claude, a common smithie in the family's steam forge.
When Claude leaves for New France in search of a better life, Marguerite decides to follow him and test her suspicions of love. Only the trip proves to be more harrowing than she anticipated. Love, adventure and restitution await her, if she can survive the voyage.
Comments
17 comments posted.
Re: The Perilous Journey of the Not-So-Innocuous Girl

You know, I doubt that I would dare to wear a dress in a
steampunk story. Dresses can encumber and that would not be
wise.
(G. Bisbjerg 1:53pm March 19, 2015)
Haha! My dress would probably get ruined following someone into
the cellar. I'm too curious and believe myself to be sneaky.
(Susan Voss 9:01pm March 19, 2015)
Thank you for allowing me to enter this contest. I do hope
I win so I get a chance to win your book. GOOD LUCK to all
who enter this contest.
(Renae Kelly 9:20pm March 19, 2015)
I'd go with trousers most of the time, but I'd want to have
a dress stashed away for appropriate occasions.
(Janie McGaugh 10:20pm March 19, 2015)
I hate dresses as is, so aviation trousers sound like just the thing for me. Dress me up spiffy in a nice suit for fancy times, and leave the dresses to the wilting lilies who don't go on adventures!
(Rebecca Diederich 10:53am March 20, 2015)
I would wear a dress in a steampunk novel, but it would have
to have some fun gadgets. :)
(Rachel Collings 11:26am March 20, 2015)
I like dresses, but never have the opportunity to wear them-
plus the fact that I hate pantyhose.
(Amber Kuehn 2:26pm March 20, 2015)
I think pants would be safer in a novel like this,
(Sue Farrell 4:27pm March 20, 2015)
I am more comfortable in pants and probably would have the
dress tucked away in my luggage that I took on my adventure
for when it comes in handy. Congratulations on your new
book:THE PERILOUS JOURNEY OF THE NOT-SO-INNOCUOUS GIRL. Your
book sounds fantastic and I would love to win and read it
this year. Thank You very much. Cecilia Dunbar Hernandez
CECE
(Cecilia Dunbar Hernandez 6:54pm March 20, 2015)
Nope, I would not wear a dress...lol
(Sabrina(Mippy) Templin 10:07pm March 20, 2015)
I am much more comfortable wearing dresses but it depends
on the occasion. A simple dress for a simple occasion and a
fancy dress for an elegant event. In this case, I'll take
the dare and try wearing a dress in a steampunk novel. :)
(Daiane Chen 9:23am March 21, 2015)
I'd prefer wearing pants. Sounds like a good adventuresome story, and I haven't read any steampunk novels before. Gadgets, dirt, grime, grease, cobwebs on my journey await me!
(Rich Cook 3:45pm March 21, 2015)
Steampunk can be fun- especially seeing how the heroines
manage such adventures with their fancy dresses!
(Debbie Wiley 8:05pm March 21, 2015)
I think a dress would add a challenge so why not??
(Melissa Ogletree 12:34pm March 22, 2015)
As I avoid wearing a dress of any kind if I possibly can then I
doubt I'd be in danger of ruining a dress in a steam punk novel
whatever that may be...if I've read one, I don't know of it.
Sounds like they'd be fun.
(Glenda Hefty 12:49pm March 22, 2015)
No dress for me, too hard to get around in
a dress!
(Ashley Applebee 4:07pm March 22, 2015)
I think it would be fun to wear a dress in a steampunk novel, especially if it had a lot of hidden gadgets.
(Bonnie H 9:47pm March 24, 2015)
Registered users may leave comments.
Log in or register now!