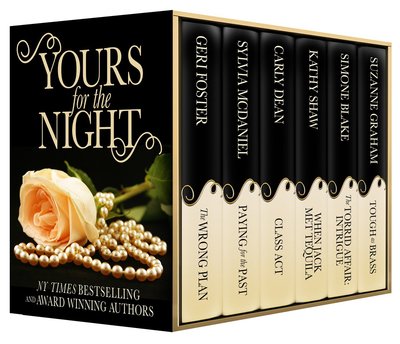 Purchase
Author Self-Published
December 2014
On Sale: November 28, 2014
337 pages
ISBN:
Kindle: B00QCX6THC
e-Book
Add to Wish List

Novella / Short Story | Romance Anthology
YOURS FOR THE NIGHT contains six spicy stories by best-selling authors.
Wrong Plan by Geri Foster
After years of being ignored by the town playboy, Phoebe McAlister is determined to show him just how jaded he is by revealing her new sleek body to him only to walk away at the last minute. At least, that's her plan.
Bobby Dean Riley isn't out to win any hearts. He just wants to enjoy his bachelorhood as long as possible. He never imagined Phoebe would lose all that weight, slip into something right out of a porn magazine then throw herself at him.
Will Phoebe's plan work? Or will Bobby Dean show her exactly what she's been missing? They both must learn that love is the only true thing that matters, even after a one night stand.
Paying For The Past by Sylvia McDaniel
Dr. Anthony DeAngelo holds patients' hearts in his hands, but is unwilling to take time from his career to find love for himself. Since the day his fiancé left him at the altar, his career has been his focus. Now that he's accomplished his career goals and become the nations top cardiac surgeon, he finds it lonely at the top. Secretly he longs for a wife and family. Someone to love him.
Teacher Olivia Spencer is forced to moonlight as an escort to help put her siblings through college. She has dedicated her life to raising her orphaned brother and sister and sacrificed the man she loved for his career until the night he steps into her limo.
In this sexy, short romance can this couple overcome their past and find love in each other's arms once again?
Class Act by Carly Dean
Megan Bradford only decided to attend her fifteen year class reunion at the last moment because she had a meeting thirty miles away in San Antonio. Her late decision means she has to stay in another hotel instead of the one hosting the reunion. Hoping to reconnect with friendly nerd Greg McBride, she wants to thank him for tutoring her in chemistry, which led to her achieving her dream of founding her own successful cosmetics company. She deserves a few drinks to celebrate her escape from an unhappy marriage when her money-grabbing ex signs divorce papers. Maybe—if she doesn't lose her nerve—she'll even let go and pick up a man for a one-night fling.
Greg McBride no longer looks like the nerd he did in high school. Now he is a multi-millionaire and is at the reunion to accept an award from the school board for his donation.. His wealth and now good looks have made him wary of women. But he's never forgotten Megan and hopes to see her again. He's staying in the hotel she is. They meet in the bar, but she doesn't recognize him. They hook up, but what will happen when Megan learns his true identity?
When Jack Met Tequila by Kathy Shaw
With the help of some liquid courage, Laura Canfield sets out to prove she can be spontaneous. Sex with a stranger could do the trick.
The next morning, her sex toy turns out to be her new boss. Can a working, respectful relationship—or more—grow from a sexy liaison in a bar's photo booth?
The Torrid Affair: Intrigue by Simone Blake
Tough As Brass by Suzanne Graham
Comments
No comments posted.

Registered users may leave comments.
Log in or register now!