Purchase
Hope Diamond Trilogy #2
Berkley
January 2015
On Sale: January 6, 2015
Featuring: Sophia Blaise; Thomas Hope
336 pages
ISBN: 0425272087
EAN: 9780425272084
Kindle: B00KWG9MVK
Paperback / e-Book
Add to Wish List

In an age of stately decorum, the Hope Diamond was a source of delicious intrigue—and a font of unimaginable adventure...
Though not of noble birth, Thomas Hope has a skill in banking that's made him one of the richest, most trusted men in London. Still, he keeps his dubious past hidden. So when an old acquaintance calls on Hope to help acquire the infamous French Blue Diamond, he's desperate to be discreet. He never expects that his biggest concern shouldn't be losing his reputation, but his heart.
Sophia Blaise is determined to make a brilliant match with this season's most eligible, most titled bachelor, but her true passion has been ignited by the incredible stories she hears while secretly transcribing the memoirs of a notorious Madam. After a night of clandestine writing ends with Sophia caught up in a scandalous adventure of her own—with an alluring banker—she begins to question whether she's suited to the proper life she's always known…
Caught up in a thrilling exploit and unexpected romance, Sophia must make a choice between what her head knows is safe and what her heart desperately desires, before both slip from her grasp forever.
Hope Diamond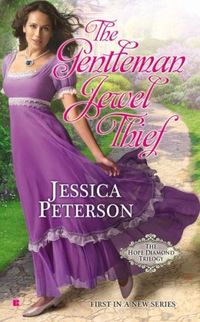 The Gentleman Jewel Thief
#1.0
Amazon.com | BN.com | | |

The Millionaire Rogue
#2.0
Amazon.com | BN.com | | |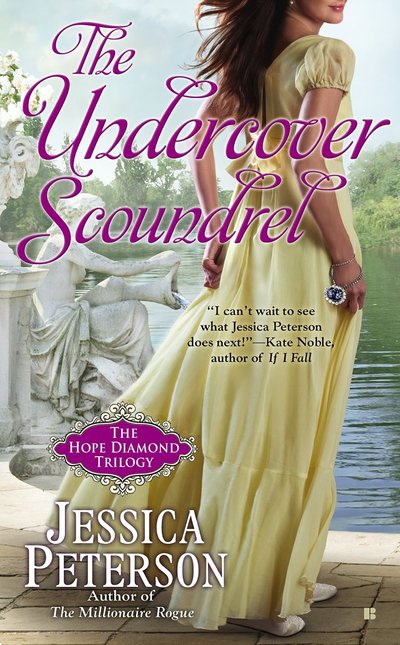 The Undercover Scoundrel
#3.0
Amazon.com | BN.com | | |
Comments
22 comments posted.
After reading your posting, as well as reading your
question, there is no book that comes to mind. I'm still
reeling from the excerpt that you wrote!! However, I did
want to give an opinion instead. You obviously write your
kissing scenes with enough steam that the characters need to
go no further. By that I mean it doesn't have to go into a
sex scene. In that respect, I commend you for being able to
write with the same effect without "muddying the waters"
with a sex scene, although I'm sure that you would be able
to write that as well, with aplomb. There are some Authors,
whom I have read, who have taken a sex scene, and it's been
so childlike in its' presentation, that you actually laugh
while reading it, when it's meant to be serious. I would be
giving your book the honor it deserved to read it, because I
can see the love and time you took to write that scene,
which I'm sure you did with the others, to be sure that it
had the proper effect. Congratulations on your book, and it
will be definately one that I will be putting on my TBR
list!! Have the best of New Years!!
(Peggy Roberson 11:10am January 6, 2015)
A good long kiss will tell all ,you're on or off.
(Joan Thrasher 11:13am January 6, 2015)
I thought the best kissing scene was in Top Gun when tom cruise kissed his teacher for the 1st time. That movie had a lot of great kissing scenes in it like the kiss when she is sitting on the motorcycle so good. Just a romantic wish you were there kiss and you remember it forever as the kiss goes from your head to your toes!
(Peggy Clayton 11:58am January 6, 2015)
Congrats on your release! Choosing a fav kiss from all of the books I read or movies I have seen... so hard to do... just enjoy seeing the reactions the characters have after the first kiss... the direction it takes their journey together... thanks for sharing!
(Colleen Conklin 1:10pm January 6, 2015)
Thanks, all, for commenting! I am loving all these "kiss comments" - and thank
you for the kind thoughts on my writing! Kissing scenes are actually more
difficult to write than sex scenes (although I love writing both). As Peggy points
out, it's a tough balance to strike - imbuing a kiss with enough sweetness and
STEAM without going overboard into hanky panky territory. So glad you all
agree! And Peggy C. - I LOVE TOP GUN. And Tom Cruise. AND that kiss. So
good!
(Jessica Peterson 2:49pm January 6, 2015)
I don't think I have a favorite kissing scene. the only one the comes to mind right now is the one where Princess Mia gets her first kiss in the princess diary movie
(Angela Parrish 5:23pm January 6, 2015)
My favorite kissing moment is from the movie The Wedding Singer. Julia (Drew Barrymore's character) wanted to practice her wedding kiss and she had to kiss Robbie (Adam Sandler's character) It was so cute and there was a lot of chemistry in that kiss!
(No Way 8:45pm January 6, 2015)
I don't tend to remember specific kissing scenes, so I'm
coming up mostly blank. The only one I can think of is, in
Return of the King, when Arwen and Aragorn reunite.
(Janie McGaugh 10:08pm January 6, 2015)
my coworker likes this type of novel..I hope to win so I can
give it to her..thanks!
(Tracy Simms 10:15pm January 6, 2015)
Perhaps a cliche...but Gone with the Wind is the first that
comes to mind.
(Samantha Tennant 12:39pm January 7, 2015)
I love the idea of the girl initiating the kiss - making the first move. I'll have to
use that one in my next book!!
(Jessica Peterson 7:51am January 7, 2015)
And oh, GONE WITH THE WIND - Scarlett and Rhett just slay me!
(Jessica Peterson 7:52am January 7, 2015)
I would have to say my favorite kissing scene is from Twlight when they first kiss. The look on Edward's face was too much.
(Bonnie Capuano 8:48am January 7, 2015)
In the book Hungar Games when Katniss kisses Peeta in the cave
suppose to be for the camera's but she feels something that
was a nice kiss scene. Loved yours A good Kiss is so Important
(Yvonne Farmer 10:33am January 7, 2015)
"Gone With The Wind" is a good example. Scarlet did have a way
with men!
Marilyn Collins
(Marilyn Collins 6:02pm January 7, 2015)
I can't remember the movie it was in and the people
kissing became stars from that scene. I remember it had
a beach, and rain. (not From here to eternity) I know
that it was a movie from like the 40's or 50's. I think
it was with Cary Grant. You knew that they were just
shocked that it happened and thrilled at the same time
and they just clicked. I love a good book that has
bantering between the characters that end up with them
kissing because you know that they will be good for one
another and it will last.
I just hope one day that I will find that. Like the old
saying "You have to kiss a lot of frogs before you find
your prince!" I just want to know when that will be. He
has kept me waiting 50 years!!
(Tina Ullrich 11:00pm January 7, 2015)
Gone With The Wind between Rhett and Scarlet
in Ghost between Demi and Patrick awesome
in From Here to Eternity on the beach with water rushing forward and Burt
Lancaster kisses Deborah Kerr really awesome
(Joy Isley 11:13am January 8, 2015)
There are so many---but for some reason I'm thinking of a
scene in Westside Story---one of my favorite movies ever.
(Sue Farrell 12:16pm January 8, 2015)
Elec an Greta's first kiss in Stepbrother Dearest is so sweet
and endearing. I just loved it.
(Denise Austin 1:32pm January 8, 2015)
The Notebook kiss on the dock, sigh.

I love that this books is going to bring the sass.
(Seanna Yeager 1:41pm January 8, 2015)
I have not read ne of yur books yet. It would be nice to win one.
(Judy Ferguson 2:27pm January 8, 2015)
In the movie A Cinderella Story, there is a kiss on the
bleachers in the rain near the end of the movie. He says
"C'mere." Very swoon-worthy!
(Sharlene Wegner 10:03pm January 8, 2015)
Registered users may leave comments.
Log in or register now!