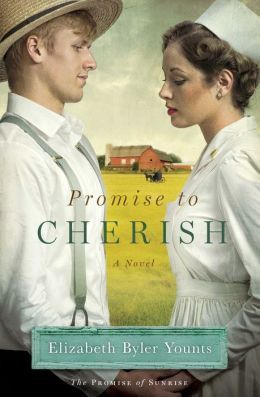 Purchase
Promise of Sunrise #2
Howard
October 2014
On Sale: October 7, 2014
ISBN: 1476735034
EAN: 9781476735030
Kindle: B00DPM7V0C
Paperback / e-Book
Add to Wish List

Romance Historical | Inspirational
As World War II draws to a close, nurse Christine falls in love with roguish Amish boy Eli and must choose between a new, uncertain life in the Amish faith or face the judgment of a conservative postwar American society for her past mistakes.
It's 1945, and Christine Freeman is a nurse at Hudson River State Hospital, where she works alongside members of a Civilian Public Service unit. Eli is one of the conscies—conscientious objectors to the war—and he is doing his best to become a man of character instead of the immature heartbreaker he used to be back home in his Amish community.
Christine and Eli are friendly, but when an old acquaintance, Jack, returns home from the war, Christine's world is violently turned upside down. Eli, heartbroken to see his friend so hurt, offers her an escape within his Amish community. Despite her misgivings, Christine is fully embraced by Eli's community. She slowly begins to feel valued and loved as she learns the Amish way of life.
Christine finds herself falling for Eli. But soon, the abusive Jack discovers Christine in her Amish hideaway and starts causing trouble for the quiet community. Christine can't see herself becoming Amish, and she knows that if Eli leaves the church to be with her, he will be shunned. Will she escape Jack and possibly have to give up the one thing she holds most dear, or will she follow her heart and promise to cherish the Amish man who loves her?
Promise of Sunrise
Comments
18 comments posted.
My Father served in the Army during WWII. Any books that
pertain to that time period automatically peak my curiosity.
When they have to do with the Amish, my radar goes up even
further. I had no idea that the Amish had to work in the
mental institutions, which had to be no easy task for them
during that time!! I would love to read your book, and it's
definately been put on my TBR list for my Fall reading!!
When you add a love story to the mix, it's way up there on
my reading list!! Thank you for taking the time to write
your Mammie's memoir, and share it with us. It's a
wonderful thing to keep History alive!!
(Peggy Roberson 10:49am October 24, 2014)
Sounds like a great book. Would love to win! Thanks for the opportunity.
(Karen Mikusak 3:03pm October 24, 2014)
I sure would love to read this book. It really does sound like a good book. I do hope I do win, good luck everyone. Thank you for allowing me to enter your contest.
(Renae Kelly 5:02pm October 24, 2014)
I really enjoy reading anything about the Amish. Your book sounds like a great read. Thank you for the contest.
(Nancy Wolfe 5:30pm October 24, 2014)
This sounds like an interesting story in a time period that
fascinates me. I'd love to read your book and become
acquainted with your work.
(Deb Philippon 2:46pm October 25, 2014)
I've never ready a romance novel involving the Amish. I might like it.
(Karen Gales 9:37pm October 25, 2014)
Elizabeth, thank you for sharing a little of your family
background wit us. I love reading Amish fiction and
historicals too. Eli and Christine's story sounds like a good
one that I would love to read.
(Maryann Skaritka 12:13pm October 26, 2014)
I love Amish romance books!
(Susan Mahaffey 1:27am October 26, 2014)
This looks so good! can't wait to read it!
(Joanne Dowson 1:51am October 26, 2014)
Wow! Thank you for taking the time to share your family story with us. I enjoy reading Historical Romance Novels but I have to admit Elizabeth, I've never read any Romance Novels about Amish. Best to all who have entered :)
(Holly Loch 3:38am October 26, 2014)
Promise to Cherish sounds like a great read!
(Teresa Stebbins 9:23am October 26, 2014)
I love it when authors share their history. Thank you!
(Denise Austin 11:52am October 26, 2014)
My family is old order Mennonite, and while I'm not a member of their church, I find that type of lifestyle so interesting. I love reading about it!
(Sydney Peters 12:22pm October 26, 2014)
My mom's family was Old Order Brethren, and I know some of
her uncles served in the civilian public service
(conscientious objectors) during WW II, too.
(Denise Holcomb 1:35pm October 26, 2014)
This historical is fascinating. Many thanks.
(Sharon Berger 4:31pm October 26, 2014)
Iii looks great
(Kent Cook 7:32pm October 26, 2014)
This book sounds fantastic
(Brenda Wheeler 9:52pm October 29, 2014)
I received notice that I am a winner. Please let me know what I need to do to confirm information.
(Karen Gales 8:18pm November 7, 2014)
Registered users may leave comments.
Log in or register now!