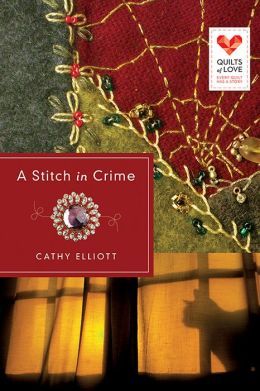 Purchase
Quilts of Love
Abingdon Press
February 2015
On Sale: January 20, 2015
Featuring: Mary-Alice Wentworth; Thea James
240 pages
ISBN: 142677365X
EAN: 9781426773655
Kindle: B00M4H3E14
Paperback / e-Book
Add to Wish List

Thea James has accepted an assignment as co-chairperson for Larkindale's first quilt show extravaganza. Juggling the new assignment with running her antique business, she's already feeling frayed when things start to unravel.
Mary-Alice Wentworth, a much-loved town matriarch, respected quilt judge, and Thea's dear friend, is covertly conked on the head during the kick-off Quilt Show Soiree, throwing suspicion on her guests. It also appears that a valuable diamond brooch has been stolen during the attack. The family is furious. But is it because of their mugged mother or the missing diamonds?
When a renowned textile expert goes MIA and the famous Wentworth heritage quilt disappears, Larkindale's reputation as a tourist haven is at risk. Thea attempts to piece the mystery together and save the town's investment in the quilt show before Mary-Alice is attacked again . . .with far worse results.
Comments
19 comments posted.
I do agree with that comparison. I really like that quote about the quilts and I do agree that could be said about a book too. A Stitch in Crime sounds like a great book!
(Kathy Morrison 1:08pm February 3, 2015)
Great comparison. Book sounds interesting and will definitely add it to my TBR pile.
(Rachel Barckhaus 4:50pm February 3, 2015)
I could possibly make a quilt but a book NEVER.
(MaryEllen Hanneman 5:00pm February 3, 2015)
That is a really interesting comparison. I don't think I have the skill or
patience to do either, but I very much appreciate both quilts and good
writing. :)
Sounds like a great read! Thanks for the giveaway!
(Melissa Oldaker 5:49pm February 3, 2015)
both are must-haves
(Denise Holcomb 12:43pm February 4, 2015)
I love your beautiful comparisons of creating a wonderful
treasure crafted in a quilt and also with a book. They are
both so artistic and unique in nature. I would love to read
this book. I have just discovered this series.
(Maryann Skaritka 1:38am February 4, 2015)
What a great comparison - never thought of things this way - how cool - thank you for sharing these awesome insights!
(Felicia Ciaudelli 8:13am February 4, 2015)
A thought provoking and interesting post which means you are
exceptional and talented.
(Sharon Berger 10:08am February 4, 2015)
Any time a book comes out about quilting, I'm in!! This
book will definately go on my TBR list!! Your book
definately sounds like a great read for my Winter / Spring
transition reading, and has so many great elements to it.
It's also going to be a great reprieve from all of the other
types of genres that I've been reading of late. It will
make a wonderful transition book for me to read. The cover
is beautifully done as well. Congratulations on your latest
book!! I'm sure it will get quite a following!!
(Peggy Roberson 10:58am February 4, 2015)
I appreciate the thought that goes into your comparison,
and I love the way you present it. My talents don't lie
with writing or quilting, but I do appreciate what goes
into creating books and quilts.
(Deb Philippon 4:01pm February 4, 2015)
I love looking at quilts but do not have the talent to make
them. I like your comparison of them to books.
(Sue Farrell 6:05pm February 4, 2015)
It's wonderful to be able to combine both your loves and talents into one. And the comparisons that you've drawn shows just how much writing and quilting have in common and the love and effort you put into them.
(Lisa L. 9:18am February 5, 2015)
Ive never quilted, but for my lent challenge this year, I am going to turn the telly off in the evenings and crochet (never done that either) my mother in law a blanket! Wish me luck. Manda
(Manda Ward 12:09pm February 5, 2015)
Thank you for sharing your beautiful talents! I love the way you compared writing and quilting and would love to win a copy of A Stitch in Crime!!
(Britney Adams 12:42pm February 5, 2015)
Love the 5 ways; these can be used in so many stations n life.
My grandaughter wants to make a quilt with her old sweat tops.
(Leona Olson 10:40am February 6, 2015)
At age 70, I still embroider and crochet for my family. I have never tried to quilt but love to read every chance I get.
(Maria Pucko 10:56am February 6, 2015)
I have never quilted but I have written a little and I love to
read. I love the analogy.
(Denise Austin 12:56pm February 6, 2015)
i really enjoyed the comparisons! would love to win a copy of
a stitch in crime!
(Tammy Hoesch 8:16pm February 6, 2015)
You know, I've never tried quilting, but after reading this
post, I kinda wanna try it out!
(Abigail Lo 8:50pm February 6, 2015)
Registered users may leave comments.
Log in or register now!