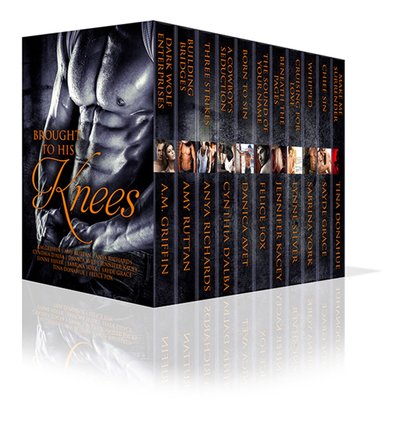 Purchase
Self Published
August 2014
On Sale: August 19, 2014
ISBN: 1311250980
EAN: 9781311250988
Kindle: B00MQH71KW
e-Book
Add to Wish List

Romance Suspense | Erotic | Romance Erotica Sensual
Over 800 pages of hot and erotic stories, all by bestselling authors. This limited edition boxed-set is available until October 19, 2014. Hurry, pick up your copy today!
The Alpha male. Strong. In control. Letting no one and nothing rule him...until he meets the one, and all bets are off. The world tilts, the bed rocks, and suddenly that tough guy finds himself Brought to His Knees--in more ways than one.
This collection of ten hot to erotic novellas and one short erotic novel will take you on journeys of lust, love, and adventure, leave you breathless and quite possibly in need of a cold shower.
Bestselling author A.M. Griffin ~ Dark Wolf Enterprises ~ Murder, mayhem and imprinting with a hot wolf shifter... And they say being an accountant is boring.
Bestselling author Amy Ruttan ~ Building Bridges ~ A vet tech and a lone wolf rancher ride out a sudden storm, but can they weather the emotions they stir up in each other...
Bestselling author Anya Richards ~ Three Strikes ~ Two lonely men. One secret affair. Irresistible passion that will push them both to the breaking point, and beyond.
Bestselling author Cynthia D'Alba ~ A Cowboy's Seduction ~ One exhausted cowboy + One uptight account x A tropical resort = A hot seduction. But who is seducing whom?
Bestselling author Danica Avet ~ Born To Sin ~ A tomboy in love makes a desperate attempt to seduce her best friend and succeeds beyond her wildest dreams. But this Alpha male isn't easily tamed and has secrets that could very well tear them apart.
Bestselling author Felice Fox ~ The Sound Of Your Name ~ Their silent erotic encounters change his luck and awaken his soul, but secrets and cowboy superstitions can only keep them apart.
Bestselling author Jennifer Kacey ~ Beneath The Pages ~ One wicked night with her did nothing but whet his appetite. Now he'll settle for nothing less than her complete submission.
Bestselling author Lynne Silver ~ Cruising For Love ~ A vacation cruise comes with surprises--like the BDSM theme and her high school love, the one man she can't resist.
NY Times Bestselling author Sabrina York ~ Whipped ~ A scalding attraction. An irresistible passion. A pity she's the one woman he can never have...
Bestselling author Sayde Grace ~ Chief Sin ~ A taste of Sin isn't enough. Instead she wants all of him, including the heart she once broke.
Bestselling author Tina Donahue ~ Make Me Surrender ~ When it comes to two of the hottest guys in town, she has a proposition...to win their attention, passion, hearts.
Comments
No comments posted.

Registered users may leave comments.
Log in or register now!