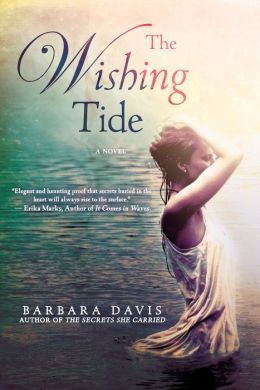 Purchase
NAL
September 2014
On Sale: September 2, 2014
416 pages
ISBN: 0451418786
EAN: 9780451418784
Kindle: B00IOE3NP8
Paperback / e-Book
Add to Wish List

Five years ago, Lane Kramer moved to Starry Point, North Carolina, certain the quaint island village was the place to start anew. Now the owner of a charming seaside inn, she's set aside her dreams of being a novelist and of finding love again. When English professor Michael Forrester appears on Lane's doorstep in the middle of a storm, he claims he's only seeking a quiet place to write his book. Yet he seems eerily familiar with the island, leaving Lane wondering if he is quite what he appears.
Meanwhile, Mary Quinn has become a common sight, appearing each morning on the dunes behind the inn, to stare wistfully out to sea. Lane is surprised to find a friendship developing with the older woman, who possesses a unique brand of wisdom, despite her tenuous grip on reality.
As Lane slowly unravels Mary's story and a fragile relationship between Lane and Michael blooms, Lane realizes the three share a common bond. But when a decades-old secret suddenly casts its shadow over them, Lane must choose between protecting her heart and fighting for the life—and the love—she wants.
Comments
2 comments posted.
Re: The Wishing Tide

Hi, Barbara!! I wanted to say that after reading your
posting, I was deeply touched, and know that I have to put
your books on my TBR list, for personal reasons. I'm sure
that the subject you have chosen was not the easiest to
write, even though your posting almost makes it sound as
such. Trust me when I say to live it, is not an easy row to
hoe, as they say. I found the cover to your latest book to
be striking, and I will be seeking out your books. Thank
you again for coming here, and letting us know about your
books, so that I could become familiar with your writing!!
(Peggy Roberson 9:05am September 3, 2014)
How i got my husband back.Am Stacey Bruno by name I never believed in love spells or magic until I met this spell caster once when i went to see my friend in Indian this year on a business summit. I meant a man who's name is Dr ATILA he is really powerful and could help cast spells to bring back one's gone, lost, misbehaving lover and magic money spell or spell for a good job or luck spell .I'm now happy & a living testimony cos the man i had wanted to marry left me 5 weeks before our wedding and my life was upside down cos our relationship has been on for 3years. I really loved him, but his mother was against us and he had no good paying job. So when i met this spell caster, i told him what happened and explained the situation of things to him. At first i was undecided,skeptical and doubtful, but i just gave it a try. And in 7 days when i returned to Canada, my boyfriend (now husband) called me by himself and came to me apologizing that everything had been settled with his mom and family and he got a new job interview so we should get married. I didn't believe it cos the Dr ATILA only asked for my name and my boyfriends name and all i wanted him to do. Well we are happily married now and we are expecting our little kid, and my husband also got the new job and our lives became much better. His email is: atilahealinghome@yahoo.com
(Stacey Bruno 12:13pm November 26, 2014)
Registered users may leave comments.
Log in or register now!