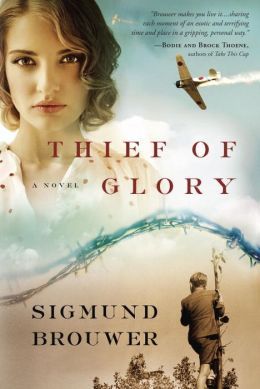 Purchase
WaterBrook Multnomah Publishers
August 2014
On Sale: August 19, 2014
ISBN: 0307446492
EAN: 9780307446497
Kindle: B00ILV6S92
Hardcover / e-Book
Add to Wish List

A boy coming of age in a time of war…
the love that inspires him to survive. For ten year-old Jeremiah Prins, the life of privilege as the son of a school headmaster in the Dutch East Indies comes crashing to a halt in 1942 after the Japanese Imperialist invasion of the Southeast Pacific. Jeremiah takes on the responsibility of caring for his younger siblings when his father and older stepbrothers are separated from the rest of the family, and he is surprised by what life in the camp reveals about a woman he barely knows—his frail, troubled mother.
Amidst starvation, brutality, sacrifice and generosity, Jeremiah draws on all of his courage and cunning to fill in the gap for his mother. Life in the camps is made more tolerable as Jeremiah's boyhood infatuation with his close friend Laura deepens into a friendship from which they both draw strength.
When the darkest sides of humanity threaten to overwhelm Jeremiah and Laura, they reach for God's light and grace, shining through his people. Time and war will test their fortitude and the only thing that will bring them safely to the other side is the most enduring bond of all.
Comments
20 comments posted.
Re: Thief of Glory

I am so thankful that you are keeping History alive by
telling the story about what your Father endured during
WWII. My Father passed away in April, and unfortunately,
took his secrets with him to the grave. He was in the Army
in WWII, and sent Morse Code messages to the troops while in
France, and almost got killed in the process. Whatever he
did earner him a Silver Star, and I wish that he would have
opened up to me about his story. All I know was that he was
visited by General Patton during the war. Since I don't
know much about what my Dad did, I try to read as many books
as I can about the war, so I can get a better understanding
about what they went through. You are so fortunate that
your Father finally opened up, and that you were able to
share that story with us. Thank you again, and this book is
definately on my TBR list!!
(Peggy Roberson 12:12pm August 22, 2014)
What a beautiful and memorable post today. History and
remembering what happened is vital and meaningful. Your
father, his experiences and his bravery are wonderful to learn
about and your book would be a treasure to cherish greatly.
(Sharon Berger 12:16pm August 22, 2014)
WWII was such a painful time in our history. I
am a baby boomer and I have learned of it
through personal narratives and by reading about
it. This sounds like a wonderful short. Thanks
for this chance to read it as my own copy.
(Connie Saunders 11:22am August 23, 2014)
Thanks for the chance to read your book
(Jean Benedict 11:31am August 23, 2014)
After read your blog post, I do so want to read Thief of
Glory. So many stories have been lost because the WWII
generation is passing away without telling their stories,
without realizing what they would mean to their children and
grandchildren. Thank you for sharing your father's story.
(Deb Philippon 12:53pm August 23, 2014)
I am very interested in anything to do with World War ll and
would really like to read Thief of Glory.
(Joan Crothers 4:39pm August 23, 2014)
You are so lucky, that your father finally shared this
family history. I wish my grandparents had shared some with
us, especially from their childhood in WWI Poland and
unfortunately my paternal grandmother died before almost all
of her grandchildren were born.So we never met her.We know
almost nothing of her life in Scotland and why she decided
to emigrate.This family history is so important to pass on
to future generations.
(Denise Duvall 1:20am August 24, 2014)
It is always good to know your family history, it's your heritage. I can't wait to read this book.
(Mary Smith 4:50am August 24, 2014)
I would love to read this book!
(Francesca Tagliaferri 6:26am August 24, 2014)
I would love to win and review. I haven't read any of your books.
(Jane Squires 7:41am August 24, 2014)
Iwould love to read your newest novel.
(Ron Frampton 8:14am August 24, 2014)
I love a good read-a really good story!
That's why I'd love to win 'Thief of Glory'.
(John Dallal 10:47am August 24, 2014)
I have never read any of your books, but after reading this blog I intend to change that. Thank you for the giveaway,
(Nancy Wolfe 12:20pm August 24, 2014)
I usually dodge novels about World War II, especially those about the Japanese and the way they treated prisoners, but this book sound intriguing. I would love to read it.
(Anna Speed 12:56pm August 24, 2014)
I liked the review. I am very interested in History and stories that need to be told.
(Jayne Cameron 1:09pm August 24, 2014)
I am very interested in reading this book!
(Shelley Maier 1:57pm August 24, 2014)
Wow...that is really neat that you have such an emotional connection with the story that you wrote. I work in an elementary school library and children like anyone want someone to listen to them. This book sounds great and is definitely on my to-be-read list!!
(Sheri Pruitt 3:20pm August 24, 2014)
You are a new author to me and would love the chance to read
this book.
(Denise Austin 3:43pm August 24, 2014)
This book sounds very interesting, thank you for this great giveaway.
(Deborah Favorito 8:27pm August 24, 2014)
My father served in WWII in the Navy upon the USS Montpelier Naval Ship and battled throughout the South Pacific. He talked very little to me about what happened, but would talk to my brother over breakfast (when they were alone) about it. Finally, when one of his fellow crewmen wrote a book, from a daily diary he'd kept hidden (which was against all military rules), I got the book through our library and read it. My father had read it years before I had, and owned it, yet never let me read it. I was shocked to learn what I did. Things that happened aboard the ship, on the islands they row-boated to and what they found, food rationing to the point of starvation because of lack of supplies, the intense humid heat and long hours of chores they were dealt, including hours of walking back and forth length of the ship, carrying huge heavy bombs and stacking them, to be fired at the enemy, one on each of their shoulders til they were very bruised, close calls, and coming upon other ships destroyed and bodies floating in the water. It was more than I could stand and brought tears to my eyes, thinking about my father, just in his early twenties and what he endured and witnessed during those years for fighting for our country. Books like this, as well as yours, are of great interest to many to read these true accounts, as there is no better means to find out. Many veterans do not wish to tell and relive these memories, simply because, many of them are bad and painful. My mother wrote a huge piece of accounts that happened to my father years ago. I remember reading and re-reading it. My father had close calls many times, and it was just a stroke of luck he lived. His fellow crewmen calling his name to come over when they walked onto a beach, and before he even walked a couple steps toward them, hidden land mines blowing up and blowing off these other guys limbs and blinding them.
My father was a patient, likeable man with many friends. He passed away in 1997, from cancer in
(Linda Luinstra 6:17pm August 25, 2014)
Registered users may leave comments.
Log in or register now!