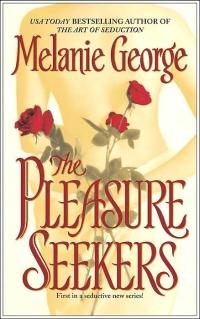 Purchase
The Pleasure Seekers Series - Book 1
Simon and Schuster
November 2003
Featuring: Bliss Ashton; Caine Ballinger
327 pages
ISBN: 0743442733
Paperback
Add to Wish List

Lovely Lady Bliss Ashton has her pick of the attractive, sophisticated men in Regency society...and she's rejected them all. But when Caine Ballinger, the Earl of Hartland - famous the length and breadth of England for his sexual prowess - lays siege to her, she's finally tempted to fall. Not just because of the passion he arouses in her untutored body; it's also the hint of vulnerability she sees beneath the arrogant, dangerous facade he shows to the world. Caine is only wooing Lady Bliss to win a bet, so he can regain his ancestral estate - with the added attraction that by seduction her, he'll get revenge against her father. All he's interested in is getting her luscious body beneath his, then publicly shaming her. So why does he feel so strange when her gentle fingers stroke his hard body, or her soft words soothe his tortured soul? And when the bet is revealed, Caine has to choose...between his longtime dream and the woman he craves with all his heart.
Comments
No comments posted.

Registered users may leave comments.
Log in or register now!