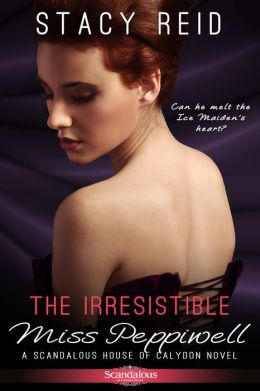 Purchase
The Irresistible Miss Peppiwell
Stacy Reid
Scandalous House of Calydon #1
Entangled Scandalous
August 2014
On Sale: August 11, 2014
Featuring: Lord Anthony Thornton; Phillipa Peppiwell
ISBN: 1633750493
EAN: 9781633750494
Kindle: B00LZGTO0K
e-Book
Add to Wish List

With a longing for adventure, the last thing Phillipa Peppiwell wants is to marry. After a painful betrayal by a man she trusted, she is wary when she unwittingly catches the attention of roguishly handsome - and sinfully tempting - Lord Anthony Thornton. Forbidden desires she secretly yearns for threaten to crumble her icy facade and reveal a past scandal best kept buried. Dissatisfied with his empty life, Lord Anthony seeks a deep and lasting connection... and finds himself intrigued by the Ice Maiden of the haute monde. Undaunted by Phillipa's aloof nature and her distaste for the idea of matrimony, he sets out to thaw the bewitching beauty by enticing her with adventures of the most sensual type. But he, too, hides a scandalous secret... and if it's discovered it could rip them apart.
Scandalous House of Calydon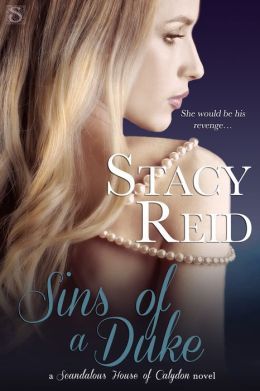 Sins of a Duke
#2.0
Kindle | BN.com | | |
Comments
24 comments posted.
Re: The Irresistible Miss Peppiwell

You're a new author to me, so I don't know anything about Lord Anthony's
collection. I don't have any favorite erotica, but in love reading it.
(Deborah Close 12:22pm August 13, 2014)
I must admit that I know nothing abut the Lord Anthony's erotic collection but I love historical romances. Great giveaway!!!
(Bonnie Capuano 9:19am August 13, 2014)
Lord Anthony has quite a collection! I wonder how expensive books were in that time period.
(Bonnie H 11:15am August 13, 2014)
Hi Deborah!I was thrilled to discover that erotic works were
actually published from such a long time! I love reading
erotica as well :) and I really intend to give Anthony's
collection a read one day!
(Stacy Reid 11:28am August 13, 2014)
Hi Bonnies! Thank you for entering! :) I think they might have
cost a few pennies...or pounds. I will research for you! But
our Lord Anthony here is quite wealthy :)
(Stacy Reid 11:34am August 13, 2014)
Wow. Definitely didn't know erotica's went that far back! I have read some in the past, but am definitely a little more prudish :). I, however, tuly enjoy historical romances.
(Kadia Hufford 11:55am August 13, 2014)
I have not read any of Anthonys favorites. But I do have a small hand book taken from the kama sutra. It does send my mind to wander. :-) Love the name too, Peppiwell....you know she could never be just a quiet average wallflower with that name.
(Lisa Hutson 1:18pm August 13, 2014)
Its now on my kindle, Miss Peppiwell..... ;-)
(Lisa Hutson 1:19pm August 13, 2014)
I have to chuckle at the thought of a Pope writing
erotica...especially for that time period...I learned
something new today...haha!
(Toni Sheldon 1:28pm August 13, 2014)
Hi Kadia! I adore historical romances as well. I grew up on
Lisa Kelypas, Judith McNaught, Johanna Lindsey, Julie Garwood
and Kathleen E. Woodiwiss and they are still my favorites! I
do think you will love The Irresistible Miss Peppiwell *winks*
(Stacy Reid 3:43pm August 13, 2014)
Hey Lisa! LOL...I like that mind wandering bit. Mine did a
few cartwheel researching the books Lord Anthony reads! ooh
and Miss Peppiwell is scrumptious...so my readers say!

@Toni..I had a similar reaction Toni! I thought a Pope? who
knew?

@L Lam...quiet interesting. They are on my bucket list to
read!
(Stacy Reid 3:46pm August 13, 2014)
I love Victorian romances,the intensity of the stories leave me no choice but to keep reading and to let others read after me.The love and story lines are untouchable and the books put me in the "play" as for me to be some part of the story itself.This makes it believable while in the moment of reading.I myself find to be emotionally involved in chapters such as these.Worthwhile my time and more then my expectations can imagine.Captivating and pleasing to read.Taking the story where ever I like to go to read.Would love to win this.
(Rosemary MacPhaden 8:08pm August 13, 2014)
Unusual collection.
(Sharon Extine 3:28am August 14, 2014)
@Rosemary my heart tugged at your description! love it :)
crossing my fingers and toes for you.

@Sharon...He is also a very unusual but oh so charming and
passionate lord
(Stacy Reid 4:06am August 14, 2014)
love the cover, it's beautiful and the book sounds wonderful.
i look forward to reading it.

tammy ramey
[email protected]
(Tammy Ramey 6:32am August 14, 2014)
Wow, quite informative. I loved the post. Looking forward to
reading your books.
(Debra Guyette 7:25am August 14, 2014)
I'm only familiar with a handful of these titles. If you're
interested in reading books of this genre, and want one to
add to your list, perhaps you might want to read: Trust a
New Beginning by Cristiane Serruya. I just finished reading
her book, and it has to be the hottest book I've read to
date!! I'm looking forward to reading your books, so that I
can get familiar with your writing, as well. I would love
to be able to "name drop" about your books!!
(Peggy Roberson 9:02am August 14, 2014)
I have enjoyed reading period books, and erotic books have entered into
my reading pile. Your book sounds just my style. Thanks for the
giveaway.
(Pat Freely 12:50pm August 14, 2014)
@Tammy...thank you! I love the covers too. Exactly as how I
pictured Miss Peppiwell :)

@Debra....thank you :) I hope you enjoy them when you get
your hands on them! :)

@Peggy...Thank you for the book suggestion! I looked it up
and I am so adding this trilogy to my tbr shelf! thanks :)I
cant wait for the day you "name drop" me. *huge grin*.
(Stacy Reid 2:10pm August 14, 2014)
Have to admit I have never read erotica but would like to give
it a try.
(Denise Austin 4:58pm August 14, 2014)
Did not they had real erotica material during this time
period. Looking forward to reading this book. For an old lady
(70) this caught my attention!
(Joyce Bruner 5:05pm August 14, 2014)
Lord Anthony's collection sounds interesting. I haven't heard of most of them. I'm sure your book is interesting.
(Michelle Fidler 5:20pm August 14, 2014)
@Denise...I was pleasantly surprise myself :)

@Joyce...Yes!! pretty excited it caught your attention
Joyce! :)

@Michelle...I hope you enjoy it if you pick it up! :)
(Stacy Reid 9:49pm August 15, 2014)
One of my buddys showed my a cheeky street of exploring the usessay cheap custom rapid. We merely show via a some thesis inscription employ retrospects moreover prefer away the most highly rated employs. From these we are apt to discover one helpful one.
(Jack Don 12:13pm February 24, 2015)
Registered users may leave comments.
Log in or register now!