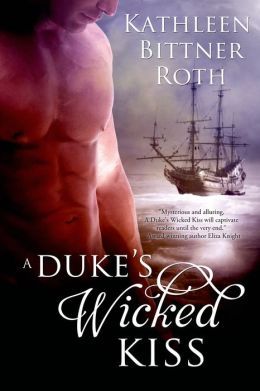 Purchase
Entangled Select
September 2014
On Sale: August 26, 2014
Featuring: Duke of Ravenswood; Suri Thurston
ISBN: 1622663632
EAN: 9781622663637
Kindle: B00HP1I7JS
Paperback / e-Book
Add to Wish List

While on a secret mission for the Crown, a proper duke falls for an improper daughter of an Indian royal and British noble.
Miss Suri Thurston knows the pain of abandonment. Intent on confronting the grandmother who tossed her to the lions, she travels from England to her birthplace in India. Her plans run afoul when she encounters the man who, ten years prior, left a mark on her soul with one stolen kiss. But he is a duke, and far beyond the reach of even her dreams.
The Duke of Ravenswood, secret head of the British Foreign Service, has no time for relationships. His one goal is to locate and eliminate key insurgents involved in an uprising against the British East India Company before it's too late. But when Suri appears in Delhi, his resolve is tested as he finds his heart forever bound to her by the one haunting kiss they shared once upon a time.
With Suri's vengeful Indian family looking for her death, and insurgents intent on mutiny tearing their world apart, can their love rise above the scandal of the marriage they both desperately want?
Comments
21 comments posted.
I would really like the chance to read this book. Thank you for allowing me to enter this contest and good luck to everyone.
(Renae Kelly 11:52am September 2, 2014)
I try to find some quiet time for myself everyday... listen to music that is relaxing... read a book... take time to look outside and see what Nature has to share.
(Colleen Conklin 1:13pm September 2, 2014)
What a lovely essay, Kathleen. I've heard the thoughts about
winter trees and aliens before, but it's a timeless idea.
Thanks for the reminder. My "alone" time involves prayer. In
addition to 20-40 minutes of specific prayer time, I'll take
a few moments through the day, depending on the needs, for
further spiritual communion.
(Virginia Boylan 4:17pm September 2, 2014)
Just been reading Adam Nicolson's Sissinghurst, a chapter all about how the trees colonized the southern part of England as the Ice Ages melted away--that lovely chapter and your sensitive words are all blurring together in my mind as a wonderful mental picture to enrich the day!
(Beppie Harrison 4:40pm September 2, 2014)
how do I find time for myself to get quiet and listen to my inner self or how I plan to start setting aside thirty minutes of solitude each day? I think most of the time this is the 30 minutes or more it takes me to decompress before I go to sleep. the days are just so stressful that it is near impossible to tune everything out for time for myself.
(Angela Parrish 4:44pm September 2, 2014)
Thanks for the chance to win. I have tons of time to myself so I do not really find it a novelty as most people.
(Sally Hannoush 4:49pm September 2, 2014)
I try to use my son's morning nap time as my alone/quiet time. I've found that if
I don't take that, I don't really get any time for myself otherwise with a young son
running around and trying to take care of him, my hubby, and the house.
(Abby Thorne 5:39pm September 2, 2014)
I try to allow time every day for a long walk...that's the perfect time to center myself. I've also done yoga practices a couple of times a week, a habit I've let fall to the wayside but plan to resume.

Lovely essay, Kathleen! Beautiful images!
(Tara Kingston 5:49pm September 2, 2014)
I'm horrible on trying to just chill. Too many things going
on... Great essay Kathleen.
(Lynn Cahoon 6:50pm September 2, 2014)
I take no less than a half hour upon waking every day to
read from several spiritually inspired daily reflection
books and to meditate on what I've read and consider what
I'd like my day to bring. I do the same at night before
going to sleep with thanks for all my blessings. I've been
doing this for nearly 3 years now and I have the most
unbelievable serenity throughout each day!! I love what you
wrote about the trees! I live in Texas and am surrounded by
Pines and Oaks in my area and will be thinking of you as I
sit quietly in nature in my neck of the woods! Your Mother
sounds like a very special person!! Thank you!!
(Jody Watkins 7:23pm September 2, 2014)
Sensitive, Beautiful post, Kathleen! I have times alone when I drive. Here's to more unfurling.
(Barbara Bettis 8:21pm September 2, 2014)
Simply beautiful! Thanks for the reminder!
(Carla Kempert 9:33pm September 2, 2014)
Unlike most people who you have asked to set aside time for
their inner self, I have done this for about 35 years now.
I am unique in my thinking as my quiet time is when I live
the house for work and until I get home that day it is my
time. Time for me to do something for myself. Add to that,
I take the bus/train to work each day so my time is extended
with not interruptions from more outside forces and allows
me to unwind so that I do not bring my work home with me. I
have my biological children, adopted and foster children,
grandchildren from all of my kids and this gives me such joy
to see them and do things with them but makes it easier to
do the trek to work on the bus/train each day. Most would
say I am a Red Wood: tall, sturdy, solid, unbreakable and
dependablily comforting.
(Tina Ullrich 12:48pm September 3, 2014)
If I want time to myself, I try to go down the road to the
beach, and walk along the shore, looking for beach glass and
unusual stones, or just to sit and watch the ships and
waves. To me, that's tranquility!!! If the weather doesn't
permit it, I'll just put some music on the radio, and either
open a book, or pull out whatever knitting I'm working on
for the class that I volunteer to teach once a week. There
are also a lot of trees and some acreage where I live, and
if I feel up to it, I can always go for a walk, or just sit
outside, and watch the birds that we feed, or watch them
right outside my window. There are always new kinds of
birds coming, that I haven't identified yet!!
(Peggy Roberson 9:48am September 3, 2014)
I find it so hard to find time just for me....Will now try harder....Thanks
(Carrie Conley 4:15pm September 3, 2014)
Is it sad to admit that I find my quiet time in the
bathroom? Although, occasionally when my husband goes to
bed and I turn off the TV, the bunnies and I share quiet
moments together. And sometimes when I get home from school
and sit down in the recliner, I fall asleep. At that point,
my husband comes in and looks at us and makes some smart
comment about how we're all sleeping. (Yes, I have two
bunnies that live in my rec room. They're mine. His live
in the hutches outside.)
(Marcia Berbeza 10:18pm September 3, 2014)
After raising my 7 children the very thought of time for me was a wonderful idea. Everyday I find myself seeking out some solitude just to be. No thoughts or worries. I play my favorite music and just sink into total relaxation.It was hard to achieve at first but now I have it down. :) Thanks for the interesting post and the chance to win.
Carol L
Lucky4750 (at) aol (dot) com
(Carol Luciano 7:44am September 4, 2014)
Now that I am retired I have time to read and I love it! I would love to read this book and I thank you for the chance to win it!
(Bonnie Capuano 9:45am September 4, 2014)
Thanks for the sweepstakes. This sounds like a terrific read. It sounds like one that would make me forget the present and lose myself in the past.
(Anna Speed 12:47pm September 4, 2014)
I always take time every day for myself and I always do the
same thing I hunker down with my kindle and I read. I love
to read I usually spend more than 30 but that is what I do
no matter what.
(Denise Austin 1:43pm September 4, 2014)
Would love to read the book. Thanks.
(Charline Bonham 4:25pm September 6, 2014)
Registered users may leave comments.
Log in or register now!