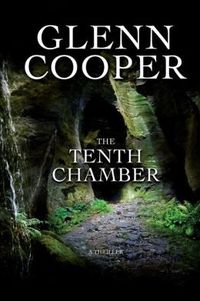 Purchase
Self Published
June 2014
On Sale: June 20, 2014
ISBN: 0692225137
EAN: 9780692225134
Kindle: B00LA7EMS8
Paperback / e-Book
Add to Wish List

From the thriller writer, Glenn Cooper, whose books have sold six million copies and have been top-ten bestsellers, comes a novel which draws on the author's background in medicine and archaeology to create a riveting page-turner.
Abbey of Ruac, rural France - A medieval script is discovered hidden behind an antique bookcase. Badly damaged, it is sent to Paris for restoration, and there literary historian Hugo Pineau begins to read the startling fourteenth-century text. Within its pages lies a fanciful tale of a painted cave and the secrets it contains - and a rudimentary map showing its position close to the abbey. Intrigued, Hugo enlists the help of archaeologist Luc Simard and the two men go exploring.
When they discover a vast network of prehistoric caves, buried deep within the cliffs, they realize that they've stumbled across something extraordinary. And at the very core of the labyrinth lies the most astonishing chamber of all, just as the manuscript chronicled. But as they begin to unlock the ancient secrets the cavern holds, they find themselves at the centre of a dangerous game. One 'accidental' death leads to another. And it seems that someone will stop at nothing to protect the enigma of the tenth chamber.
Comments
20 comments posted.
This book sounds really interesting. Looking forward to reading it.
(Patricia Solla 1:39am July 31, 2014)
What a great message. On the book, you had me at "medieval
script".

This is why I like and read about the authors on
freshfiction, I find neww authors, to me, to read.
(Leona Olson 9:25am July 31, 2014)
Congratulations on your book!! I'm sure that as time goes
on, your skin is going to get a little bit tougher, although
even though you put a lot of blood, sweat, and tears into
each book, having to read something a bit hateful about
something you've worked so hard on has to be hard. I
suppose that's why I haven't had the guts to write the book
that I've had inside of me all these years. It takes a bit
of a cast iron stomach, and I just can't go through the
rejections that go along with it right now. There is too
much going on in my own life. For now, I'll just sit back
and enjoy reading these wonderful pieces of work that you
talented Artists put out. Congratulations again, and may
you have a long career ahead of you!!
(Peggy Roberson 10:28am July 31, 2014)
A very interesting and interview and captivating novel.
Nothing in life is easy to achieve and accomplish. We have to
persevere and then hopefully succeed. Best wishes and much
success and happiness.
(Sharon Berger 12:17pm July 31, 2014)
If you didn't care you would not be as good a writer.
(MaryEllen Hanneman 3:00pm July 31, 2014)
So true, the grit and grunge work involved with writing has a
lot of prep time to get you lined up and ready for the words
to flow.
(Alyson Widen 5:35pm July 31, 2014)
The books looks great and thanks for the list. I am almost finished with my first book. It looks like I have a lot to learn. I already know that you are so right about #4.
(Amy Kincade 6:18pm July 31, 2014)
I agree, those pesky characters never let you rest! And bad
reviews are hard to get over, definitely. It takes a lot more
good reviews and praise from the masses to get the taste out
of your mouth, but you never forget it.
(Jennivie Wirries 8:49pm July 31, 2014)
Sounds like writing has been a huge learning experience for you. I like that you are so self aware.
(Diane McDaniel 8:59pm July 31, 2014)
I don't think most writers would be aware of everything that goes into writing a
book. Item #4 is a sign of a great writer, in my opinion.
(Lisa Carr 10:52pm July 31, 2014)
Sounds like an interesting book!
(Nancy Ludvik 11:49pm July 31, 2014)
Thank you for the opportunity to win in august too!
(Diane McDaniel 2:00pm August 1, 2014)
What a great plot for a book! A map to a treasure hidden in a cave! I'll have to read this one.
(Sandy Fielder 3:49pm August 1, 2014)
A chance to win a copy of TENTH CHAMBER is a great way to start a new month. The more I read about the plot, the more I wanted to read it.
(Anna Speed 4:03pm August 1, 2014)
goody nice contest
(Kent Cook 4:50pm August 1, 2014)
Thank you for the insight into the life of a writer. The book
sounds great!
(Denise Austin 5:26pm August 1, 2014)
I love thrillers, and I love archeology. Sounds like a terrific read!
(Kathleen Gardiner 11:27pm August 1, 2014)
This book sounds like it's right up my alley! I adore what I call 'medical thrillers' - Kathy Reichs is my favorite author :-) Couple that with archeology, and what's not to like?
(Karen Arrowood 11:47pm August 1, 2014)
Thanks you for your insight of being a writer and writing. It gives me a better perspective of what goes into writing a book.
(Kai Wong 12:01pm August 2, 2014)
I would like to see High Schools offer classes on writing because there are many great writer that don't realize they are. Classes like this might just light a spark for some of those and start a great career.
(John Zeiger 3:47pm August 2, 2014)
Registered users may leave comments.
Log in or register now!