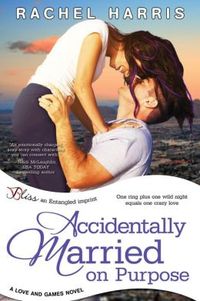 Purchase
Accidentally Married on Purpose
Rachel Harris
One ring plus one wild night equal one crazy love
Love and Games
Entangled Bliss
July 2014
On Sale: July 14, 2014
Featuring: Sherry Robicheaux; Tyler Blue
ISBN: 1622667867
EAN: 9781622667864
Kindle: B00L0I2G7Q
e-Book
Add to Wish List

One ring plus one wild night equals one crazy love
Sherry Robicheaux loves men. She loves love. And she loves an adventure. So when she meets a mysterious man while working backstage at a country music concert in Vegas, she's all about what's happened in Vegas staying there.
Country music superstar Tyler Blue just wants a weekend of anonymity…though there's something about the spunky waitress with the streaks of purple hair that tempts him like no other. Until the next morning, when they both wake up with fuzzy memories…and rings on their fingers.
Convincing Sherry to maintain the ruse for his public image isn't the hardest part—it's reminding himself that their time spent playing husband and wife in her small town of Magnolia Springs can't last. Tyler's first love will always be music—and the road is no place for a sweet downhome girl.
Love and Games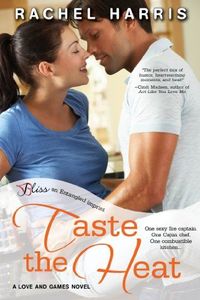 Taste the Heat
#1.0
Kindle | BN.com | | |
Comments
30 comments posted.
Re: Accidentally Married on Purpose

Oh my... I remember the posters from magazines that I used to keep... I actually have a folder from elementary that still has a few in it... I crushed on Jordan also... had pics of young Tom Cruise, Van Damme, lol...
(Colleen Conklin 12:48pm July 17, 2014)
I never had a crush, the only posters on my walls were of
animals.
(Jen Barnard 1:18pm July 17, 2014)
I can't remember having a crush back in the ancient days
when I was a youngster.(The 1940s)There was no such thing
as posters to plaster on the walls of my room. All my spare time was spent with my nose in a book. Books and reading
were my main interest!!!
(Patricia Cochran 10:07pm July 17, 2014)
It was Richard Dean Anderson. I just love him as McGwyver.
(Kai Wong 10:23pm July 17, 2014)
There was no space on the walls of the room I shared with my
sister because of all the pics she had of Shawn Cassidy, the
Bay City Rollers, David Bowie and other 70s 'heartthrobs'.
She was older and meaner so she got her way. Luckily we
agreed on our love for Duran Duran later on.
(Glenda Martillotti 11:35pm July 17, 2014)
I didn't have any special movie star. My things were books. I could read all day and love it
(Cindy Olp 12:47pm July 18, 2014)
A poster of Peter Fonda riding his motorcycle and those wonderful paper flowers made of wire.
(Judi Estrin 3:29am July 18, 2014)
Mine was John Travolta.
(Mary Smith 5:57am July 18, 2014)
thanks for the contest and taste the heat sounds like a good story. Happy summer
(Gloria Vigil 7:11am July 18, 2014)
I don't remember having a movie star crush back in the 60's.
(Deanna Church 8:18am July 18, 2014)
Dating myself but I had the biggest crush on Freddie Mercury
(buck teeth and all).
(Donna Antonio 8:22am July 18, 2014)
David Cassidy was mine, I had posters all over the wall. Congratulations on your book.
Penney
(Penney Wilfort 9:44am July 18, 2014)
I never really had a crush on a movie star...just the boy across the street! HA This looks like a great book to read! Thanks for the giveaway!!
(Bonnie Capuano 10:05am July 18, 2014)
Matt Dillon, Donnie Wahlberg, Cory Feldman...that morphed into Brett Michaels, Mark Slaughter, Tommy Lee and Sebastian Bach. Guess I've always had a thing for rebels!
(Heather Sterner 10:40am July 18, 2014)
William Shatner. Congratulations and best wishes.
(Sharon Berger 10:59am July 18, 2014)
My childhood crush was Tom Cruise.
(Pam Howell 11:07am July 18, 2014)
Mine was the Beetles.
(Debra Guyette 11:32am July 18, 2014)
This would probably date me, but I remember having a crush
on Paul McCarney when he was with the Beatles, and also with
one of the Monkees, but I won't say which one!! I'm looking
forward to reading your book, because it's going to take me
back in time, and take me forward as well. It'll be a kind
of culture shock of sorts, but a fun one!! Congratulations
on your book!!
(Peggy Roberson 11:38am July 18, 2014)
Okay. So this will really date me by my crushes were Shawn Cassidy and Sam Elliott. A hot cowboy and a teen idol. Congrats on the book!
(Heather Doyle 11:46am July 18, 2014)
The guys from New Kids On the Block. :)
(Amber McCallister 12:26pm July 18, 2014)
I had several crushes when I was young. David Cassidy, Davy Jones and so many of the cutie patooties featured in the teen magazines of the day. There pictures were plastered all over my room and even on the ceiling so their face was the last thing I would see at night. So serious back then but quite laughable now. My mother was a VERY patient woman I have decided.
(Debbie Kelly 1:26pm July 18, 2014)
What a great title for a book!
(Maria Proctor 2:06pm July 18, 2014)
Shawn Cassidy and Donnie Osmond. Yes I did have posters of
them!
(Denise Austin 2:20pm July 18, 2014)
All the time! I was big on cute boy bands.
(Nicole Wright 2:28pm July 18, 2014)
Farrah FAWCETT
(Ron Frampton 3:02pm July 18, 2014)
Went from David Cassidy to Shaun Cassidy!
(Vicki Hancock 12:40pm July 19, 2014)
I never had a crush on a movie star or a poster on the wall. I started reading romance as a preteen and focused on the characters.
(Marcy Shuler 12:57pm July 19, 2014)
Jordan Knight and the rest of NKOTB, not to mention the Backstreet Boys!
(Anita H 2:18am July 19, 2014)
Though I didnt have posters on my wall of him, John Taylor
from Duran Duran.
(Suzette Finks 4:09pm July 19, 2014)
Jonathan Brandis was my big crush :)
(Skye Dyma 9:20am July 29, 2014)
Registered users may leave comments.
Log in or register now!