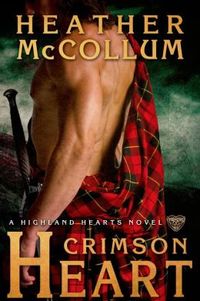 Purchase
Highland Hearts #3
Entangled Edge
June 2014
On Sale: June 24, 2014
Featuring: Elena Seymour; Searc Munro
ISBN: 1622663624
EAN: 9781622663620
Kindle: B00FUWKLHU
e-Book
Add to Wish List

As the illegitimate daughter of King Henry VIII, Elena Seymour has spent most of her life in hiding. Keeping her royal blood a secret has been a success for years, but now with a new fiercely Catholic queen on the throne, Elena's Protestant caretaker is being targeted. And when Bloody Mary discovers Elena's lineage, she must not only flee to Scotland for her freedom, but also for her life. Highland warrior Searc Munro has secrets of his own. In a family of healers, his own dark, killing magic must never be known. But when his father's life is threatened, Searc's secret is revealed. No longer welcome in his clan, he sets off alone, only to find another use for his magic—to save a beautiful young lass being attacked in the forest. Teaming up as exiles, Elena and Searc head toward Edinburg to find refuge. Yet with a series of ritual killings haunting the city and a traitor attempting to assassinate Scotland's regent, suspicion turns to Searc as word of an illegitimate British heir reaches the country. Now the two must find a way to trust each other, despite their secrets, before it's too late.
Highland Hearts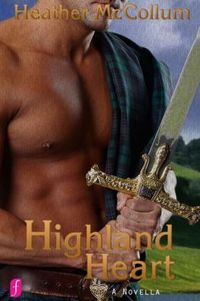 Highland Heart
#0.0
Kindle | BN.com | | |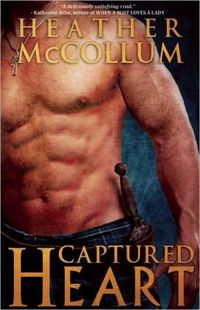 Captured Heart
#1.0
Kindle | BN.com | | |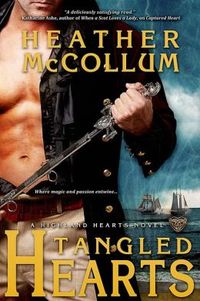 Tangled Hearts
#2.0
Kindle | BN.com | | |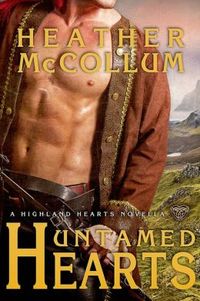 Untamed Hearts
#2.5
Kindle | BN.com | | |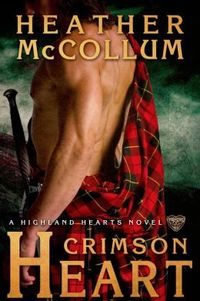 Crimson Heart
#3.0
Kindle | BN.com | | |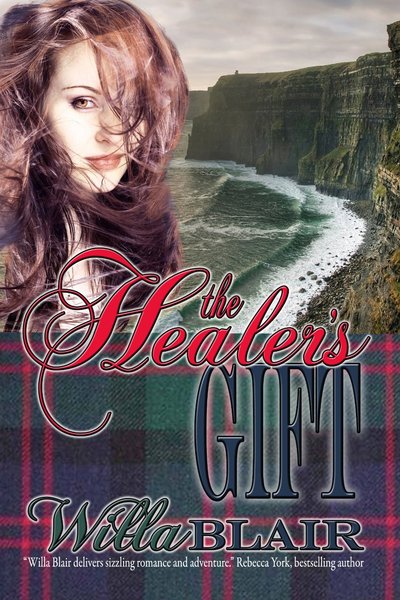 The Healer's Gift
#3.0
Kindle | BN.com | | |
Comments
34 comments posted.
Re: Crimson Heart

Love highlanders can't wait to check these out
(Leanne Jacobson 1:29am June 28, 2014)
I found your posting to be quite interesting. Although I
have yet to read this genre of books, you've made wanting to
read this genre, your books in particular, something to put
on my TBR list!! I've read before how more Authors get
their ideas for books, but your spin, although similar, had
my interest peaked a bit more. Congratulations on your
latest book, and I'll be looking forward to adding something
interesting to my repertoire this Summer!!
(Peggy Roberson 8:45am June 28, 2014)
I love this cover and I love historical romances especially one on highlanders!!!
(Bonnie Capuano 9:53am June 28, 2014)
Hi Leanne, Peggy and Bonnie! Thanks so much for commenting. I know - isn't the cover amazing! Entangled does such a lovely job with their covers.
I have a soft spot in my heart for Highlanders and I love history so the Highland Hearts series was fun to lose myself in. I hope you enjoy them!
Have a fantastic, hot-guy-smiles-at-you-in-the-grocery-store kind of weekend ; ) Heather
(Heather McCollum 11:27am June 28, 2014)
Congratulation on the new release. :) Can't wait to get a
chance to read it.
(Leslie Davis 12:59pm June 28, 2014)
Thanks, Leslie : ) I hope you enjoy it! Have a lovely, find-a-four-leaf-clover kind of day! Heather
(Heather McCollum 3:21pm June 28, 2014)
Elaine - I visited the Highlands last summer. The people were great and their accents fabulous. I was able to go to an actual Highland Games in the Highlands on the Isle of Mull. There were some magnificent biceps throwing cabers, etc. Although the real Highlanders looked a bit like the Highlanders may have really been(not exactly romance bk cover material) ; ) But it was so much fun! Heather
(Heather McCollum 4:36pm June 28, 2014)
great cover congrats on the release the book sounds really
good
(Denise Smith 4:45pm June 28, 2014)
Thanks, Denise! I love the cover. The way the Highlander is turned to the side so represents Searc and how he feels he must leave his clan. Entangled did such a great job with it. I hope you enjoy the series : ) Heather
(Heather McCollum 6:28pm June 28, 2014)
The book sounds great! I had to laugh about you checking out people in other cars and brainstorming their stories. LOL
(Marcy Shuler 9:33pm June 28, 2014)
I do love that cover! Thanks for the insights I loved the
bit about making up stories about people in traffic.:-)
Totally (or mostly totally) unrelated I was in REI today
getting hiking boots and saw a guy wearing a denim kilt and
those toe shoes that are so popular.... he also had on black
socks. I'm sure there's a good story behind it.
(Glenda Martillotti 10:05pm June 28, 2014)
Interesting process of finding and fleshing out your
characters.
(Janie McGaugh 10:48pm June 28, 2014)
It is such fun to people watch and fantasize about their stories...until they catch you and call you on it. Oops! Can't wait to read Crimson Heart. There are few things I like better than a hunky Highlander in a kilt except maybe one with a dark past. ;)
(Debbie Kelly 9:13am June 29, 2014)
What an interesting way to create characters. I have heard of
music and pictures or photos. I saw a castle on a hill one
time when I was in Europe (I think Spain) and said that would
make a good setting for a book.
(Leona Olson 9:42am June 29, 2014)
You are new to me. I watch people regularly and it is amazing what you learn
about people in general. My maternal grandfather was a Scot. I can only dream
about everything he saw in his lifetime.
(Sandra Spilecki 10:31am June 29, 2014)
just love men in kilts!!!
would LOVE to win and read
PICK ME!!!
(Pamela Faye Howell 11:08am June 29, 2014)
and you got me with the cover
mouthwatering
looking forward to your world
(Pamela Faye Howell 11:09am June 29, 2014)
hey its only $1 for kindle
(Pamela Faye Howell 11:12am June 29, 2014)
I love highlanders. I'm looking forward to reading this book.
(Kerry Shaw 12:29pm June 29, 2014)
I like how you fold what's happening nowadays into the
characters of your stories. You had me at highlander and I am
wanting to know what plaids are associated with specific
clans.
(Alyson Widen 1:50pm June 29, 2014)
Love those highlanders! Does my Scottish husbnd have
anything to do with it?
(Mary Hay 2:51pm June 29, 2014)
Hi, Heather! I really enjoyed your blog post. I a anxious to read your wonderful books.
(Cathy Phillips 3:43pm June 29, 2014)
Enjoyed the post. You will be a new author for me. Thanks for the
giveaway.
(Michelle Anderson 4:08pm June 29, 2014)
I love reading stories involving highlanders! I have not read
these books, but I am adding them to my TBR list right now.
Thanks for the giveaway.
(Tina Rucci 4:16pm June 29, 2014)
I can't wait to read your book. I lived in Scotland for two
years and really loved it. This book would bring back a lot of
those memories for me. I wish everyone could experience a
Highland game they are truly exciting.
(Denise Austin 5:02pm June 29, 2014)
There's nothing I love more than a man in a kilt. I'm really
looking forward to reading your books and I have to tell you
that I LOVE your bookcovers!!!
(Jane Frisch 7:22pm June 29, 2014)
Love the Highlander's!!!
(Patricia Meyer 7:35pm June 29, 2014)
Thank you for fleshing out your characters (so to speak)...
It's well worth the effort from this side of the page :-)
(Lori Howe 7:48pm June 29, 2014)
Love the cover of your book. I would love to read it.
(Yaritza Santana 8:37pm June 29, 2014)
Nice cover! Love the red! Thanks for the chance.
(Sue Galuska 9:42pm June 29, 2014)
I have read the other 2 books and can't wait to read this
one.. Love your stories and the characters are just wonderful.
thanks for giving us something to follow along with you on
this journey while you give a new places and people to meet
and enjoy... Best wishes on another spectacular book
(Tina Ullrich 10:07pm June 29, 2014)
Oh my! It must be crazy in your head all the time as different scenarios hit you about characters and scenes from the people around you. Fascinating though! Thanks for sharing, Heather! Congrats on the latest release!
(Sophia Rose 10:19pm June 29, 2014)
I would love a chance to win! Thank you for making it possible!
(Paula Weekley 11:49pm June 29, 2014)
Love hignlander books. Yours sound great. I will check them
out as soon as I can.
(Dale Kirk 11:53pm June 29, 2014)
Registered users may leave comments.
Log in or register now!