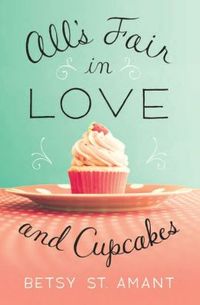 Purchase
All's Fair in Love and Cupcakes
Betsy St. Amant
Zondervan
September 2014
On Sale: September 2, 2014
ISBN: 031033845X
EAN: 9780310338444
Paperback
Add to Wish List

Kat inspected rows of the same old cupcakes. They seemed to blink back at her, as if they knew she was capable of so much more.
Kat Varland has had enough of chocolate, vanilla, and strawberry.
At twenty-six years old, Kat is still living in the shadows of her family in Bayou Bend, Louisiana. Still working shifts at her Aunt Maggie's bakery. Still wondering what to do with her passion for baking and her business degree. And still single.
But when Lucas Brannen, Kat's best friend, signs her up for a reality TV bake-off on Cupcake Combat, everything Kat ever wanted is suddenly dangled in front of her: creative license as a baker, recognition as a visionary . . . and a job at a famous bakery in New York.
As the competition heats up, Lucas realizes he might have made a huge mistake. As much as he wants the best for Kat, the only thing he wants for himself—her—is suddenly in danger of slipping away.
The bright lights of reality cooking wars and the chance at a successful career dazzle Kat's senses and Lucas is faced with a difficult choice: help his friend achieve her dreams . . . or sabotage her chances to keep her in Louisiana.
Comments
3 comments posted.
Re: All's Fair in Love and Cupcakes

I know exactly what you mean about taking a different path
than you expect to, because I did the same thing - not once,
but twice!! I had plans on what I wanted to do with my
schooling once I graduated from High School, but my Mother
gave me so much flak, that I decided to skip College and get
married instead!! Big mistake!! From there, it was a
choice of taking another road, when I decided to get a
divorce 5 years later, and got remarried. I never was able
to go to College, but was able to marry the man of my
dreams, which was some consolation. As for your book, it
sounds like a fresh, Summery book, that would be just the
ticket I need to shake up my reading list a bit. I love the
cover, too!! Your posting made me smile, and I wish I were
able to watch channels like that on my tv. Where I live,
I'm only able to get 2 channels from Canada, since I live
way up North, and the reception isn't very good.
(Peggy Roberson 9:06am June 13, 2014)
halima1mohammed@hotmail.fr
(Halima Mohammed 6:13am July 15, 2014)
After reading your posting, I not only understand why you
write, but I could also feel the emotion coming from the
words that you wrote!! You put a lot of heart and soul into
your books - that's obvious by what was posted, so it
appears you have picked up a new reader, who is going to
pick up one of your books, to find out a bit more on your
writing. I love to read good Romance novels, and when they
can touch your heart, as you claim your books do, the Author
has done their job, and you have a reader for life!! Thank
you for a wonderful posting, and congratulations on what I'm
sure is going to be a big seller!!
(Peggy Roberson 12:01pm August 15, 2014)
Registered users may leave comments.
Log in or register now!