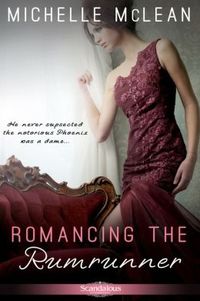 Purchase
He never suspected the notorious Phoenix was a dame...
Entangled
June 2014
On Sale: June 9, 2014
ISBN: 1622667328
EAN: 9781622667321
Kindle: B00K9OOEH2
e-Book
Add to Wish List

Other Editions
e-Book (June 2014)
Prohibition Era Chicago
She's worked too hard to be run out of town...
Jessica Harlan spends her nights as The Phoenix, the owner of the most popular speakeasy in town. Her days are spent running her respectable butcher shop and dodging prohibition agents and rival club owners who all want to put her out of business.
He's worked too hard to let his heart get in the way...
When the opportunity arises to go undercover for the Feds to catch The Phoenix, Gumshoe Anthony Solomon jumps on it. But he never suspected the notorious rumrunner would be a dame - or that he'd be so drawn to the feisty little minx. They play a dangerous game of cat and mouse, knowing they can't trust the other, but unable to walk away. While their hearts dodge the crossfire, the mobsters raise the stakes, and even The Phoenix may not rise again.
Comments
18 comments posted.
I agree with your definition of a hero. Can't wait to read your latest book.
(Linda Harrison 9:05am June 11, 2014)
I think that you pretty much have the qualities down pat,
but I would add that the Hero doesn't have to be drop dead
Handsome!! I prefer my Hero to look like your everyday guy,
when it comes to looks. If you make him too Handsome, then
it seems to take a little bit away from the actual story,
and turn it into more of a fairy tale!! I love the cover of
your latest book, and am looking forward to reading your
latest books!! Congratulations!!
(Peggy Roberson 10:46am June 11, 2014)
My idea of a hero is simply someone who steps up when they're
needed. Sounds like a marvelous read. I enjoy Western romantic
fiction.
(Irene Menge 11:41am June 11, 2014)
All of the above of course! We all
have our preferences but I think you
nailed it. Mine have to have a soft
spot as well, be smart, be charming,
have a redeeming quality, and
perhaps sexy but in their own unique
way ;)
(Joanna Moreno 3:17pm June 11, 2014)
Thanks everyone! And a big thanks to Fresh Fiction for having
me here today :)
(Michelle McLean 4:25pm June 11, 2014)
Michelle- I love Western Romance this book is a winner & will be on my TBR list. As a new author it seems you have it down pat, keep them coming, and the cover it awesome.
Thanks, for the blog contest.
(Lois Imel 5:13pm June 11, 2014)
I love western romance books very much and will enjoy reading yours. I have to write your book titles down and look for them. Your book covers are fabulous and I'm happy to have found a new author today of my favorite reading genre!
(Linda Luinstra 8:05pm June 11, 2014)
You have summarized everything about a hunky hero. Those qualities exist in cowboys, law enforcement, military and even with CEOs.
(Kai Wong 1:04am June 12, 2014)
Love your qualities of a hero. These are what attracts us for sure. Thanks for the
chance to win your marvelous book!
(Rita Spratlen 1:26am June 12, 2014)
I
(Sally Hayes 8:28am June 12, 2014)
Your book seems fun to read! Would love to win a copy for me to review!Beautiful cover!
(Nicole Laverdure 10:01am June 12, 2014)
I totally agree with #10! As long as the heroine can handle
it.
(Karin Anderson 10:03am June 12, 2014)
Thanks so much everyone! And just a quick note, my publisher
has recently bundled my Western trilogy, the Blood Blade
Sisters Series (the book we are giving away is the first
book in that series). So you can now get all three books for
the price of two! My new book, Romancing the Rumrunner, is
set in the 1920's and was an absolute blast to write. Such a
fun time period!
(Michelle McLean 10:31am June 12, 2014)
i love the western romance books they are so much fun to read
cant wait to read this
(Denise Smith 12:13pm June 12, 2014)
Love the list and agree whole heartedly!
(Denise Austin 5:14pm June 12, 2014)
Perfect list!
(Glenda Martillotti 10:56pm June 12, 2014)
Love your books!
(Diane Teunessen 11:30pm June 12, 2014)
I like all of your qualities. Number one is my favorite. There is something about a hero with a tortured soul. It just makes you want to rescue them, give them a hug, soothe their soul and make everything better.
(Debbie Kelly 3:13pm June 13, 2014)
Registered users may leave comments.
Log in or register now!