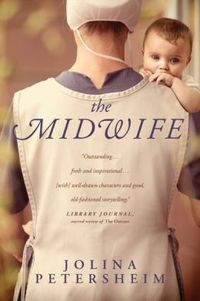 Purchase
Tyndale House Publishers
May 2014
On Sale: May 16, 2014
400 pages
ISBN: 1414379358
EAN: 9781414379357
Kindle: B00GWT9F36
Trade Size / e-Book
Add to Wish List

The Past -- Graduate student Beth Winslow was sure she was ready to navigate the challenges of becoming a surrogate. But when early tests indicate possible abnormalities with the baby, Beth is unprepared for the parents' decision to end the pregnancy -- and for the fierce love she feels for this unborn child. Desperate, she flees the city and seeks refuge at Hopen Haus, a home for unwed mothers deep in a Tennessee Mennonite community.
The Present -- As head midwife of Hopen Haus, Rhoda Mummau delivers babies with a confident though stoic ease. Except in rare moments, not even those who work alongside her would guess that each newborn cry, each starry-eyed glance from mother to child, nearly renders a fault through Rhoda's heart, reminding her of a past she has carefully concealed.
Past and present collide when a young woman named Amelia arrives in the sweeping countryside bearing secrets of her own. As Amelia's due date draws near, Rhoda must face her regrets and those she left behind in order for the healing power of love and forgiveness to set them all free.
Comments
36 comments posted.
Re: The Midwife

Congratulations on the future gift that God has given you
that is about to be born, as well as your 2nd book that is
out in print!! I'm sure that the title is self-explanatory,
but I wish that you could have written just a small
paragraph of what the book is supposed to be about. I'm
thrilled that you got rave reviews on it, and I'm sure that
your toddler is going to be just as thrilled to have a new
brother or sister to grow up with them!!
(Peggy Roberson 11:10am May 30, 2014)
Hello, Peggy! Thanks for taking the time to comment! The Midwife, in fifteen words, is the story about a mother who risks everything to save a child not genetically hers. It officially releases on June 1, Sunday, and I can't wait to share! :) Blessings to you! Jolina
(Jolina Petersheim 1:23pm May 30, 2014)
God and Family said it all. Best to you on your future.
(Leona Olson 9:35am May 31, 2014)
Hi Sweet Jolina, I am so thrilled that you are living your dream. Life is as it
should be for you and your little family. Take in every moment amidst all the
hustle and bustle as the time passes much too quickly. Your gifts and
talents are true blessings and you share them unselfishly. Thank you so
very much.
(Melanie Backus 8:27am June 1, 2014)
Thank you, Leona. It's so true that nothing else matters, isn't it? Blessings to you! Jolina
(Jolina Petersheim 9:44am June 1, 2014)
Hello, Melanie, thank you for visiting with me here and for your sweet comment. I am definitely trying to drink these days in, for I know they're passing all too quickly! Hope you have a great weekend with your family as well! Love, Jolina
(Jolina Petersheim 9:46am June 1, 2014)
I love the cover of your book Jolina. Keep using the
wonderful gift of writing that God has given to you.So
encouraging to read that you are living your dream. You sound
very content! Many blessings with your new little one too.
(Maryann Skaritka 4:29pm June 2, 2014)
Thanks for sharing this very touching story.
(Bonnie H 9:57pm June 17, 2014)
Even though I haven't read The Midwife I knew it was a powerful story just
by everything I have read about it. This post proves that even more. I know
have a fabulous read ahead of me and would dearly love your book. Thank
you for the opportunity.
(Melanie Backus 6:48am June 20, 2014)
My heart ached when I read your posting today, and that
makes me want to read your book even more!! I've always
been drawn to these people for some reason, and this
particular story has peaked my interest. I pray that this
woman can find some closure in the near future - not only
for her sake, but for her Mother's!! Thank you for doing
such a great service for all the Women out there who are in
the same situation!! I'll also be looking forward to your
next book.
(Peggy Roberson 8:20am June 20, 2014)
i am sure this has happened in the most religious communities and it is touching.
(Mal Kaplan 8:24am June 20, 2014)
I can't wait to read this touching story. Sounds Great.
(Cathy Thomas 9:17am June 20, 2014)
Thank you, Bonnie; it is very, very dear to my heart.

Hello, Melanie, such an honor to see you here. I hope you enjoy The Midwife's story as much as I enjoyed writing it!

The amazing part is that this reader has no bitterness toward her mother, only longing for reconciliation. I also pray it can come about in due time!

Thank you, Mal, for stopping by today!
(Jolina Petersheim 9:23am June 20, 2014)
Thank you, Cathy! My whole heart is in this book.
(Jolina Petersheim 9:24am June 20, 2014)
This storyline sounds amazing and I can see why it touched the lady that
you wrote about in this post. I read The Outcast and can't wait to read The
Midwife. Thanks for the chance at winning a copy!!
(Sheri Pruitt 9:45am June 20, 2014)
The Midwife and The Outcast sound like they are very touching stories. Thank you for writing books like this because these are the kind I like reading!
(Kathy Morrison 9:51am June 20, 2014)
The Midwife and The Outcast are memorable and emotional
novels. Your talent is wonderful. best wishes.
(Sharon Berger 10:03am June 20, 2014)
You're most welcome, Sheri; thank you for stopping by!

Thank you, Kathy; I appreciate it so much!

That means such a great deal, Sharon. Thank you for your kind words and precious support!
(Jolina Petersheim 10:38am June 20, 2014)
I love reading Mennonite stories. My sister is actually a
Mennonite.
(Mary Hay 10:39am June 20, 2014)
How heartbreaking! Both the ladies story and the one in your book. Will have to get a copy to see how it all turns out!
(Patty Hamblin 12:16pm June 20, 2014)
What a bittersweet heart touching story. My heart goes out
to the precious young lady. Sometimes motherhood is not so
black and white. Hearts and emotions come into play. I hope
also the young lady you mentioned will find peace in her
life. Your book tells a very interesting story that I would
love to read.
(Maryann Skaritka 2:32pm June 20, 2014)
Very interesting, Mary! My father was raised Mennonite and my mother Brethren. My husband's family has Mennonite and Amish background. I find the heritage fascinating!

Thank you, Patty. Hope you enjoy!
(Jolina Petersheim 2:33pm June 20, 2014)
Thank you, Maryann! I will. Blessings to you as well!
(Jolina Petersheim 3:04pm June 20, 2014)
Love Mennonite and Amish stories. Looking forward to reading this one.
(Barbara Wells 4:07pm June 20, 2014)
Such a touching story. Thank you for sharing it. This book sounds like it would be a tough thing to write about and I look forward to reading it.
(Susan Johnson 6:00pm June 20, 2014)
I have always wonder about people adopting children from a different background including faith. I like to read this book to learn the complicity of such adoption.
(Kai Wong 1:46am June 21, 2014)
Ah! What an amazing story. I hope she is able to reunite
with her birth mother but maybe that won't happen. Sounds
like the Mother's needing it too. How that must have been for
you to have someone so profoundly touched by your book. What
a gift, for both of you! Congrats on the book. I can not wait
to read!
(Vicki Hancock 1:56am June 21, 2014)
PS. I just saw you wrote The Outcast. I LOVED that book!!!
(Vicki Hancock 1:58am June 21, 2014)
This is a very intriguing story. I have added it to my TBR list.
(Vennie Martinisi 11:16am June 21, 2014)
I hope the woman finds some closure.
(Maureen Emmons 11:49am June 21, 2014)
Thank you for sharing that heartwarming story!
(Denise Austin 5:40pm June 21, 2014)
So very sad. Although I deplore the number of single parent
homes we have now, I can't help but think in some ways it may
be healthier for both mother and child.
(Marcia Berbeza 8:11pm June 21, 2014)
until the day she dies, my grandmother never stopped mourning her baby who had died at 10 days of age, her first child - her child was very real to me, as oldest grand-daughter, even though no pictures existed, not even a headstone to mark where she was buried. My husband and I arranged to have the baby's name added to my grandmother's headstone, so long after their deaths. I think the same must be true for girls and women who give up a baby for adoption, that the choice is not easy and that they hold that child in their hearts, even if no one in their present lives might even know that someplace, somewhere....
(Beth Fuller 11:39pm June 21, 2014)
It was hard to write about, Susan Johnson, especially considering my daughter was twelve weeks old when I started, so I could imagine the midwife Rhoda's loss so keenly. I think this is what makes The Midwife such compelling story, though.
(Jolina Petersheim 6:16pm June 23, 2014)
It was indeed such a gift, Vicki Hancock; my readers bless me so much!
(Jolina Petersheim 6:16pm June 23, 2014)
Thank you for sharing that compelling story with me, Beth Fuller. Praying mother and child are reunited now...
(Jolina Petersheim 6:18pm June 23, 2014)
Registered users may leave comments.
Log in or register now!