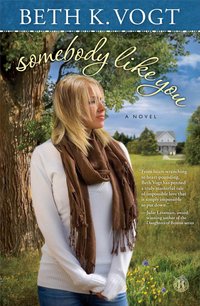 Purchase
Howard Books
May 2014
On Sale: May 13, 2014
Featuring: Haley; Stephen
338 pages
ISBN: 1476737584
EAN: 9781476737584
Kindle: B00DPM7UVC
Paperback / e-Book
Add to Wish List

Inspirational Romance | Romance Contemporary
Can a young widow find love again with her husband's reflection?
Haley's three-year marriage to Sam, an army medic, ends tragically when he's killed in Afghanistan. Her attempts to create a new life for herself are ambushed when she arrives home one evening—and finds her husband waiting for her. Did the military make an unimaginable mistake when they told her Sam was killed?
Too late to make things right with his estranged twin brother, Stephen discovers Sam never told Haley about him. As Haley and Stephen navigate their fragile relation­ship, they are inexorably drawn to each other. How can they honor the memory of a man whose death brought them together—and whose ghost could drive them apart?
Somebody Like You is a beautifully rendered, affecting novel, reminding us that while we can't change the past, we have the choice to change the future and start anew.
Comments
31 comments posted.
sounds really good i will have to check it out
(Denise Smith 10:29am May 16, 2014)
Life is messy, whether it's a first love, or the second time
around, or more, and you're just writing love stories the
way life really is. I suppose that's why you have such a
following. Your latest book sounds intriguing, and I can't
wait to read how the story unfolds. I think the artist did
you proud with a beautiful cover, and I'm sure your book is
going to do quite well!! Congratulations!!
(Peggy Roberson 10:35am May 16, 2014)
Sounds like a fun read.
(Wilma Frana 10:42am May 16, 2014)
The woman on the cover looks like my younger sister Connie. Congratulations
upon such a well done cover. adding estranged brothers was a good touch to
your story.
(Robin Candelario 11:41am May 16, 2014)
Oh wow... this sounds really interesting... you have me very curious about their story... thanks for sharing!
(Colleen Conklin 11:49am May 16, 2014)
Denise: Thanks for checking out Somebody Like You!
(Beth Vogt 12:57pm May 16, 2014)
Peggy: I agree, life and romance are messy ... and that has to be woven into
fiction.
I love the cover of Somebody Like You too -- the artist captured Haley, the
heroine -- and we made very few changes to it.
(Beth Vogt 1:00pm May 16, 2014)
Wilma: Thanks -- while the book deals with tough issues: grief, estrangement --
I always try to weave an element of humor into all of my novels. (Laughter is my
favorite sound.)
(Beth Vogt 1:01pm May 16, 2014)
Robin: How intriguing that "Haley" looks like your younger sister. And the
estrangement angle was intriguing ... and also challenging to write. Good thing I
like a challenge.
(Beth Vogt 1:02pm May 16, 2014)
Colleen: So glad you're interested in Somebody Like You ... being a twin myself, I
always wanted to write a novel with a twin storyline.
(Beth Vogt 1:04pm May 16, 2014)
What an intriguing concept for a story! I love anything with
twins...can't wait to read this!!
(Michelle Brown 2:24pm May 16, 2014)
Sounds really interesting and I love the cover. So calm and peaceful
looking.
(Gail Hollingsworth 2:41pm May 16, 2014)
Michelle: I think twin storylines can be fun/intriguing. I have a fraternal twin
sister, but I knew I wanted to write about brothers.
(Beth Vogt 3:21pm May 16, 2014)
Gail: Appearances can be deceiving, you know.
(Beth Vogt 3:22pm May 16, 2014)
hi beath this book sounds good. and i love to read.
(Wendy Mckee 4:40pm May 16, 2014)
I am one of your readers who wants a happy
ending but I realize that getting there does
involve drama, misunderstandings and even tears.
These stumbling blocks are what make the HEA so
wonderful!

Thanks for this giveaway; I would love to win!
(Connie Saunders 4:59pm May 16, 2014)
You are a new-to-me author and I look forward to reading this book!
(Patricia Cochran 5:26pm May 16, 2014)
Love your books! Can't wait to read this one! :)
(Lisa Medeiros 5:44pm May 16, 2014)
A great book and a scarf. Nice!
(Denise Austin 6:11pm May 16, 2014)
Hi there great studying your informative articles. Cara Menaikan berat
badan I discovered your weblog and Pelangsing badan
Cepat simply wished to say thanks!! Menu
diet menurunkan berat badan It is help me an incredible
great deal!
(Widya Herbalife 6:47pm May 16, 2014)
When we read about someone else's messy relationships and see how they navigate through, it gives us encouragement for our own. Thanks for writing relateable books!
(Pam Kellogg 9:26pm May 16, 2014)
I'm looking forward to reading Somebody Like You. My comment was going to
be, what about Seth from Wish You Were Here when I discovered the sequel, You
Made Me Love You. Just ordered it.
(Marcia Lahti 9:03am May 17, 2014)
Thanks for a chance to win. Have not read any of your books yet
(Judy Ferguson 1:33pm May 17, 2014)
This sounds like a wonderful story that I want to read. I just watched a movie last night very similar with hate, jealousy, mistakes, hurt, tears, laughter and forgivesness called, "Seasons of Gray" which is a true story. It was almost unbelievable what this one man went through in his life with his own family. It is a real test of his endurance and strength through faith. I truly enjoyed this movie, as I know I will your book that will be a captivating read!
(Linda Luinstra 4:55pm May 17, 2014)
I appreciate each and every comment on this blog post!
Great insights -- yes, Pam, when we see someone else navigate through a messy
relationship, it gives us encouragement for our own.
And Marcia, I'm glad you found the sequel to Wish You Were Here. Seth deserved
a chance for HEA!
Linda: I'm intrigued by "Seasons of Gray."
(Beth Vogt 6:13pm May 17, 2014)
Thank you for acknowledging and celebrating the plumbing of
relationships, so to speak. :D
(Mary Ann Dimand 7:55am May 18, 2014)
Somebody Like You sounds like a fantastic read!
(Elizabeth Hyatt 8:37am May 18, 2014)
What a shock for Haley! This sounds like a fascinating story.
(Anna Speed 12:52pm May 18, 2014)
Getting lost in a good story is the best escape. Sounds like a
wonderful read!
(Brittany DeSalvo 3:51pm May 18, 2014)
Sounds like a story my wife would enjoy!
(Richard Proctor 5:17pm May 18, 2014)
Sounds like a great read. Looking forward to reading it.
(Carol Woodruff 8:03pm May 19, 2014)
Registered users may leave comments.
Log in or register now!